"Second city" tours and "unprecedented access" are the keys and keywords employed by high-profile Italian winemakers to meet the challenges of a tough market.
It was the worst of times, it was the best of times. Over the course of just five days, I dined with three high-profile Italian winemakers, in three different cities…but not the usual top destinations you would expect. Not New York, San Francisco, or Los Angeles but rather the "second cities" and "third coasts" in the heart of flyover country: Chicago, Austin, and Houston.
Each of the rockstar-in-their-own-right winemakers drew sold-out crowds of trade, press, and—perhaps most significantly—consumers with expendable income to lavish wine dinners and tastings.
A quasi-mystic producer of exclusive trophy wine, a broadband producer of luxury wine, and a militant naturalist, each represented a distinct category of Italian winemaking but all, however reluctantly, conceded that the purpose was to chip away at the challenging high-end U.S. market. While none would openly concede that they were here because the sales of trophy wines from Italy have suffered painfully as volume for Italian wine sales has grown in the U.S., each ultimately confirmed that the trips were aimed at reviving the market for their wines.
No one can ignore the writing on the wall: in March, the leading Italian wine industry site FocusWine.it (via VinoWire.com) reported that in the last quarter of 2009, sales to the U.S. grew by six percent in volume but fell by eleven percent in value. In other words, more Italian wine is being sold in this country but less is high-end.
However reluctant she was to admit that sales of her family's winery have suffered in the last year, Gaia Gaja, the daughter and heiress apparent to legendary producer of Barbaresco and Barolo, Angelo Gaja, revealed that her family is taking a new approach to the marketing of its wines in this country. And not just for their flagship Piedmont property: the family's estates in Montalcino (Pieve Santa Restituta) and Bolgheri (Ca' Marcanda) are also part of the Gaja brand's new strategies.
Historically, Gaja—the brand—has been widely admired for its distinctively esoteric approach to marketing: they play the wizard behind the curtain, with no website and no media kit. They were once repped by one of New York's oldest and crustiest wine marketing firms, which occasionally issued missives that might as well have been papal bulls. Ironically, mystique and the lack of access have fueled the phenomenal success of this family-owned winery.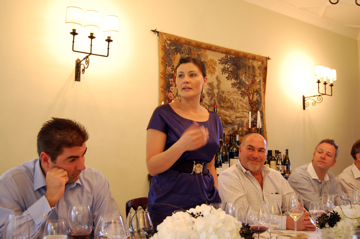 I was the only blogger invited to attend a series of events, aptly and officially dubbed "unprecedented access," where eleven top sales managers from distributors around the country—literally, the crème de la crème of the U.S. sales force—had been invited to a series of tastings, dinners, and seminars with Gaia Gaja herself. The fetching 30-something heiress apparent led the brand ambassadors, as they were dubbed, in a vertical tasting of her family's Barbaresco.
The appeal of her celebrity was remarkable: following dinner on the al fresco patio at the swank Piccolo Sogno, she visited with each of the managers one-on-one, pouring a drop of her family's barrique-aged single-vineyard Barolo grappa into their hands, which they then rubbed them together to release the warm aromas of the distillate into the springtime air. Earlier that day, the brand ambassadors had grilled her with technical and historical questions about her family's vineyards, their winemaking techniques, and even the once impenetrably mysterious names of the growing sites (Sperss, for example, Gaja's single vineyard Barolo, comes from the Piedmontese dialect for sperso or perso, meaning a lost item that evokes nostalgia, she said).
Following the vertical tasting of Barbaresco 2004, 2000, 1997, 1989, 1978, and 1964, Gaia Gaja and I broke away for private conversation. I asked here whether the brand ambassador program and unprecedented access were a response to the challenges of the current economic climate. "No, it is not," said the young enomancer over hotdogs at the legendary Chicago redhot stand Wiener's Circle. "We have not suffered a drop in the sales, but as my father has always said, times like this are times to spend more time in the market with the sales reps." Will her family be launching any type of web presence, her interlocutor asked? "Yes, we are planning a site," she said to my surprise, "but it will not contain any information about our wines. Just images of our village and the people of our family who came before us." (As of publication, this site is not yet available online.)
Gaia was ultimately heading to New York City, where she would lunch with top wine writers and taste her Gaja e Rey Chardonnay with the likes of Kathy Lee Gifford and Jay McInerny. But not before she stopped in Albany—yes, Albany, New York!—for sales meetings. It was the first time she was to visit the city, she said.
Only a few days later, I attended a dinner and an elite seminar on clonal selection and development with the winemaker for one of the highest profile Italian wineries in the U.S.
Enologist Rudy Buratti has been making Brunello at Castello Banfi for more than twenty-five years, and he was recently elected as one of the elite fifteen council members of the Brunello producers association, arguably one of the most powerful wine consortia in the world. Rudy, who speaks very little English, had only traveled to the U.S. once before, to attend a corporate meeting at company headquarters on Long Island. His stop in Austin—not a city that immediately comes to mind when you think of top Italian wine markets in the U.S.—was just one leg of a whirlwind trip including ten U.S. "second cities."
"This was a 'second city' tour that yielded deep appreciation from both our dedicated colleagues based there and the professional audiences we addressed," said the affable Lars Leicht, who has served as Castello Banfi's U.S. spokesperson for more than two decades. "It was probably the most in-depth and technical tasting we've done in the U.S., and for that it was important to touch on small, focused groups in a very personal way."
While Rudy's impressive and highly sophisticated seminar, complete with a descriptive legend of the specialized clones the winery has developed, may have reached slightly beyond the technical competence of most of the wine buyers (if not the wine professionals present), the singular level of access was not lost on any of the participants. Each walked away with a working knowledge of how Castello Banfi has developed its unique Sangiovese clones over the last two decades, and how it has crafted its distinctive style, including its on-site cooperage and patent-pending temperature-controlled wood casks for fermentation.
From the esoteric to the hypertechnical, the span of five nights found me seated at dinner with one of Italy's leading natural winemakers, one of the co-founders of the radical Vini Veri, or Real Wine, movement, Giampiero Bea, owner/winemaker at the historic Paolo Bea winery in Montefalco (Umbria), and producer of what is widely considered the benchmark Sagrantino by natural wine fanatics and trophy-wine hunters alike.
At once elitist and proletarian, Bea shrugged off my suggestion that he, like other Italian trophy wine producers, had traveled to the U.S. to help boost sales in a time of economic stress. "My sales have doubled in the last ten years," he said nonchalantly. "I've only come to the U.S. as a favor to [my importer] Neal [Rosenthal]. My sales are good," he told me, as he showed me a digital image of his new-born, Paolo Bea, on his mobile device.
Giampiero seemed a bit lost among the Houstonian bling in attendance that evening at one of the top wine destinations, Catalan Food and Wine. Between a broken microphone and Bea's broken English, his message didn't come across as powerfully as the caliber of his wines. But that didn't diminish the glamour of the evening and the aura that his presence emanated among the rich and famous of this most urbane of Texas towns.
Bea's Sagrantino is as dense and as opaque as the petroleum that had begun to flow unabated into the Gulf of Mexico only a few nights earlier following the mid-sea tragedy. The irony wasn't lost on me or Giampiero: one of Europe's leading natural winemakers found himself in the city where British Petroleum's U.S. headquarters are located.
But then again, it's not as if he had come there to sell wine.
---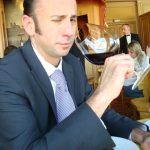 After receiving his Ph.D. in Italian literature from UCLA in 1997, Jeremy Parzen moved to New York City where he began writing about Italian wine for La Cucina Italiana. In 2008, he moved to Austin, Texas, where he lives with his wife Tracie P and works as a wine industry marketing consultant and wine educator. His blog, DoBianchi, offers readers a "humanistic perspective into the world of Italian food and wine."