Portland, Ore. has several nicknames. Stumptown for the town's early role as a hub for the lumber trade and Rose City for the many public rose gardens. The city is also home to a heavenly collection of culinary options.
Our mission on a recent visit was a taste-around of Portland's many unique neighborhoods and varied cuisines. Our stay at the historic, downtown Sentinel Hotel served as a convenient location for our culinary adventures.

Restaurants
Our dining priority list included Chef Gregory Goudet's Haitian-influenced food at his new restaurant, Kann. But reservations at the recently named Michelin Guide Best New Restaurant were far beyond our timeline. We visited another new restaurant which reflected the outdoor lifestyle of Portlanders.
Takibi                                                                                                                                                 
Takibi is located within Snow Peak, the Japanese lifestyle camping and apparel store in the Nob Hill neighborhood around NW23rd St. The logo of Takibi restaurant refers to Mount Tanigawa in Japan and the word means "bonfire." The open-fire cooking leads to exceptional food at Takibi such as the albacore warayaki.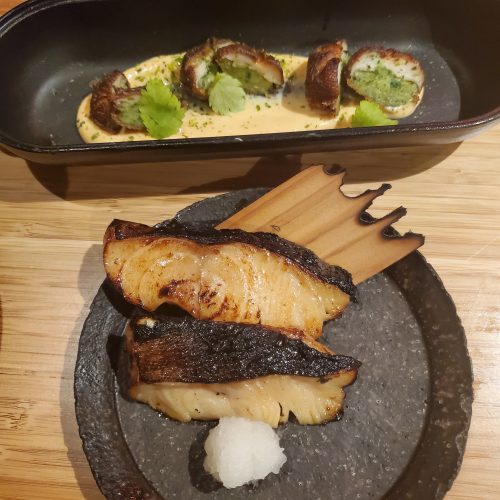 The creative small plates and salads, sashimi and other grilled fish, soba noodle dishes were layered with umami flavor and artistically presented. Panko-fried oysters and pork belly are popular picks. For dessert, the tofu donuts tasted like a delicious regular donut. The open kitchen and outside patio all add to the Snow Peak relaxed atmosphere.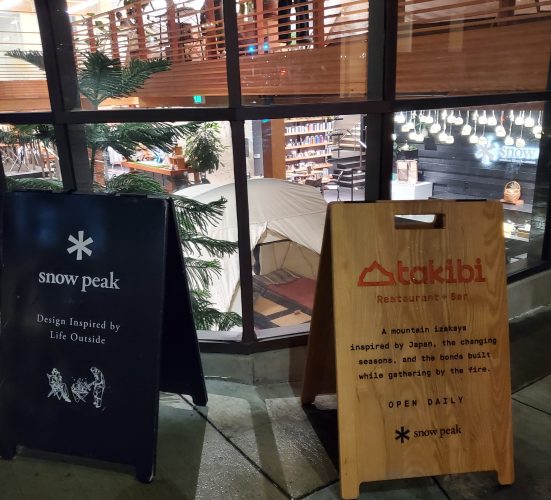 Phuket Café
Also located in the NM23rd Street neighborhood is Thai steakhouse Phuket Café. The décor presents a cozy ambiance with a long, green-backlit bar and a chef's counter. Additional seating is available in the bright red replica of a Thai tram car out front.
For his fifth eatery, restaurateur Earl Ninsom melds his well-known take on Bangkok food with the Chinese and Malaysian influences of Phuket island off the southern coast of Thailand. All the dishes my friend and I tried had an extra spice or textural element. The pandan cheese roti appetizer was an excellent choice. Having tasted pandan in Singapore, I enjoyed the fresh herb and ideal amount of cheese in the pan fried roti.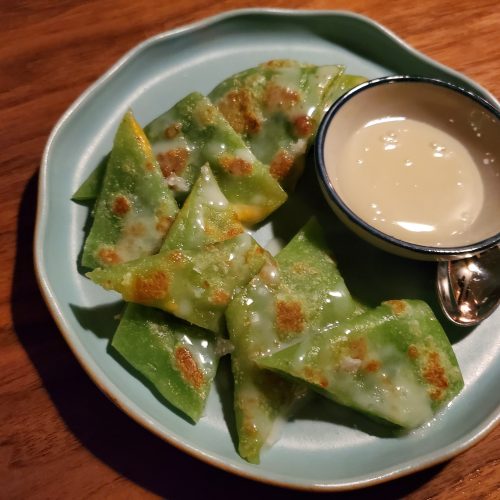 ­
Every course at the café evinced flavor interest. The shrimp curry with cauliflower and lemongrass sang with bright flavors.  The Yom Yum Hang soup was full of fresh seafood. But the food memory that stayed with me beyond the pandan roti was the albacore Thai style ceviche with mint, fennel and peanut brittle, a common add-on in Thai food.
Owner Ninsom transforms Phuket Café into Langbaan restaurant on the weekends offering 12-course chef's tasting menus influenced by Thai street food.
Lilia Comedor
We welcomed the opportunity to dine in the South Waterfront neighborhood. Tucked on a corner near the bridges crossing the Willamette River, Lilia Comedor is the latest venue from Angel Medina's República & Co group.
"Comedor" refers to a small, casual neighborhood restaurant, and Lilia honors the deceased mother of Chef Juan Gomez. A description on the menu reads, "Pacific Northwest cuisine through the lens of a Mexican-American chef" and adds, "It is beautiful food with an emphasis on seasonality."
The beauty of Gomez's approach to cooking is quickly seen in the treatment of vegetables from a selection of botanas (snacks). Each dish has complex elements—a sauce, a crunchy element, a bit of acid—and comes to life with each bite. Details such as the star carved from orange rind abound at the table.
Our server greeted us wearing a grey denim, workers' style apron and carrying a bottle of softly fizzy wine from Guadalupe, Mexico. The wine list covers the Pacific Northwest, Mexico, and Europe, and cocktails are inventive and well-crafted.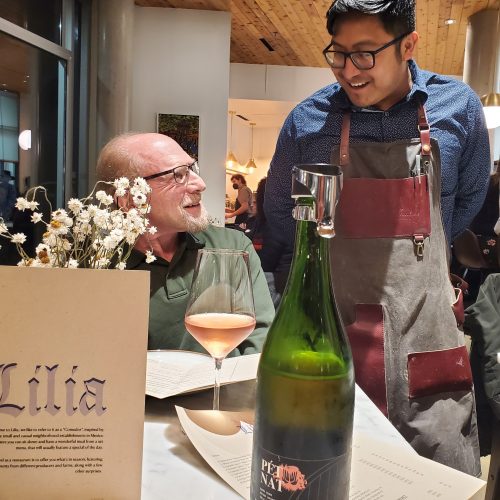 We've had fried tacos before but never a fried blue corn quesadilla. Lilia Comedors's version was delicious with crunch and unique blend of cheeses. The meat dishes of pork collar confit and braised short rib enchilada sounded enticing.
The knockout dessert was Baked Alaska on a white chocolate blondie with kiwi and cream kiwisicle ice cream garnished with kiwi gelée.
We visited two wildly different restaurants for lunch.
Higgins
I met Greg Higgins, the chef-co-owner of Higgins Restaurant and Bar, at a Feast Portland festival several years ago and looked forward to experiencing his renown eatery. Higgins served farm to table 30 years ago long before the name became trendy. Located in a historic building near the theater district, the restaurant covers two rooms with the bar near the entrance and the main dining room a few steps below.
Here Higgins showcases the pig. Every week, the server informed me, Higgins breaks down a whole pig. I instinctively ordered the pork schnitzel and received one of the last ones available at a later lunch. The crunchy and juicy schnitzel was well-paired with steomp, mashed potatoes mixed with root vegetable mash. The famed chef makes common ingredients sparkle on the plate.
The quince chutney, made from local quince, served along with the schnitzel was a delightful savory-sweet touch.
I need to return for the stout sour rye of the grass-fed brisket pastrami sandwich—and a deep look at the world class beer and wine list. For dinner, I may order Chef's charcuterie, carnarolli risotto with Oregon truffles, cassoulet with duck and pork confit—and the toothsome desserts.
Mama Dut
If Higgins is classic Portland, Mama Dut represents the great diversity of the city's cuisine. Mama Dut is vegan Vietnamese takeout restaurant across from a strip mall that has garnered a strong following in the Buckman area in the South East side of town.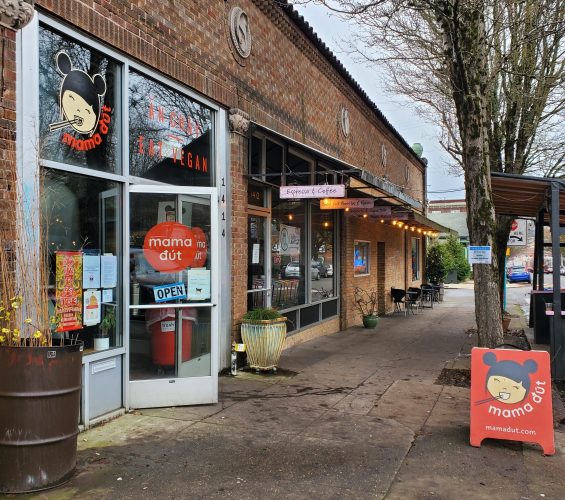 Owner Thuy Pham was a hairdresser before the pandemic. In 2020 she stayed connected with her customers by sharing her cooking hobby on popular Instagram Live videos. She opened her vegan restaurant in late 2020 and named it after telling her daughter, "Kinsley, mama dút" which means "Mama will feed you."
The food has layers of flavor and umami—and with all the char and texture, is surprisingly vegan. Her notoriety began with vegan "pork belly" made from jackfruit.  We chose the "chick'n fried" mushroom banh mi that mimics the texture and taste of poultry. Next, we shared the ryb banh mi with house-made gluten free "phish" sauce with fresh cucumber, fermented carrots, kale kimchi, jalapeños, and cilantro.  Other specialties are Peking Soy Duck Bao Buns and the Pandan Strawberry Whoopie pies.
Food Trucks
Along with diverse cuisines, Portland is known for a plethora of food trucks and pop-up culinary experiences.
Food cart pods abound such as Cartside in the Williams district.  But to find your favorite food truck with a certain cuisine and location among the 200 Portland trucks, click on the Travel Portland Food Cart Finder page.
Fried Egg I'm in Love food truck
One morning we walked over to Pioneer Square from Sentinel Hotel and enjoyed hearty breakfast sandwiches from the Fried Egg I'm in Love food truck. The customers were a mix of office, retail and construction along with students. Pioneer Square, dominated by the Portland Courthouse, the oldest public building in the Pacific northwest, is bordered by a large Nordstrom's store where I had a quick look around.
Pop-ups
Portland is also a "City of Pop-Ups." Though I didn't experience one there, I attended a press event in San Francisco with Chef Tamara Hattar known for her monthly pop-up Euzumeh. The name derives from Arabic for "invitation." With obvious passion for sharing good food and Jordanian heritage, Hattar presents an exciting mix of flavors in her food.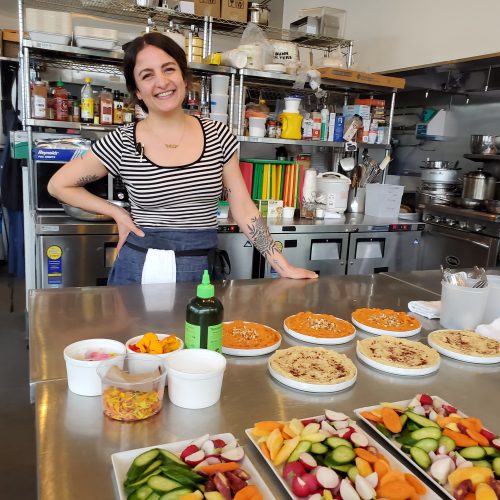 Hattar was right at home in the event space serving a delicious family-style dinner of mezze appetizers with warm flatbread and feta dips accompanied by a bevy of seasonal veggies. The kofta meatballs and chicken Muskhan with zhug spicy sauce and accompanying vegetables were outstanding as was the semolina cake with rosewater and pistachio. Note that Hattar is the culinary consultant behind the new Portland bar, The Uncanny, in the Boise neighborhood.
There is much to do and see in Portland, from the iconic, block long, Powell Books to shopping, art galleries, destinations such as the Portland Art Museum and Oregon Jewish Museum, and a plethora of bars, wine tasting rooms, breweries, and distilleries to visit.
Final note: Remember to reserve at busy restaurants and hunt down new culinary treats at food trucks.
For a spotlight on the city's beverage options, see Portland's Wine and Spirits Scene
Websites
Euzumeh pop-up   https://www.euzumeh.com/
Food Cart Finder  https://www.travelportland.com/culture/food-cart-pods/
Fried Egg I'm in Love  https://www.friedegglove.com/
Higgins  https://higginsportland.com/
Lilia Comedor https://www.republicahospitality.com
Mama Dut  https://www.mamadut.com/
Oregon Jewish Museum and Center for Holocaust Education      https://www.ojmche.org/
Phuket Café  https://www.phuketcafepdx.com/
Portland Art Museum   https://portlandartmuseum.org/
Sentinel Hotel  https://www.provenancehotels.com/sentinel-hotel
Takibi   https://www.takibipdx.com/
Travel Portland Food Card Finder https://www.travelportland.com/culture/food-cart-pods/