Why Should Us Humans be the Only Ones to Enjoy a Bit of Luxury?
For National Dog Day and we've rounded up some of the best dog-friendly hotels in celebration of the holiday and beyond. The difference between what most people perceive as a pet-friendly hotel does not usually scream luxury or connotate elegance. These three properties, all of which I have been too sans dog, are the kind of hotels that make the Top Ten for luxury, spa programs, service and dining. Now add "pet-friendly" to the list and there is even more reason to check out the exclusive enclaves below.
Roughly 23 million American households acquired dogs and cats during the pandemic, according to the ASPCA. For many, four-legged friends are a package deal that includes tagging along on vacation, and there's a growing number of upscale hotels that roll out the red carpet for furry family members.
San Ysidro Ranch  Santa Barbara, CA 
Tucked against the foothills of the Santa Ynez Mountains, San Ysidro Ranch is a 550-acre haven with blooming gardens and access to 17 miles of hiking trails. Each of the 38 intimate bungalow-style cottages is pet friendly and offers backyard gardens with outdoor rain showers and oversized sunken spas, perfect for the whole family. Most importantly, the Ranch ensures four-legged family members receive the same 5-star service as the humans. The property just unveiled a new Pampered Pets Program. The extensive new gourmet pet menu includes peanut butter and bacon pancakes, farm-raised Scottish salmon filet with sweet potato and rice, puppuccinos, pupsicles and more. In addition, tails will be wagging for welcome amenities such as a plush dog bed, a Ty beanie dog toy, branded dog bowls, house-made dog cookies and more.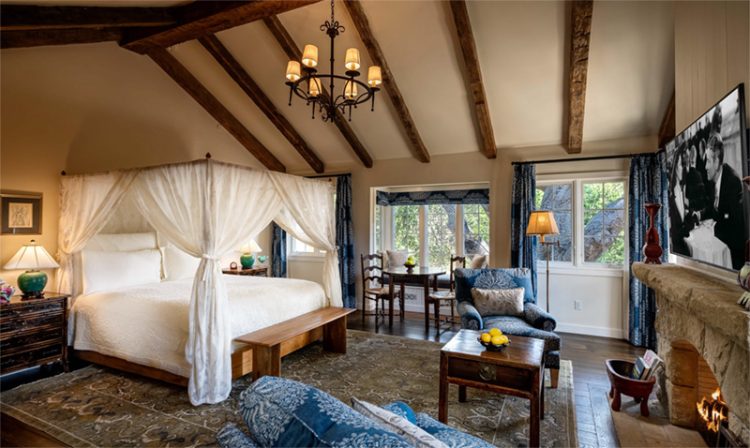 Smyth Tribeca  Manhattan, New York
For a city getaway with a dog, look no further than Smyth Tribeca. Understated and chic, Smyth's well-appointed guest rooms and spacious suites serve as a modern home base from which to explore the city with a pup. Centrally located on the corner of West Broadway and Chambers Street, the neighborhood hotel is nestled in the heart of TriBeCa, where exciting shops and cultural riches are tucked along cobblestone streets. The hotel offers special amenities from Zee.Dog to make every pup's stay more comfortable including bowls, beds and toys. Be sure to stop at the concierge desk for recommendations on nearby destinations for people and pooches to enjoy together.
Villa del Palmar at the Islands of Loreto  Loreto, Mexico 
It's surprisingly easy to travel to Mexico with a pet, and Loreto, Mexico is the perfect destination for a relaxing, crowd-free getaway. This largely undiscovered, peaceful retreat is located on the eastern coast of Mexico's Baja California Peninsula and is best known for its secluded, unspoiled setting on the Loreto Bay National Marine Park, A UNESCO World Heritage. The resort is home to the award-winning Villa del Palmar at the Islands of Loreto; four restaurants; five pools; 39,000 square-foot Sabila Spa; and the exceptional TPC Danzante Bay, boasting some of the most striking holes in golf. In addition to tropical gardens and pristine pools, the resort's grounds include pet play areas where dogs can run freely and meet other four-legged friends. The pet-friendly resort provides beds, bowls and toys in-room and offers everything from a special gourmet pet menu with items such as Garfield's favorite lasagna and Hello Kitty treats, to a pet spa with dog and cat massages.
Little River Inn, Little River, CA
Arrive at this Mendocino Coast landmark and breathe! Smell the coastal breezes, the pines surrounding the property and salt spray from the crashing waves below, then listen to the crash of said waves and the distant barking of a dog sprinting across the field for a frisbee carried by those onshore winds. The Little River Inn slice of resort paradise has long been pet friendly but, instead of leftover, worn rooms, you and your pooch get one of the best suites on the property; complete with balcony looking out to sea, a dog bed, treats and supplies and the chance to hike the property and nearby park while meeting other guests' dogs. Dogs are welcome to dine with you and special areas for walks (complete with necessary poop bogs) are abundant at Little River Inn.