When traveling throughout wine country, food and tasting experiences continue to pop up as a theme in tasting rooms around the world. But not all food and wine or tasting experiences are alike. From cheese and almonds to full course meals, standard bar tasting to a sit down private flight, it seems more and more wineries are spending the time (and money) to differentiate themselves as destination locations.
As they do, it's evident that some stand out for both their attention to detail and their focus and clear direction on why they offer this experience, not because it's a trend. Conversely, those who try to follow the pack run the risk of creating something less desirable, almost mediocre.
Does experience matter?
The first winery I ever experienced that changed the way I thought about food and wine pairing was St. Francis winery in California's Sonoma Valley. This was circa 2002 and at the time I was still new to the wine world. By offering a small plate with four different hors d'oeuvres paired with a flight of wines, they stood out for offering something beyond the standard tasting room flight everyone else in the area seemed to have. I even joined their wine club because of this unique experience and started experimenting with pairing food and wine at home.
Fast-forward twelve years: wineries throughout the country are embracing the concept of demonstrating how food interacts with their wines. They are also learning that offering food is not only a way to introduce their guests to food and wine, but it's also a way to differentiate them from the growing competition.
At the basic tier, a winery might offer a standard plate of food, usually a combination of cheeses, nuts, charcuterie, and bread, and encourage guests to experiment with how the food and wine play together. While these can be enjoyable, they don't offer much guidance in the way of how the food actually pairs with the wine.
The next step up, they may offer a selection of hors d'oeuvres, created with the intention to highlight a specific wine. On the higher end, wineries will offer private tours of vineyards, gardens, and cellars, ending with a custom meal with wine pairings prepared by a chef. The occasional winemaker dinner is a category of its own.
With the goal of exploring examples from each tier here at Palate Press, I wanted to circle back to the very first winery I experienced that offered a focus on food and wine. I recruited a girlfriend to go with me – someone who had never experienced a food and wine pairing like this before. I wanted a fresh perspective.
Pushing pairing boundaries
The epicurean experiences at St. Francis have evolved from a single reserve food and wine pairing flight to three different tiers of experiences. I was curious about their mid-tier experience – a seated, five course, food and wine pairing offered for $50.
After checking in to the tasting room we were escorted to the adjacent private dining room along with 14 other guests. Seated together at a large round table, this setting encouraged guests to interact with each other without the competition of a loud tasting room.
Instead of presenting all of the pairings at one time, this format is presented in multiple courses – each brought out one at a time, allowing guests to focus on each pairing without distraction or the rushed sensation like they need to try everything at once.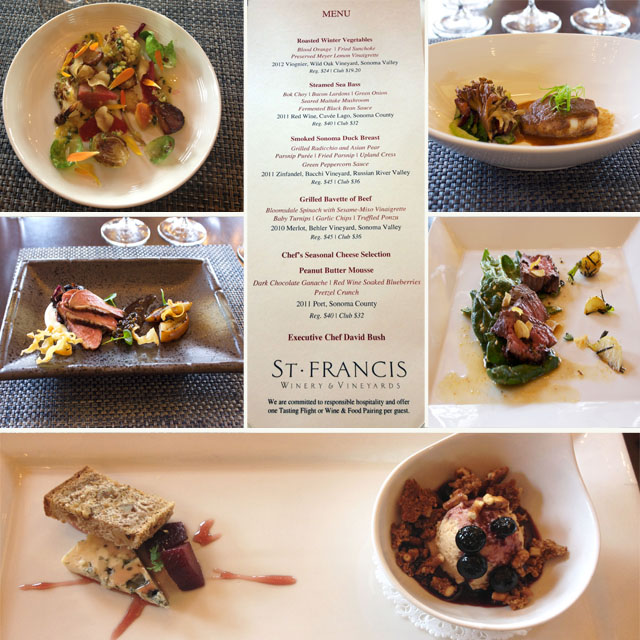 Chef David Bush changes the menu seasonally, but the focus is always to create dishes that bring out the nuances in each specific wine. The first course, for example, was meant to highlight their 2012 Viognier, Wild Oak Vineyard – a wine with distinct floral and citrus aromas. Chef prepared a beautiful looking salad with roasted winter vegetables and a citrus-based vinaigrette sprinkled with edible flowers, which really complimented those floral notes in the wine.
The chef's risk-taking became apparent in the second course when he served sea bass with two of their biggest red wines, their Cuvée Lago (a blend of Cabernet Sauvignon and Syrah), and their Anthem Meritage Blend. Pushing the boundaries of pairing white fish with a tannic red, the bass was prepared with seared maitake mushrooms, smoky bacon, and a rich fermented black bean sauce. The Anthem had a remarkable savory characteristic that played off the umami flavors of the dish. I found the pairing inventive and boundary-pushing.
Not typically being a dessert fan, I have to say the most memorable dish went to this final course. Plated side by side, the chef prepared a traditional pairing for their Port style wine – a slice of blue cheese with quince paste — but plated next to it was a peanut butter mousse with dark chocolate ganache, red wine soaked blueberries, and pretzels for crunch, demonstrating the versatility of their Port style wine to pair with both sweet and savory dishes.
Inventive menus such as this, with the intimate setting, and gracious hospitality are nearly unheard of for such a price, but they manage to pack all this in for only $50. To put it into perspective, other wineries in the region offer the standard wine flight and small plate of nuts and cheeses for an average of $30—this is, of course, while you are standing in a crowded tasting room fighting for attention of the person behind the bar. Not very intimate, nor educational, if you ask me. And, without guidance for someone new to the idea of food and wine pairing the food can easily become a distraction, taking away from the wine.
These types of semi-private sit down epicurean experiences like the one offered at St. Francis are not uncommon anymore, especially in Napa and Sonoma, but they are for this price.
St. Francis had earned the reputation and accolades it has accumulated over the years, including being named 2013 Open Table Diners' Choice Award for the #1 Restaurant in America. The value they offer for the level of quality and hospitably is unparalleled.
When I asked my friend, who had never experienced this type of food and wine pairing before, for her thoughts, she was at first speechless. "I can't imagine how it can be topped!" she exclaimed. "Anybody can serve cheese and bread, but these people… wow! I can't be sure if it was the food, the wine, the company or the euphoria of being on vacation but St. Francis blew me away with the experience."
They set a pretty high bar for epicurean experiences in wineries demonstrating it's more than about simply offering some nibbles to eat with the wine. It's the whole package: focused, inventiveness, attention to detail, and hospitality, at a fair price.