Meet FOAM, the Napa Valley's top secret, well kinda secret, cocktail society
After a hard day working in the cellar, or the vineyard, or the office filling out paperwork, winemaker Judd Finkelstein likes to relax with an adult beverage … and it's probably not the one you're expecting.
Sure, Finkelstein loves wine; it's his passion. But he also enjoys a good cocktail. And he's not the only industry insider who feels that way. Spirits are abroad in the Napa Valley, and we're talking the kind that go clink in the glass not bump in the night. For the past few years, a select group of winemakers and others in the food and wine world have been getting their cocktail on as members of FOAM (Friends of Ardent Mixology).
The group was founded by Finkelstein, winemaker at the Judd's Hill Winery, a few years back when he realized there were lots of winemakers who liked cocktails. They'd get together and start the evening off with a mixed drink, "and it was fun because we could experiment with things that we were used to with wine – the subtleties, the flavors, the layers, the complexities – but you got these instant results. You didn't have to wait for a couple of years for it to come out of a barrel then bottle age."
He decided to give the get-togethers a more formal twist and formed FOAM, with codes and protocols. Membership is by invitation only and meetings are held once a month. On alternate months the event is a Grand Meeting, which means coat-and-tie for the gents, elegant evening attire for the ladies. The group takes field trips to meet with an expert such as a distiller, brand ambassador or bartender, and learn something new. An upcoming meeting, for instance, will tackle "Cocktails of Utah."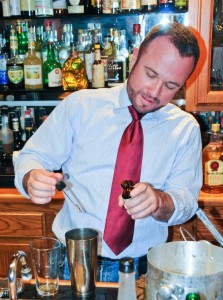 At Grand Meetings, the group learns about the history, philosophy and method of the cocktails and just to make sure things stay on an educational basis, drink mini-versions of the cocktails alongside food so everyone stays sober. (And members sign an agreement on joining promising that they won't over-imbibe or drive drunk.)
Cocktails aren't Finkelstein's only outside interest. He's also a big ukulele fan – he's been known to stroll the vineyards serenading his grapes – and plays with his band, the Maikai Gents. He also has a radio show in Napa and produces "Wine Booty," a pirate-themed talk show featuring local food and drink producers.
Why pirate-themed? Why not?
Interestingly, back when FOAM started, about eight years ago, cocktails weren't really big in the Napa Valley. "It was hard even to get a decent gin and tonic in most places," says Finkelstein.  Nowadays, there are lots of innovative bars and a burgeoning craft distilling movement, including the Napa Distillery, which has a tasting bar at Napa's popular Oxbow Public Market, the Charbay Winery & Distillery and Napa Valley Vodka, which makes a vodka from sauvignon blanc grapes.
Meanwhile, FOAM has grown to several dozen members including Kristin Belair, winemaker at Honig Vineyard & Winery and Bob Torres, senior vice president, operations, at Trinchero Family Estates. The plan is to keep the thinking while drinking going with more programs exploring the bartender's art. "I think it's a good compliment to what we do in the Napa Valley," says Finkelstein. "It's the same things we're thinking about with wine or bringing out these subtleties and complexities and appreciation of a beverage, but it's just doing things spontaneously."