As usual in my home region of Verona, this is the time of year when people indulge in a favorite vegetable just coming into season: fresh green and white asparagus.  If you'd like to add a touch of Italian to your lifestyle this spring, there is a simple dish you can prepare very easily: Asparagus with Eggs (recipe below). But as you know, because of its penetrating and slightly bitter taste, asparagus is not easy to pair with wine.  With white or green asparagus you can try an easy-to-drink sparkling wine like Prosecco. But if you want an authentic Veronese (and vernal) pairing my suggestion is a good Custoza wine, still or sparkling.  Or — if you love new experiences — an aged Custoza wine.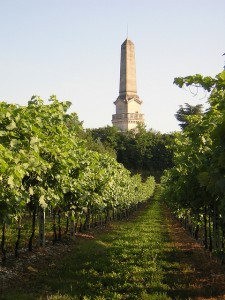 Custoza is the "white side" of the wine production of Lake Garda (the red one is Bardolino).  Custoza has the same name as a village located not far from Verona on the foothills of the morainic amphitheater of Lake Garda. The history of this district was often marked by blood: during the Italian Independence Wars in the nineteenth century, Custoza was the site of two fierce battles between the Austrian and Italian armies, and in both the Italians were defeated. In memory of these tragic events, a war memorial was built near the town of Custoza.  It is a white tower 40 meters (130 feet) high, which houses the remains of the soldiers who died in these battles, and if you are a history lover, it is worth a visit. And here, above all, you can drink a glass of Custoza wine.
If you have never had the opportunity to taste Custoza before, no wonder: this wine is greatly appreciated mainly by local inhabitants. It is slightly aromatic due to a blend of native white grapes — garganega, trebbianello (a local biotype of friulano) and Bianca Fernanda (a local clone of cortese) —  and other cultivars including chardonnay, trebbiano, italic riesling, pinot bianco and Incrocio Manzoni. The area here is mostly hilly, and the shape of the hills allows a daytime heating of the slopes and a night accumulation of cool air which are optimal situations for the development of aromatic characteristics of the white grapes.
Every year in these 1,200 hectares of vineyards, where the plants are cultivated with the Guyot system, 12 million bottles are produced, mainly Custoza, with a few bottles of Custoza Superiore, Custoza Spumante and the sweet Custoza Passito. However, most of the production is consumed locally only 20% is exported to countries like Germany, USA and Holland.
"Custoza is still an almost totally unknown wine in the world, and you can see this as a problem… or as a fine marketing opportunity," says wine writer Angelo Peretti, who is a specialist wine production in the Lake Garda area. I asked him:
What are the most important challenges for the Custoza producers, in your opinion?  
"First and foremost, the lack of a clear stylistic identity, secondly some anachronistic rules of production – like the high yields per hectare, or allowing lower quality grapes in the blend. This should be changed, and sooner the producers do it, the better."
What is the perception of this wine by consumers?  
"In the traditional mindset of the people living here, Custoza is a light wine, to be drunk in summer, while from a modern point-of-view it is a wine with a strong personality, which can age well.  If it is nearly impossible to change the local perception of Custoza as merely a summer wine, introducing Custoza to new consumers might be easier. Custoza can also be a really modern wine."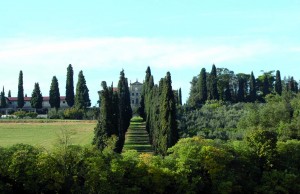 Where can I find traditional Custoza, and where is the more modern version found?
"The two big cooperatives which produce more than half of the entire production sell mainly bulk wine or bottles for local distribution and immediate consumption, so their Custoza is basically the more traditional version," Angelo Peretti replies.
"On the other hand, smaller wineries are thinking about a wine which can be aged (in the best vintages, of course), so their style can be considered more modern. Custoza is very good when is young, but it can be even better when it's a few years old!"
Furthermore, Custoza is very easy to pair; it's perfect with fish, with fried vegetables, with sausage, with grilled chicken. And in its sparkling version it is really good with appetizers. In the US market you can find both traditional and modern versions, so don't be afraid to try an "older" Custoza if you come across it. And with our seasonal, spring recipe, why don't you try both? Here there is the recipe
Asparagus with Eggs in Sauce
(serves 2-4 people)
1 kg (2.2 lbs) asparagus, preferably white
8 eggs
extra virgin olive oil
wine vinegar
salt and pepper
Cook the fresh white asparagus (edible in its entirety) in cold, salted water in a deep, covered pot, so that the heads stay out of the water. The heads will be cooked by the steam inside the pot. Bring to a boil and cook until asparagus spears just begin to soften. Remove them immediately and spread on a platter in a warm place.
In the meantime, also start the eggs in cold water.  When they begin to boil, cook 5-7 minutes (yolks can be soft) then cool slightly under running water.
Shell the eggs and prepare the sauce to accompany asparagus:
Crush the yolks with a fork, then the stir mixture to a creamy consistency with vinegar, salt, olive oil and freshly ground pepper to taste. Chop the whites and add to the sauce.
Add sauce to asparagus and serve immediately.