In Montefalco, they're bringing Sagrantino back and creating a new "must see" wine country.
Ah, Tuscany… storied land of rooms with views, Florentine frescoes and home of the wine that Hannibal Lecter likes to pair with liver.
But did you know that right next door in Umbria you get the same beautiful vistas (only cheaper and less crowded) and an equally vibrant food-and-drink culture?
But this wine country's not built around Chianti, even though the Sangiovese grape can flourish here. In and around the hilltop village of Montefalco you'll find Sagrantino, the big, bold, tannic grape that is beginning to make a name for itself as an-up-and-coming Italian red.
It feels odd to talk about Sagrantino as a young contender; documents show vineyards have existed in Montefalco for hundreds of years. But back then, the wine, cultivated by monks, was made with dried grapes to produce a sweet wine, Passito, used for religious rituals and feasts.
By the second half of the 20th century, Sagrantino had fallen out of favor. But starting around the '70s, producers started to revive the grape as a dry red wine, researching ways to handle its tannins to produce wines that were powerful but not punch-you-in-the-face aggressive – and a perfect match for regional specialties such as wild boar.
And every year they get better at it. Since 2000, production of Sagrantino has tripled, to 125,000 cases. The grape is also blended with Sangiovese and other grapes to produce Montefalco Rosso and Montefalco Rosso Riserva, crowd-pleaser reds.
This year, producers took another step forward, holding their first Anteprima event, showcasing the latest vintages before they hit the market. The event was organized by the Montefalco Consortium, currently at 227 members including 56 wineries, and they hosted a number of journalists, including yours truly, for the two-day event.
Tannins are the challenge of Sagrantino – some winemakers swear by using regular-sized barrique barrels, others favor the traditional large casks for aging. (Interestingly, I liked wines made in both ways.) Aging is also key. As of January 1, it was legal to release the 2011 vintage, but many in the region recommend waiting a few more years before drinking; several were pouring wines from 2010 and older at dinners and tastings.
Why go to so much trouble when merlot, cabernet, etc., will grow just as well in the Umbrian soil?
"We believe in Sagrantino," said Piero Zaramella, export manager for Livon Aziende Agricole, which owns the ColSanto winery in Montefalco.
In fact, he sees indigenous grapes as the future for Italian wines. There's nothing wrong with international varieties like merlot, but "you can grow it everywhere. So, if you want to be different than the others, you have to believe in the indigenous variety. We're in Umbria, we have to sell Sagrantino and we have to tell people to try the Sagrantino. It's something different, it's cool but at the same time it's a good quality wine."
It's also formed the backbone of a burgeoning tourism industry built around the Sagrantino Wine trail, Strada del Sagrantino.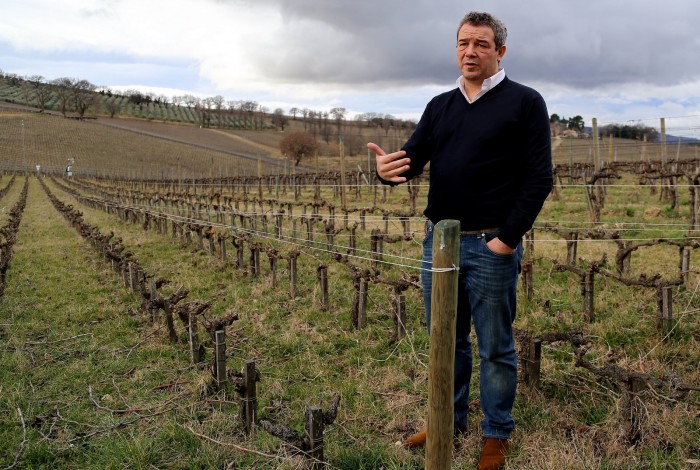 "It's not Napa, but it's one of the most important examples of wine tourism in Italy," said Marco Caprai, who runs the Arnaldo-Caprai winery founded by his father. (Walk in the front door and you get an immediate cue that this isn't Napa; the winery welcomes families and has an inviting play space set up in the tasting room.)
Back in the '70s, when his family, which runs one of Italy's leading textile companies, got into the wine business, it was uncommon for wineries to be open for visits; now they're open all year long, although it's advisable to make reservations.
ColSanto is a popular stop on the trail, offering moderately priced B&B accommodation in five rooms and featuring a wide terrace with a stunning view of the rolling countryside leading up to the craggy Appenines that form the spine of Italy.
Umbria is all about the breathtaking views. The small village of Montefalco bills itself as the "balcony of Umbria," and that is about what it feels like to look down from its various vista points. All that's missing is a really tall Romeo.

A hotel option right in the Montefalco main square is the Palazzo Bontadosi with its basement spa where a hot stone massage can restore the tissues after a rigorous day of eating and drinking.
Highlights of the trail include the Antonelli winery, which also has accommodations and features self-guided vineyard hikes and cooking classes. Another key spot is the Castelbuono winery, with its "carapace" design of a large, copper-covered dome furrowed with cracks that echo the plowed fields of the surrounding landscape.
The Montefalco region isn't just about reds, local whites include Grecchetto and Trebbiano Spoleto, fresh, crisp wines that can make you feel like summer even when it's 48 degrees outside and drizzling.
Here are a few tasting notes on whites and reds from the Montefalco region.
Antonelli Trebbiano Spoleto 2013: Starts with the aroma of flowers, stone fruit and a touch of honey goes on to a delicious mouthful reminiscent of fresh peaches soaked in honey, sweet but not cloying. An excellent patio wine.
Antonelli 2009 Sagrantino: Characteristic aroma of blackberries and plums, more dark fruit in the glass knit together with smooth hints of cocoa.
Scacciadiavoli Brut Metodo Classico: This sparkler is 85 percent Sagrantino, 15 percent Chardonnay and it's a winner. Starts out with a yeasty and lemony smell and delivers a burst of tart flavors — Granny Smith apples, citrus — balanced with the creaminess of lemon curd and brioche.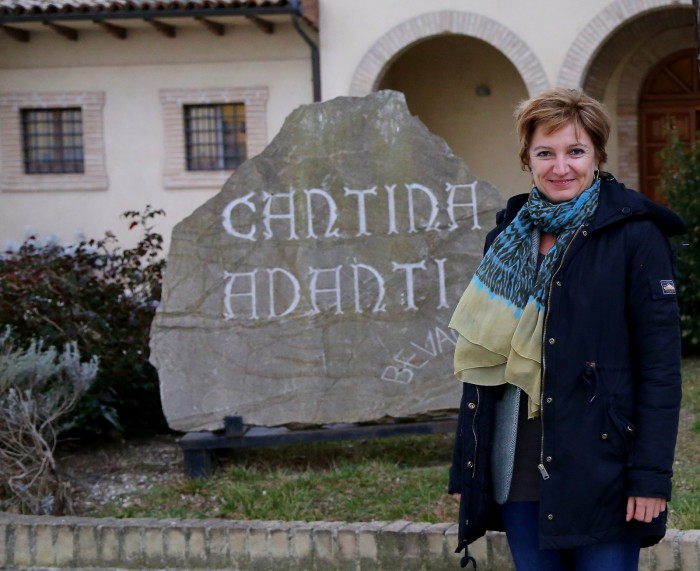 Arnaldo-Caprai Grecante 2014: This is a Greccheto that begins with the smell of white flowers and goes on to tart apples with a hint of lemon all tied together with honeysuckle.
Adanti Montefalco Rosso 2010: This was a good harvest says winery co-proprietor Donatella Adanti, and it shows in this bottle, which delivers a warm, mellow mouthful of blackberries with just a hint of dark chocolate.
Adanti Sagrantino 2008: A classic and elegant interpretation of Sagrantino that delivers the hallmark plums and blackberries along with a dusting of cocoa and echoes of licorice.