I had never been to Provence before, so I was excited by the prospect of going there this past fall.
As a wine writer of more than 30 vendanges, I find myself in France at least two or three times each year, sometimes on a specific assignment, but often as a guest of a wine region. I have more rental-car miles in Bordeaux than I care to count, the walled towns of Beaune and Avignon are two of my favorite places to stroll and to eat, and I have dutifully let myself be led past must-see bottling lines in such out-of-the-way places as Jura, Cahors and Saint-Mont.
But I had never been invited to come taste the wines of Provence, and no editor had pointed me in that direction.
Now I was scheduled to spend a week there, a late-October vacation in Cucuron, a small town north of Aix-en-Provence, with my wife and three other couples. I did my homework before we set out for France, reading wine and travel books about Provence, checking out winery sites on the internet and making contact with the folks at Wines of Provence.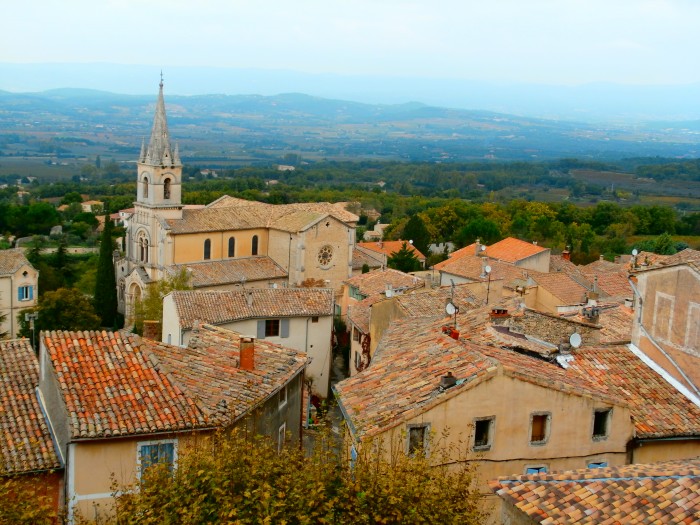 It was a great vacation, but I came back unimpressed by the wine experience. The couple of winery visits turned out OK, we had a few good bottles recommended at local wine shops, and I drank more pink wines than I had in any one previous seven-day period of my life. But I came back feeling no energy, no vibe about Provence wines, not on my part or the part of the Provençaux. I've been asking myself why. Perhaps I could have tried harder, yet I've never had a problem linking into the local wine scene anywhere else I've travelled.
So I came away wondering, should the marketing term "Toujours Provence" be re-stated as "peut-être Provence?" Perhaps Provence. That led me to some thoughts about Provence's failure thus far to distinguish itself as a premium wine region.
The Rhône factor. If you grew grapes 60 minutes from Reims, would you try to build up your reputation as a manufacturer of sparkling wine? Aix-en-Provence, the region's unofficial wine capital, is about an hour's drive from Avignon, the southern center of the Rhone appellations, one of the largest, best, most-diverse wine regions in the world. As Provence uses many of the same basic grapes as the Rhône – grenache noir and blanc, syrah, mourvedre, cinsault and marsanne – it has few ways to distinguish itself from its robust, historic neighbor. By contrast, Languedoc, with its long history of production and its relatively lax appellation rules, has prospered, positioning itself as France's New World – a place that welcomes experimentation.
Big Pink. Being known as a center for great rosés sounds like fantastic positioning – except when it isn't. It allows winemakers to take the easy money of producing an inexpensive wine, while often ignoring the production of solid red and white table wines. In spite of the reputational boost of the Pitt/Jolie artistic and commercial success of their Château Miraval rosé, the market for pink wines has always been a cyclical one – popular for a few years, then not. Additionally, it is a seasonal wine with most sales during the spring and summer months. The Southern Rhône, by contrast, has capitalized on its rosé sales, but only as an adjunct to its Côtes du Rhône and Côtes du Rhône Villages tables wines.
Lack of tradition. Of course, the Romans made wine here centuries ago, but then the Romans made wine in almost as many places as has Michel Rolland. Look at any wine map of Provence or read any wine encyclopedia's Provence entries, and the lack of noted wineries is almost shocking. Its best-known regions are probably Bandol and Cassis, and the latter is often confused with the blackcurrant liqueur. Côtes de Provence has too many sub-regions to have any feel as a brand, although Côteaux d'Aix-en-Provence is getting some recognition. But can you name one wine from Baux de Provence or Coteaux Varois, and has anyone not studying for a sommelier certificate ever heard of Palette and Bellet? Two rather well-known regions – Ventoux and Luberon – are a part of Provence administratively, but they belong to the Rhône as wine appellations – gone to live with wealthier relatives, as it were.
Lack of promotion. The European Union has for the past several years put a lot of matching money into regional wine campaigns for European wines outside of Europe, underwriting tourist-class trips by American journalists to places such Southwest France or the Loire or sending French winemakers to tour the United States, even occasionally funding some advertising. Where has Provence been in all this? When I contacted the agency representing wines of Provence about setting up some winery visits during my trip to Provence, they said "sure." Then I heard nothing else.
Better places to invest. Brad and Angelina aside, when actors, athletes and the Chinese want to buy or start a wine business, they usually go to Bordeaux or Burgundy if they want to buy prestige. If they want to buy promise and cheaper land, they go to the Languedoc or Roussillon, as have large, expansionist-minded producers from Bordeaux and the Rhône.
One could use the excuse that terroir in Provence is simply not capable of producing excellent wines, but that isn't the case. The wineries that I visited and the wines that I bought in Provence showed much promise, although "promise" is faint praise for a supposedly mature region. America's small importers have not invested heavily in the region, apparently seeing little chance of finding the "hidden gems" they do elsewhere. But is the region capable of making great wines? Of course, it is and occasionally it does.
While Provence does have a few well-known wineries that sell to the U.K. and the U.S. – we could all make our short lists of them – there are probably none that would be regarded as grand cru elsewhere. By and large, Provence remains on wine maps terra incognita, the name ancient cartographers used to mark "The Unknown World." One hopes that will change, that in 10 or 20 years, other wine writers will be talking excitedly about the bold new wines of Provence and citing this article as a baseline for how far they have come.