Quick! Name an Austrian wine.
Did you say Grüner Veltliner? Take two points—and double that if you've drunk one in the last six weeks.
Did you say Zweigelt? You just won a geek badge.
Grüner is indeed the most widely grown grape variety in Austria, and there's about as much of it as all red grape varieties—combined.
But Zweigelt? Actually, this is Austria's most-planted red, and in contrast to Grüner, its acreage has increased in the last 15 years. So although you may have never tasted one—and may have never even heard of it—its fortunes may be turning.
That would be a good thing. It's a terrific partner for a wide range of foods, and its heady aromatics, peppery kick, and good acidity make it a red worth tracking down.
Zweigelt: Austrian By Design

Zweigelt has been around only since 1922, when Austrian biologist Dr. Friedrich Zweigelt created the vine by crossing St. Laurent, a dark-skinned, aromatic relative of pinot noir, with blaufränkisch (also called lemberger), a spicy, tannic grape that has been grown in Austria for at least twelve centuries. He called his new variety rotburger, but it was soon renamed after its creator. (And while the newer name, pronounced TSVY-gelt, doesn't exactly trip off the tongue, its connotations to anglophones are at least a bit more genial.)
A vigorous producer in a wide range of soils, the vine quickly became popular with Austrian growers, who also liked that it budded later than St. Laurent and was ready to harvest well before blaufränkisch. Its tendency toward over-productivity, though, required that it be aggressively pruned to limit yields.
Unfortunately, during the middle the 20th century, Austria was primarily known for its bulk wines for export, and vintners hardly concerned themselves with coaxing a grape's best expression. Zweigelt, like many of its brethren, found its way into inestimable gallons of unremarkable wine.
Zweigelt Ascendant
But all that changed in the past few decades, after Austria tightened standards for wine production and codified reverence for regional character. Now, Zweigelt's yields are down, quality is up, and the wine has caught the attention of the global market.
Examples from warmer reaches of Burgenland and the shores of Lake Neusiedlersee can be medium- to full-bodied, with generous fruit and aromatics. Meanwhile, those from the cooler areas of Niederösterreich (Lower Austria) can display great refinement reminiscent of the lean minerality and earthy savoriness of Burgundian Pinot Noir.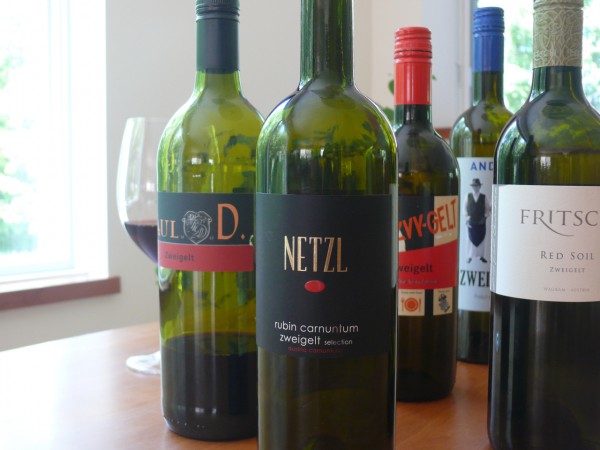 I'm always on the lookout for affordable cool-climate reds made in a restrained style, treated to less manipulation and oak, and unmistakably intended to pair with food. My first encounter with Zweigelt was only about a year ago, in a tasting that piqued my interest in Austrian reds in general. More recently, I've read articles by Eric Asimov, Alder Yarrow, and Jon Bonné on the grape.
Eager to know more, I gathered an assortment of Zweigelt wines to taste through a range. As usual, I tasted them both straight and accompanied by food, in this case rare, herb-rubbed grilled steaks, and re-tasted them the next day to understand how well they'd handled exposure to oxygen.
One the whole I found them to be zesty and well balanced, offering piquant top notes of spice and pepper above flavors of earth, plum, and dark cherry fruits. Tannins were generally modest, and the wines' acidity kept them refreshing. Prices ranged from $12 to $25, and while the $25 bottle was my favorite, there were great values at the low end, too.
Supple tannins and great acidity also mean these wines can even be served with a slight chill without numbing the fruit, making them great summer wines. So for your next picnic, sure—pack a bottle of Grüner and open it first. Then open a Zweigelt and see what it can do.
Tasting Notes
2009 Zvy-Gelt Zweigelt Niederösterreich
13.4% ABV | Price: about $12 (media sample)
This wine is a collaboration between winemaker Neinhard Forstreiter and Monika Caha Selections, who distributes the brand. Aging was half in stainless and half in neutral oak, but the wine mysteriously offered sweet butterscotch aromas along with its faint hints of black pepper. On the palate it was slightly spicy with a strong vegetal character that was balanced by sweet cherry-berry flavors. The finish, though, was lean and peppery. This wine needs food, and was a surprisingly good pairing for the herb-rubbed meat. I kept returning to the wine throughout the meal: it's an extremely admirable wine, especially for its price.
2009 Andau Zweigelt Burgenland
13.5% ABV | Price: about $14 (media sample)
The result of another Monika Caha collaboration, this time with winemaker Erich Scheiblhofer. The fruit was grown in the extreme southern tip of Burgenland, which enjoys considerable sunshine and warmer temperatures than elsewhere in Austria. The result was, not surprisingly, the most full-bodied wine of the tasting, plush and heavily extracted and deep inky red. Aromatically it offered lots of woodsy sweetness with pronounced notes of clove. The clove continued on the palate, too, along with a kick of pepper and black fruits. I found this wine a little too opulent and not as food-friendly as the other examples, but it would likely be pleasing by the glass, and to those not acclimatized to leaner reds.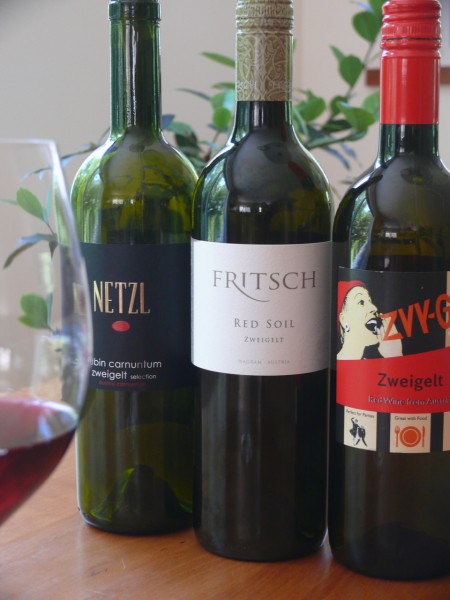 2009 Fritsch Zweigelt "Red Soil" Wagram
12.5% ABV | Price: about $18 (media sample)
Here was a red from the Wagram region of Lower Austria, the coolest zone in this lineup. The result was concomitantly lower in alcohol and had the telltale pale garnet color of a cool-climate wine. Hints of mint and herbs wafted over lovely aromas of plummy black fruits with a base note of earth. On the palate it was spicy with great piquancy, black pepper, and more plummy fruits. The finish was long and supple, and this wine retained its character after a day in the bottle. Enormously elegant and food loving. To my mind, a close second for best of tasting.
13.5% ABV | Price: about $18 (producer)
Leo Hillinger is a producer in Burgenland boasting a sleek, new modern winemaking and tasting facility built with many sustainable and green design features. Vineyard management is all organic, with only biological interventions and pest management practices when required. I've enjoyed their Pinot Noir, which is herbaceous and has distinct earthy notes of red beets, similar to true Burgundy. This unoaked Zweigelt had a sharp, peppery nose, although I found the palate slightly too herbaceous—more green pepper than black pepper, in other words—and a bit tannic. It perhaps needs a little age to unwind, but nonetheless felt promising.
2010 Netzl Zweigelt Rubin Carnuntum
13.5% ABV | Price: about $25 (media sample)
This Zweigelt also hails from the Niederösterreich in the smaller district of Carnuntum. But the vineyard mesoclimate enjoys the tempering influences of Lake Neusiedlersee and the Danube, producing riper fruit that still retains good acidity. The wine was deep cherry red with extremely elegant aromatics, including a whiff of tropical vanilla, supple red fruits, and dusty earth. It had the most grip of any of this tasting, but the tannins were beautifully textured, playing against the earthy fruits and ripe cherry acidity. On the whole the wine was the best integrated, supple, and nuanced of the tasting, and was still all together the following day. The best of tasting.
Editor's Note: This article originally listed an incorrect price for the Netzl Zweigelt. The correct price is $25.
[author] [author_image timthumb='on'][author] [author_image timthumb='on']http://palatepress.com/wp-content/uploads/2012/02/MHMaker.jpg[/author_image] [author_info]Meg Houston Maker, MA, CSW, is a writer curious about nature, culture, food, wine, and place. Find her creative writing at Megmaker.com and essays on food and wine at Maker's Table. Follow her on Twitter @megmaker.[/author_info] [/author][/author_image] [author_info]Meg Houston Maker, MA, CSW, is a writer curious about nature, culture, food, wine, and place. Find her creative writing at Megmaker.com and essays on food and wine at Maker's Table. Follow her on Twitter @megmaker.[/author_info] [/author]