"This is the new part of the cellar", says Nikolaus Saahs with a wry smile as we walk around the extraordinary gothic basement of his family's estate – Nikolaihof. It's "only" 400 years old, compared to the rest which dates from the Roman era (c. 1,880 years ago).
I can't help thinking that the story of Nikolaihof would make a great film – monks, Romans, Nazis, wartime strife, all put in an appearance. The only thing missing is invaders from outer space.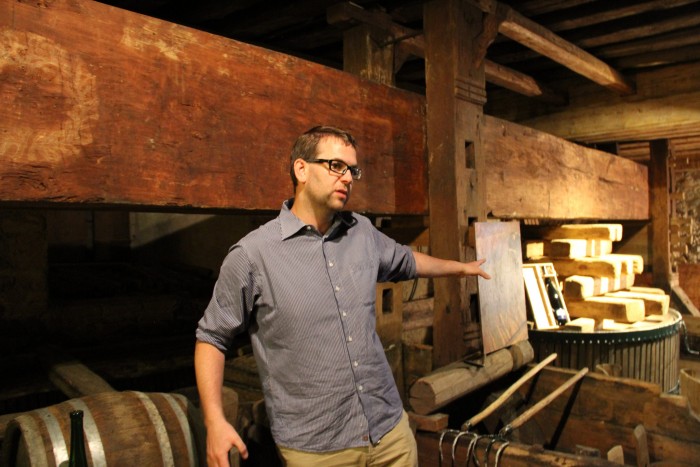 Not only is Nikolaihof utterly steeped in history, it has also become one of the Wachau's most renowned estates. That fame probably peaked in 2014, when David Schildknecht gave 100 points to the 1995 Riesling Vinothek – the first time an Austrian wine had ever scored a bullseye with Robert Parker's Wine Advocate.
The family acquired the land in 1894, only to cede most of it to Nazi armed forces just before WWII. After years of Russian occupation, grandfather Saahs managed to buy back the winery in 1960, the same year he died. His son returned from wine schooling in Germany and set to work in 1962. The problem? The Saahs were now penniless. There was no money available to invest in the fertilizers, chemicals or winemaking equipment he'd learnt about.
The Saahs continued making wine as their forefathers had – paying close attention to the phases of the moon and aiming for healthy vines that could fight off disease. Luckily, the winery had a 350 year old beam-press and large slavonian oak barrels to age the wines.
A case of "needs must" turned out to be a gift. The wines were good – very good. Rather than change the philosophy, the family instead sought to strengthen it. When Christine Saahs (from the nearby Geyerhof estate) married into the family in 1971, she brought with her experience of Rudolf Steiner's biodynamic principles, not a mention a veritable one-woman sales force that would prove invaluable.
Accreditation proved difficult. Followers of anthroposophy, Steiner's overriding mystic philosophy, tended to regard alcohol as a barrier to spiritual development. This made biodynamic certification body Demeter hesitant to grant its seal of approval to wine producers. Nevertheless, Nikolaihof achieved Demeter certification in the 1990s – the first to do so in Austria, and still the only certified biodynamic producer in the Wachau.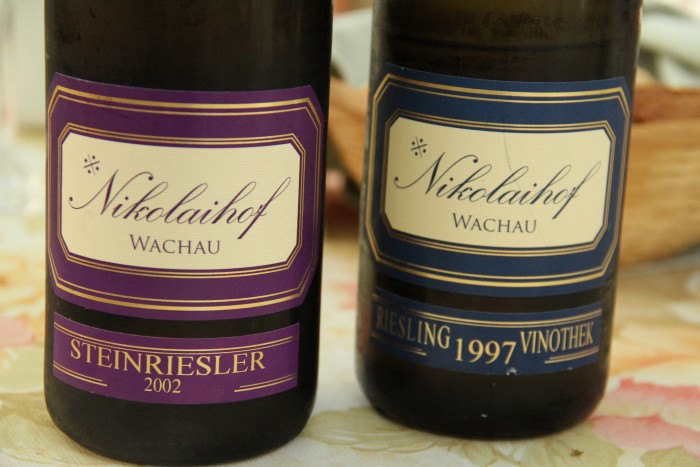 Doing things differently
The Saahs have stuck to their guns, not just with biodynamic agriculture but also on the assertion that the best wine needs to be aged. It's a Nikolaihof tradition not to rush wines to release, but to allow them to mature as long as possible – something quite against the grain in Austria. Young wines are bottled in March, but top wines are kept, and kept, and kept. The extreme is Vinothek, which ages for up to 17 years (the 1997 Riesling was bottled in 2014) in oak.
There's a love of Riesling at this estate, and of rather refined, delicate wines in general – a key point of difference with many other Wachau producers, who aim for super concentrated, full bodied Grüner Veltliner in their top wines. I wonder if Nikolaihof's neighbours find them a little odd? Nikolaus jokes "We're on the wrong side of the Danube, we're biodynamic, we like to age our wines and we make lighter styles – so yes, there are at least four reasons why people think we're crazy."
The biodynamic philosophy, and a holistic view of farming runs through the whole family. Nikolaihof also grows apricots, peaches, plums and provides much of the produce served in the courtyard restaurant – a dreamy location under the spreading boughs of a large linden tree. Niki's sister Elisabeth serves up a wonderful breakfast of local organic and biodynamic produce at her nearby guesthouse, and brother Martin is about to launch a range of biodynamic cosmetics, made from products grown at the estate.
As I sit in the courtyard on a perfect summer's evening, I wonder how many of the world's other 100-point estates offer such an inclusive experience. The gates here are not locked, the public are welcome and the family Saahs – all charming, to a fault –  form a key part of the service staff. The food, masterminded by Christine Saahs, is exceptional, seasonal and delicious – but still recognizably in the Austrian heuriger tradition. Every single wine made at the estate – there are over 30 – is available by the glass, at decidedly reasonable prices.
The only wine you can't drink here is the 1995 Riesling Vinothek. Nikolaus laughs again "This 100 point score was nice, but it's become a joke. We were sold out of that wine even before David released his scores. I get a 100 emails a day asking for bottles!"
---
Some great Nikolaihof wines to drink now:
Neuburger 2014
A hard to find variety championed by Nikolaus. Typical nuttiness, green plum with a bit of lemon and fresh ginger. Really fresh, easy drinking but with refinement.
in Weingebirge Smaragd – Grüner Veltliner 2013
Hint of rubber on the nose. Terrific poise and tension, pin sharp acidity and a mineral, salty finish.
Steiner Hund – Riesling 2012
Outstanding depth and drive in this single vineyard Riesling. Quite concentrated, creamy texture, grapefruit, tart tatin, wet stone.
Steinriesler – Riesling 2002
Bottled 2015. Youthful nose, fresh lemonade. Lovely evolution, full bodied, nutmeg & cream. Long, long finish, very elegant.
---
Nikolaihof wines are widely available across the US. For more photos of the Nikolaihof winery, visit Simon's flickr album.