Who doesn't love a place where the vineyards are steep, green gardens that produce fragrant white wines made with pinot blanc, sauvignon blanc, gewürztraminer and kerner? The elegant red wines here are made from pinot noir, lagrein and merlot grapes. This is in the far north of Italy, bordering on Austria, in a region with a dual Italian-Austrian identity: Alto Adige, also known as Südtirol.
But the most representative grape of this region isn't any of the well-known names mentioned above; it is a humble local grape grown here since the distant past, known as vernatsch (in German), or schiava (in Italian).
The origin of this grape is uncertain, but it is probably Slavic. It was introduced to Italy in the Middle Ages, by the Lombards. For centuries it was used to produce the modest local wine but during the last 40 years vernatsch has been passed over in favor of popular international varieties, and acres and acres of vernatsch have been lost.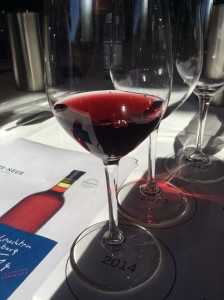 "Vernatsch is a variety with a poor endowment of anthocyanins and polyphenols," explains Gerhard Sanin, winemaker for Erste+Neue winery. "And that is why, for us wine technicians, it has been a sort of Cinderella for many years. Nevertheless, it also is rich in aromas, so little by little I fell in love with it, and decided that this grape had to have a second chance."
Erste+Neue is one of the oldest cooperatives in Alto Adige, founded in 1900 with the name of Erste Kellereigenossenschaft Kaltern (The First Cooperative in Kaltern). In 1986 it merged with the Neue Kellereigenossenschaft (The New Cooperative) which was founded in 1925. So the cooperative winery's name became Erste+Neue.
Here in Südtirol the cooperatives are often models of excellent wine production, and this one is no exception. It has 400 members who cultivate 568 acres of vineyards, 46% white grapes, 54% red grapes; the annual production is 1,400,000 bottles.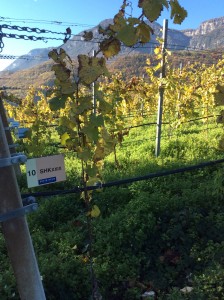 Today is an unusually warm day in November, and we are in the experimental vineyard of Erste+Neue. Below us stretches the glittering Kaltern (Caldaro) Lake; under the rays of the sun it looks like a blue-green jewel. Most of the vineyards surround the Kaltern Lake, at altitudes between 250m and 600m (800-2,000 feet). Erste+Neue is in effect the most important producer of Kalterersee, the local DOC wine made with vernatsch. Recently they have started a special project with this variety, in order to re-launch the wine in a more modern form – yet without abandoning its past as a friendly, daily wine.
"There are three types of vernatsch grapes," relates Erste+Neue general manager Andrea Carpi. "The "big" vernatsch, the "gentle" vernatsch and the "grey" one; the Kalterersee wine is made with all three of them. But the nearby St. Maddalena DOC wines have a very small percentage of lagrein grape in them. Nowadays, 30% of the vineyards in Sudtirol are vernatsch, though this has declined in the last 30 years. We are the most important grower of this grape, and we trust in it, because we know that it has the right potential to give an enjoyable modern wine. That's why we are pursuing this experiment, seeking out old vines in the vineyards and studying their behavior."
The goal is to find the best grapes to make a wine that is more intensely colored and with slightly more structure — yet without giving up its gentleness. "For some years we have been observing in our region a number of very old vines (80-100 years old) whose bunches are not big and whose yield is low," says Sanin. "Their wines are very fragrant, more colorful and more tannic. This is the original Kalterersee wine that we want to replicate."
After reviewing all the vineyards of the cooperative, in 2013 Federico Curtaz and Gerhard Sanin planted an experimental vineyard with 4,000 vines grafted with a historic style of graft which assures longevity in the wine. Starting next year, Erste+Neue will do some micro-vinification in order to compare the results from the old vines and decide the best mass selection to reproduce them. "In this way, we want to save a genetic heritage at risk of extinction, and keep alive the biodiversity of the area," says Curtaz.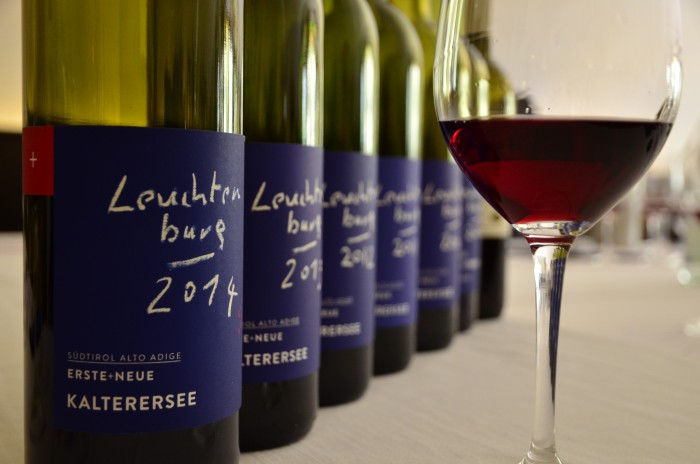 Meanwhile, the work with the current vernatsch wine in the winery doesn't stop: their best Kalterersee DOC, the "Leuchtenburg 2014" has just received the well-known Italian Tre Bicchieri 2016 award. This is the third time in a row for the cooperative, which was the first ever to achieve this award with a Vernatsch. Not bad for the Cinderella of Südtirol!
As usual, when something becomes successful, outside interest begins to increase. "One of the most noticeable results of our efforts is that now many other winemakers and wine producers are now also involved in the re-launch of Vernatsch," Curtaz and Sanin report. "Our cooperative, however, was the first to believe in this grape and to perceive that the taste of consumers is changing. People are getting tired of high-alcohol, highly-structured wines and they're looking for something lighter, but still complex: a wine possibly from an indigenous variety, a drinkable, fragrant red wine for an everyday meal."
And if by chance you are in this region, grab a sandwich of Schüttelbrot (the typical dark, crisp bread of the region) with speck (ham), and a glass of a fresh and fruity Vernatsch. Take your snack outside, on the shore of the Kalterer Lake: this is the best "Willkommen in Südtirol!" you can have.