Rare wines from revitalized, historic grapes are putting Switzerland on the wine lover's map
Swiss wines are nearly impossible to find outside of the country, as they make up less than 1% of global production. Only 1.5% is exported, because the natives — who rank in the top ten in per capita consumption — drink the rest, and still have to import more than double that amount from other countries.
The first time someone told me they were from one of Geneva's best known wineries, I started to laugh. Then I realized they were serious. Even today, unless one lives in Switzerland, it's easy to go an entire lifetime without ever considering the existence of Swiss wines.
Like most people, I first assumed there was a much larger production of white than red wines because of Switzerland's mountainous, northern climate. In fact, however, the latest figures show 58% red vs. 42% white wine production. Some are well-known red and white grapes such as Chardonnay, Gamay, Marsanne, Pinot Noir, Sauvignon Blanc and Syrah. But that's not what I'm here to talk about.
Winemakers worldwide are reviving historic grapes, and Switzerland is no exception. In addition, consumers and sommeliers are searching for more and more obscure wines to try. I'm not immune to the quest for rare wines to sample and write about, so I was excited when I happened to meet Ellen Wallace on my travels last year. An authority on Swiss wines and author of the recent book Vineglorious!, Wallace offered me the chance to stay with her and learn about these wines. We spent our time in the canton of Valais — a French-speaking region southeast of Geneva — where she lives.
In this region, many tiny, high-altitude vineyards thrive despite their international obscurity. The smallest vineyard plots I saw in Valais were only a few square yards in size. They were planted on the nearly-vertical mountainside above the town of Visp, at an altitude of 4,000 feet. (The actual name of the vineyards' location is Visperterminen.) Though this is thought to be the highest altitude vineyard in Europe, grapes flourish here because it's tucked in above a bend in the Rhone River which allows the vineyards to face south. The historic dry stone walls of the vineyard terraces also hold heat and help the grapes to ripen.
Hundreds of vineyard owners and wine-lovers have taken on the heroic task of keeping these 500-year-old vineyards alive. They toil away on slopes up to 70% grade, doing all their work by hand. Luckily, a few decades ago they decided to pool their labors-of-love into the St. Jodern Kellerei cooperative, which makes a surprising number of very good wines; it is known throughout the country for its beautifully structure "authentic Heida" wine (Heida is also known as païen, traminer or savagnin blanc in other regions). Up in the thoroughly-modern co-op tasting room perched on the side of the mountain, I sampled the 2016 Heida Classique Visperterminen which was just bottled and showed the saltiness of the terroir, with the wine's nuttiness and citrus/tropical fruit only starting to develop (after 50% malolactic fermentation).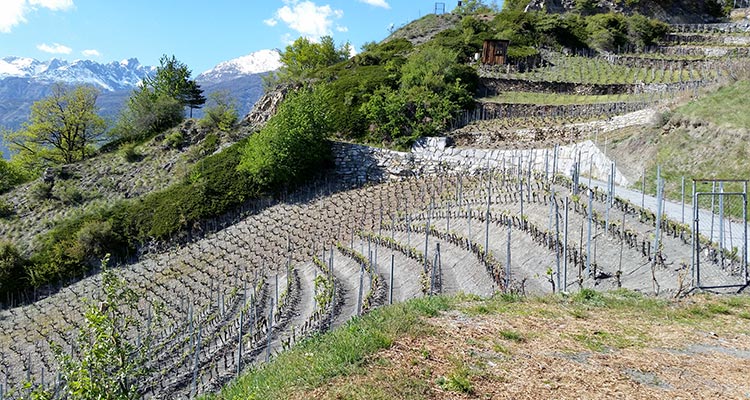 Though Chasselas leads white production, there's plenty more to love
The best-known of the Swiss wines, Chasselas is made from white, thin-skinned grapes, and ranges from floral to fruity, with a touch of minerality and not much acidity. Though there is quite a bit of this produced in Switzerland — it's 27% of the country's cultivation — in the Valais region where I toured wineries, a few other white wines are also popular.
I had to learn about Fendant, a hero wine of Valais. But wait… Fendant is actually the regional name for Chasselas. Valais winemakers claim that though Chasselas originated in Geneva, their own steep, terraced vineyards grow the finest version.
The Valais winemaking Mercier family came over for dinner one night, and helped out with the raclette (a delectable Swiss melted cheese dish served over new potatoes, with cornichons and other garnishes). To pair, they brought their "most popular every-day wine," the 2016 Denis Mercier Fendant, a minerally wine of their terroir which is typically stony and calcareous.
Another well-known white in Valais is Petite Arvine (aka Arvine), a citrus-note, savory wine that may also have fresh stone-fruit flavors. One of the best I had was the 2015 Maurice Zufferey Petite Arvine, which was complex with lively acidity, some forest notes and big stone fruit as well. Another winemaker, Benoit Dorsaz, showed us his biodynamic vineyards, and with the sound of goat bells in the distance we sampled his aromatic, young 2016 Fully "Les Perches" Petite Arvine.
The other well-known white here is Savagnin Blanc (not to be confused with Sauvignon Blanc) which is a full, aromatic wine that can contain a hint of chalky minerality. A good example, featuring those classic aromas and flavors, was the 2015 Yvorne Savagnin Blanc from Chateau Maison Blanche.
Yes, they make red wines too
I was quite pleased to discover several very good red wines, made mostly from grapes I hadn't heard of such as diolinoir, gamaret and humagne rouge. But one of the most notable was cornalin (aka rouge du pays), which only a few winemakers have mastered. In its best expression, it is a mixture of red and black cherry aromas and flavors. The finest I had was the 2015 Cornalin Tradition Domaine des Muses, produced by Robert Taramarcaz, which featured typical aromas of woodland notes, full yet controlled fruit morphing into dark raspberry flavors on the end-palate. Both the mouthfeel and the tannins were velvety from end-palate to finish.
Dole, a blend of pinot noir (at least 70%) and gamay, offers a combination of light fruit and earthiness. One of my favorites — Bétrisey & Albrecht 2015 Sang Barbare Dole — was served at a lovely outdoor lunch at the unlikely-looking Motel Restaurant Treize Etoiles in St Léonard, where we all had excellent beef fondue (sliced beef cooked in a fondue pot of broth). It started with a big, earthy aroma but lightened on a palate of bright fruit and earthiness; it was, typically, 70% pinot noir and 30% gamay.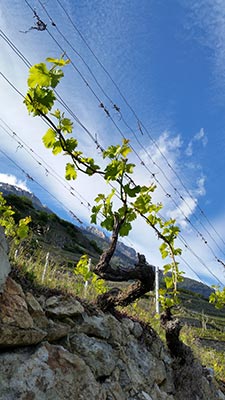 It's easy to find vineyards and tasting rooms near Geneva
The region of Geneva itself has vineyards and wineries. To the east is the canton (province) of Vaud, which produces about a quarter of all Swiss wines every year. Just east of Vaud, the southern canton Valais produces the most wines of any region in Switzerland: 33%. It extends along the Rhone River for over 60 miles, with vineyards on both sides, mainly on steep hillsides. And it's visually spectacular; in late spring and summer the valley floor is leafy green, but every time I lifted my head I was astounded once again by the magnificence of the snowcapped Alps behind the vineyard hills.
[The other three Swiss wine-producing areas are farther away from Geneva. The French-speaking Three Lakes region north of Vaud produces 7% of Switzerland's wine. The Italian-speaking region Ticino near the Italian border produces 8%. And the German-speaking area in the northeastern part of Switzerland produces 18% of the wine.]
Wine and Cheese pairings abound
Not just famous for chocolate, Switzerland is also known for its great dairy products. You won't see anything labeled "Swiss cheese" in Switzerland, but that's the type of cheese they use to make their famed cheese fondue and raclette dishes: large, aged rounds with a nutty complex flavor and small bubbles of air sprinkled throughout the cheese. The raclette I had was made with two different cheeses, melted alternately: Aletsch and the Valais Val d'Or. Definitely try the white wines – well as the reds — with the cheese dishes.