Although it remains most associated with France, Italy is also a major producer of rosé wine, though here we refer to it as rosato (plural: rosati). And it's made all over the country. Plenty of it is sparkling too, and of very good quality (see below for recommendations). Surprisingly, however, Italians have not been as great at consuming this wine as they are at producing it. Though the country vinifies 9% of the world's rosé, and is the second largest exporter behind France, it is just sixth in consumption — after France, USA, Germany, UK, and Spain.
This behavior is probably as much tradition as it is cultural bias, which feeds on itself: fewer people buy rosato, so fewer drink rosato, thus establishments stock it less. In Italian wine shops as well as in restaurants, owners tend to buy only the wine they know will sell easily, which is rarely pink. In fact, many Italian drinkers see rosato as girlish, or worse yet, wrong — as if it were a red that somehow went bad.
This part of Italian wine culture does seem to be changing. While appearing at the recent Sorrento Rosé event in Puglia, renowned Italian-American chef Lidia Bastianich noted that Italian rosé is a type of wine that reflects all the wealth of diversity of the country. Francesco D'Agostino, publisher of the magazine Cucina & Vini, expanded on that point: "The main regions of production are usually Abruzzo, Apulia, Lombardy and Veneto. But thanks to many excellent producers in other regions, these areas of interest have widened beyond the classic divisions of territory or denomination, showing a strong ability to arouse Italian interest in the world of drink pink as a whole."
Elsewhere, the data is clear – in 2016, in the US alone, sales increased 6.8%, with a revenue of over $816 million – and the forecasts are optimistic. According to Euromonitor International, 2018 consumption will increase to 25 million hectoliters (up from 24 million in 2016), a boost in production of about 3 billion bottles in just two years.
To showcase the richness of Italian rosati, many pink-themed wine events have recently been established. In addition to the aforementioned Sorrento Rosé, this summer we'll have Italia in Rosa (June 2-4, Castello di Moniga del Garda, on the Garda Lake) and Bere Rosa (July 6, Palazzo Brancaccio, Rome). And they're not just for natives! Those planning a trip should consider them excellent opportunities to get to know the world of Italian rosato.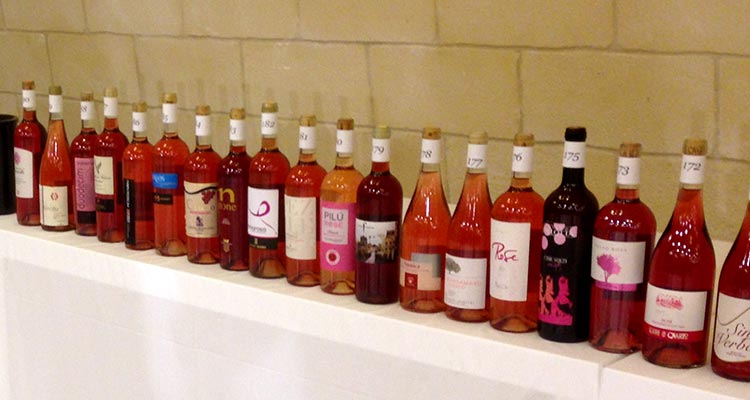 For those who can't make it over, here are a few fun facts:
Rosato is not just for summer: its bright, appealing colors often remind us of fun summer holidays, but this may be just a matter of habit (or culture). In France, for instance, rosé is a typical Christmas wine!
Rosato is not only an aperitif: it is truly versatile, easy to pair with many vegetable dishes, such as a caprese salad (mozzarella, basil, fresh tomatoes, olive oil) or a classic pizza Margherita. With food it's advisable to drink slightly cool, but not too cold.
Skin contact with the must is critical: it's a matter of time as well as grape variety. Anthocyanins (the pigments that give color to wine) are mainly in grape skins, so the longer the must stays in contact with them, the darker the final color. Also, since not all red grapes have the same amount of anthocyanins, the final color can vary greatly, depending on the variety. A French rosé from Provence is notoriously pale, for example, if compared with a rosato from Salento.
Most rosato is made to be consumed in a year or two. Although it can age to some extent, this will diminish the sweet aromas and flavors of flowers and fruits while highlighting spice notes, and change the color slightly.
Good rosato is not inexpensive. Though many rosati offer good value, the best are usually not cheap.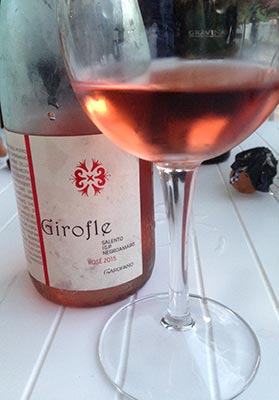 Tasting Notes
Shifting from words to glasses, here are several recommended Italian rosato wines to try:
2015 Severino Garofano Girofle – Salento IGP Negroamaro
The classic rosato from Salento, made with negroamaro grapes. The color is dark pink, while the flavors recall sweet, small red fruit and the Mediterranean bush; in the mouth it is fruity with a touch of salt, fresh and elegant.
N.V. Maso Martis Brut Rosé Trento – Trentino Alto Adige
Made with pinot noir, this a silky and creamy classic method sparkler, with flavors of red flowers and fruits, and a persistent and balanced taste.
2015 Ca' dei Frati Rosa dei Frati – Riviera del Garda Bresciano
The nose is almost sweet and floral, but the palate is dry and smooth, with a long finish.
2013 Murgo Brut Rosé Metodo Classico – Sicilia (Nerello Mascalese)
Fresh, salty, with scents of brioche and small red fruits, persistent and long on the palate. A great sparkling rosato to drink before and during a meal.