If American winemaking has a twenty-first century mantra, it's "great wine is made in the vineyard." The concept of terroir – of the place where grapes are born triumphing over the actions of winemakers when producing fine wine – is inescapable, even for an area that remains the young upstart in comparison to more established Old World wine regions.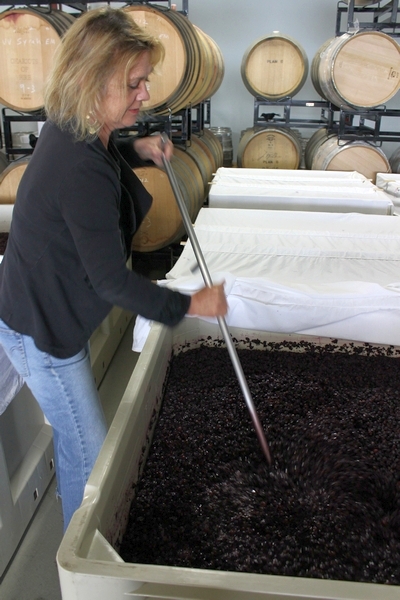 Here's a thought experiment: if great wine is destined in the growing of the grapes rather than in science of the winery, shouldn't talented enough amateurs (given access to excellent fruit and good-enough winemaking facilities) be able to produce wines that can compete with that of the professionals? In Southern California's Ventura County, this theoretical scenario is actually taking place; and while the results aren't yet a definitive positive, they are promising. The trick is getting more critics, area residents, beachgoers, and those wine lovers stopping for gas en route from L.A. to Sonoma or Napa Valley, to take notice. To do that, they're bootstrapping their way into serious winemaking by seeking out quality grapes from the same Northern California areas to which passing-through tourist are headed.
Following the trailblazers
Spurred primarily by Adam Tolmach's critical success at The Ojai Vineyard, Ventura County's wine trail now has over fifteen members, most of which are making wine in tiny quantities using rented urban facilities. It helps that the region's largest producer – kosher powerhouse Herzog Wine Cellars – has taken on an "older brother" role in fostering the tight-knit community of amateurs-cum-winemakers.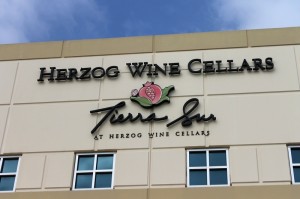 The support is not inconsequential; at 250,000 cases and fifty-two SKUs produced a year, Herzog is roughly two hundred times larger than Ventura's average producer, with just as many more resources at its disposal. "We created the wine industry here," Joseph Herzog, vice president of Herzog's wine operations told me – through a thick Jewish accent and nary an ounce of hubris – during a sponsored visit to the area; "and we're proud to take credit for that."
A burgeoning, supportive community is one of three factors that needed to coalesce before Ventura had any hope of starting to lure wine tasters from more northern California destinations. The seconds was access to fruit good enough that it could make fine wine potentially worthy of a wider stage in the marketplace. It's not that grapes can't be grown in Ventura; it's that no one can yet make a profit doing so. This is decidedly raspberry and strawberry country. As Mike Brown, founder of Cantara Cellars in Camarillo put it, "Why don't we have more vineyards out here? Because they don't make $46,000 an acre!"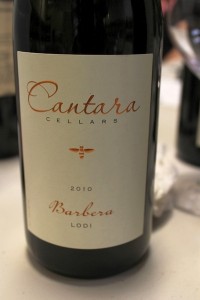 Instead, Ventura's winemakers set their sights on the Central Coast and up, buying out-of-demand grapes from excellent sites (such as Sangiovese from western Paso Robles, in the case of Four Brix Winery, or Syrah from Santa Ynez Valley, in the case of San Vincente Cellars). Another tactic: capitalizing on life-long contacts and lower process in up-and-coming regions (as Brown did in sourcing Barbera and Merlot grapes from Lodi, where his family has roots dating back to the 1800s; similarly, Robert Wagner of Magnavino went after Lodi Cabernet Sauvignon, forging it into a Gold-medal winning wine in the 2014 San Francisco Chronicle Competition).
Finally, Ventura needed a critical mass of wanna-be winemakers willing to take a leap from basement viniculture to launching full-blown wine brands. Mike and Chris Brown, having founded Cantara in 2002 out of there house, were one of the first, and have subsequently watched as other entrepreneurs followed suit. Marlow and Janis Barger retired from construction and grief counseling, respectively, into the wine business with Plan B Cellars ("there is no Plan A anymore," they quipped to me).
Robert and Barbara Wagner opened a slick tasting room near Herzog for their brand Magnavino, using savings from careers in the advertising and marketing business. Looking for a respite from "the FDA breathing down my neck," former New Jersey native and biotech alumnus Vince Pantess and his wife established San Vincente Cellars, in a way as Pantess's alternative to a "man cave."
But does it taste good?
It's all a moot point, of course, if the wines stink, which for the most part they don't. The urban settings won't be giving the posh tasting rooms on Napa's Route 29 a run for the money anytime soon, but apart from a few clunkers, the area's wines range from "better than you expected" to very, very good. While the producers already mentioned here rank among the region's best, don't look for consistency in their offerings, other than consistently improving quality. The startups mostly lack the buying power to produce the same wine from the same grape sources year in and year out. The informal mission of Ventura, then, seems to be a focus on diversity and winemaker expression.
"You're going to find stuff all over the map that represents the winemaker's vision and choice of vineyards," explained Brown. "There's room for a lot of experimentation."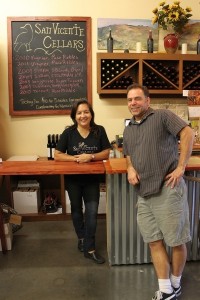 The standouts I tasted confirmed that view. Take San Vincente's meaty, balsamic Syrah from the Stolpman Vineyard in Santa Ynez, along with their dark, tobacco-laden Paso Robles Tannat, as examples. These are promising reds that might never be made again (the Tannat vineyard is currently sold out), and were constructed with no Old World model in mind. "Ill probably never make the same wine again… ever!" Vincente noted during my visit. While Plan B Cellars might be able to offer subsequent vintages of its peppery, Primitivo-like Paso Robles Zinfandel, consistently getting their hands on the excellent Santa Ynez Syrah and Viognier fruit that made up their spicy "Valley View" Syrah might prove more difficult. Magnavino and Four Brix seem to have more polished business plans, along with their more polished tasting room venues, and are poised to produce multiple vintages of wines from the same grape sources. "I probably pay more for fruit than most people, but I'm buying good grapes [from the same vineyards each year]," asserted Wagner. "Their bill doesn't sit on my desk more than an hour before I pay them."
But access to good fruit, and the communal support and know-how to turn that fruit into promising fine wine, are just the prices of entry; those factors alone don't what sells fine wine. When asked what Ventura County's biggest wine industry biggest wine challenge is, Vince Pantess didn't hesitate for a millisecond before answering.
"Makerting. No one knows that places like this are out here. Santa Barbara and Paso Robles are so close. This tasting room could have been up in Paso, but it's not; it's here."
The question is, will enough people like you go "here" instead of there?