In this series, we take a look at three of the most fascinating and diverse wine districts within Italy's Piedmont region. We'll be exploring what this most historic and traditional of wine regions looks like today, and highlighting some of the off-the-beaten-track producers quietly shaping the region's future. First up we explore the place that put Piedmont on the map: Barolo. 
Google the word 'Barolo' and before long you'll find yourself being led down a rabbit hole of musings on The Barolo Wars. The term was coined by the wine media to describe the divide between winemakers in the famed Piedmont region of northwest Italy throughout the '80s and '90s — and is still discussed in depth today. The supposed wars were between those producers working with a traditional vs. a modern approach. Traditional meant long fermentations, aging in large casks called botti, and general "hands off" winemaking, resulting in tannic, complex wines requiring many years of bottle age before being ready to drink. Those making their wine in a modernist style used short fermentations under strict temperature control, more extraction, and aging in oak barriques for a fruitier, oakier, more "drink-now" style.
The media coverage of The Barolo Wars, and indeed to Barolo in general, was–and still is–given almost exlusively to the same producers. Understandably they are the famous families who have shaped Barolo over the last few decades, and their wines fetch prices to reflect that fame. They are the Gajas and the Mascarellos, the Cerettos and Piras, the Rivettis, Altares, Rinaldis, Scavinos and Sandrones. But amidst the cacophony created by the big name winemakers — and every wine writer you can shake a stick at –are the rest of Barolo's 500 plus producers, some who have emerged from the woodwork recently infusing young blood into the region, and others whose families have owned vineyards in Barolo for centuries and are now bottling their own wine rather than selling on their grapes. Their wines, generally more affordable than their famous brethren's, are as varied as the hundreds of microclimates and soils that make up the seemingly endless hills of the Langhe, while still being unmistakably Barolo, that inimitable expression of the hauntingly beautiful nebbiolo grape which makes wine geeks everywhere go weak at the knees.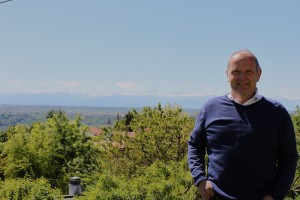 Ask these winemakers about The Barolo Wars, and most are dismissive, insisting that the line of divide has blurred almost beyond recognition. Indeed many producers seem to be utilizing the modern winemaking and viticulture techniques that work for them, while remaining true to the traditions that make their region world famous. Still others have returned to (or never left) fiercely traditional winemaking techniques. Nearly all, however, agree that the over-oaked could-be-from-anywhere styles of the '80s and '90s are not worth repeating.
"The fashion of super concentrated and woody wines has ended," says Mauro Daniele of Novello winery Le Strette. "We're now witnessing the return of aging in the less intrusive botti. [Recently] we're talking a lot about wines that are terroir-expressive, natural, and less "made" in the winery. We are therefore quickly returning to a less technological, more traditional way of winemaking."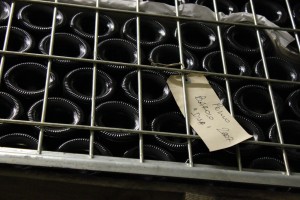 A winery that exemplifies tradition is Cascina Disa, where, perched atop some of the highest hills in the region (at 500 meters) in a community east of the town of Barolo town called  Monforte d'Alba, you'll find Barolo's most patient man. At his untouched-by-time winery, Elio Sandri ages his wine a minimum of 60 months in big botti ("I am convinced that only the botti respect the wine's terroir," says Sandri), then a further 36-48 months in bottle before he finally decides to release it. Because of increased demend, Sandri had to let go of his current release—2006—earlier than normal, however it is still one of the latest in Barolo, and he recommends aging it several years more at home. Every part of Sandri's winemaking is slow and gentle, allowing for very low levels of sulfur and no other additions. The results are exquisite, ultra-traditional terroir-driven wines with stony, salty minerality, dried flowers, black cherries, and unbridled elegance and poise with a seemingly endless lifespan.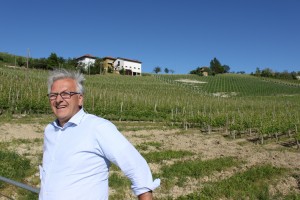 Walking the modernist and traditionalist path all at once is Paolo Manzone, whose gorgeous agriturismo Cascina Meriame sits beside vineyards of the same name. "Next door are Gaja's vineyards," says Manzone gesturing towards the natural amphitheater of Serralunga d'Alba vines. Grapes from the Meriame vineyards make some of Manzone's top wines, and with less eye-watering price tags than his famous neighbors. While his entry level reds are more "modern" in style with ripe berries and oaky spice, his Barolo Meriame walks a well-constructed tightrope between styles. In the winery he uses medium fermentation times (18-20 days) and a blend of 350 liter tonneaux and botti, and nothing added but a bit of sulfur. The 2006 is a particular beauty, with that perfect balance of acidity, silky tannins, and endless layers of Christmas spices and drying red fruits.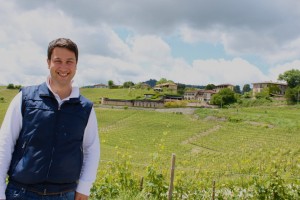 In La Morra, northwest of Barolo, young winemaker Alberto Voerzio also combines modern and traditional techniques with extremely low yields from his organically farmed vineyards, an influence of his famous winemaking cousin Roberto Voerzio. In the winery, he ferments for 25 days, strictly controls temperature, — and ages exclusively in barrique.
"For me, barriques are perfect for aging Barolo," says Voerzio. "But you do need to be careful because tannins can be aggressive." And while the tannins in Voerzio's wines certainly aren't shy, his Barolos, each wildly different in style with some on the wild herbs and roses spectrum and others more savory, tarry and earthy, are capable of aging for many decades, just the like the most classic Barolos should be.
Whatever their approach to winemaking, the wealth of winemakers beyond the big names of Barolo are well worth any effort required to explore them. You'll find many who are quietly making stunning examples of perhaps the world's most achingly beautiful wine. Your wallet will thank you too.
Wine recommendations:
In most cases, wines will benefit from an hour or two in a decanter. Pair with earthy rustic Piedmontese ingredients like venison, mushrooms, and truffles. Or sip on its own and be grateful for life and nebbiolo. 
1) Cascina Disa Barolo Riserva 2005 $71
2) Paolo Manzone Barolo "Meriame" 2006 $50
3) Alberto Voerzio Barolo 2009 "La Serra" $63
A few non-nebbiolo gems from Barolo worth checking out: 
1) Roccheviberti Barbera d'Alba Superiore "Vigna Lunga" 2011 $25
2) Le Strette Nas-cetta del commune di Novello, Langhe 2012 $23