Many wine drinkers switch up to a majority of red consumption in cooler months. Simmering winter pots of stewed or braised beef cry out for an enormous, swirling glass of red wine. Fireside sipping suggestions from many sources include big, bold California Cabernet Sauvignon, hearty Chianti's and blends so rich you could almost chew them.
But, what if you prefer white wine, or are preparing a dish more suited to the flavors of a white wine? What about wines for white bean and vegetable soups, pasta with cream sauce or pork steeped in piles sauerkraut? Suggestions? A buttery Chardonnay, a medium bodied Pinot Blanc or a Pinot Gris are obvious choices. But why not make it a bit more interesting? Pour a glass of something you're unfamiliar with. A wine you can't even fathom how to pronounce, who cares, there's nobody around to judge!
Add a wine from a far-away land to your blizzard shopping list. Think about the scenic vistas where the grapes were grown. It just may divert your thoughts away from the zero temps and blowing winds outside. Since you've got the time why not stick your nose deep in the glass and do a little exploring. The following wines are perfect for a vinous adventure.
Destinations: Loire, Greece, Lebanon…
Consider Chenin Blanc. This often overlooked white grape can exhibit any number of flavors and styles from bone dry mineral driven wines to honeyed angelic beauties. Many made in the Loire Valley fall into that rare category of white wines that can age and develop for decades. For example, Savennières (sah- veh-NYAIR), a small AOC of around 740 acres, doesn't really start to blossom until about five years of age, after which it continues to gain complexity for ten to fifteen years or more. The best examples have a long yet lean personality, like of the body of a dancer, muscular yet elegant. Aromas of beeswax, lanolin, roasted nuts, dried apricots and crushed slate intermingle in your glass.
It's not fit for man or beast outside but a single sip can transport you to a distant land filled with gleaming white beaches and turquoise blue water. Santorini, a small island in Greece, filled with indigenous white grapes, is just the ticket for a daydream. It is one of the oldest winemaking areas in the world, with evidence of viticulture dating back to 3500 BC. A volcanic eruption in 1600 BC created the unique soil conditions of volcanic ash and lava that help to give wines from Santorini their distinctive taste. Try the ancient blend Nykteri, made from a minimum of 75% Assyrtiko ( A seer' tee ko), Athiri (A theer ee) and Aidani (Eye don ee). Traditionally the grapes for Nykteri, meaning up working all night, were harvested at night and pressed the following morning. A short stint in oak for a minimum of three months adds roundness and just a smidgen of spicy complexity. Flavors and aromas of jasmine, orange blossom and raw almond linger in a full rich finish.
Ever had a wine fermented in a Kvevri? In the Republic of Georgia the ancient tradition of wine making in large clay vessels called kvevri lives on. The grape most often used is Rkatsiteli. The kvevri is lined with beeswax and buried in the floor awaiting grapes to be poured in, crushed and left to ferment. Over a period of days, the grape skins are pushed down on the hour and the kvevri is finally covered with a suitable-sized stone cap sealed with clay, and left undisturbed for up to two years. The results is an orange or amber style with the best examples exhibiting weird, wild, unusual aromas of black tea, smoky sandalwood, dried orange peel and savory notes waft up from your glass.
One of my favorite producers of atypical whites hails from one of the oldest, yet relatively unheard of wine growing regions, the Bekaa Valley in Lebanon. Winemaker Serge Hochar of Chateaux Musar states his biggest red wines are his whites, which are served after the reds with just a slight chill. Serge's approach to wine is unique, he claims to know little about wine except how to make it. There is a lot of bottle variation from year to year, little modern technique is used. He's not a showman that tries to make you believe his wines are better, he just wants you to experience them because they're different and have a flavor that speaks of the soul from his little corner of the world. It's hard for me to pigeon hole the descriptors to describe the charm of these wines. Delicious in their youth they age gracefully developing savory, slightly sweet notes on the nose and though provoking taste.
Pick up one of these wines and try it with this simple yet elegant pasta dish. It's a perfect winter dish for indoor picnics in front of the fire. Enjoy!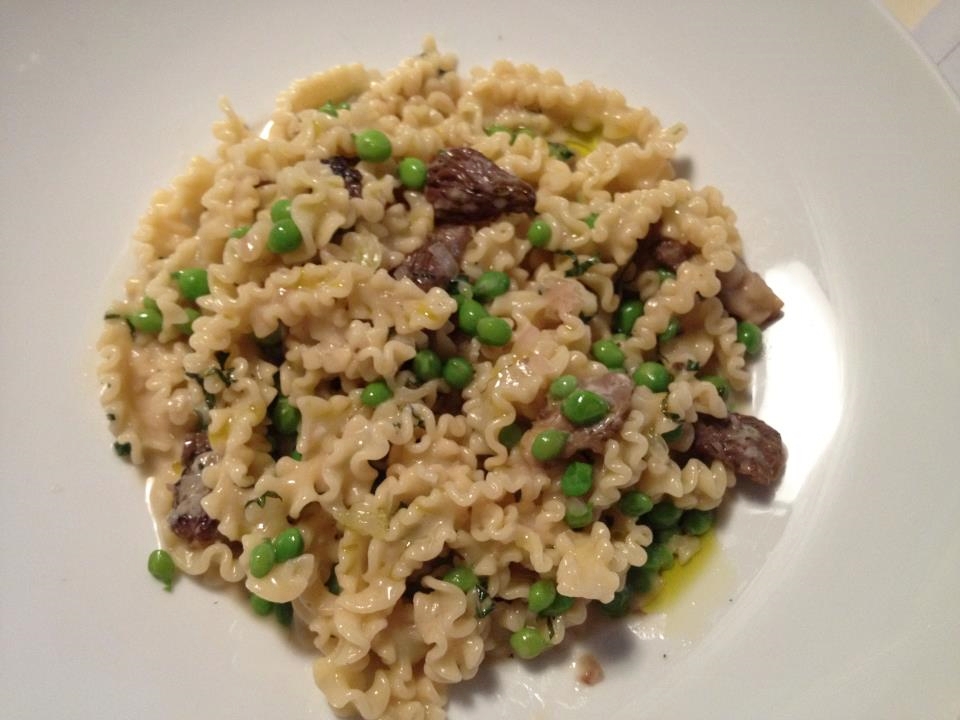 Pasta with morel cream and peas
Ingredients- Serves two
2 shallots chopped fine
4 Morels – cleaned and quartered 6 oz. chicken broth
4 oz. heavy cream
2 Tbs. butter
1 Tbs. flour
4 oz. peas
Salt and Pepper to taste
1⁄2 lb. Pasta
Cook pasta according to directions. Drain and rinse with cold water, set a side. In large sauté pan melt butter on low heat. Add shallots, morels and cook till shallot is translucent. Remove from heat and stir in flour till well incorporated. Slowly add cream and broth stirring till no lumps. Simmer on low for 5 minutes stirring often. Add peas and cook till sauce is desired thickness. Add reserved pasta to pan and toss to coat and warm thoroughly. Add salt and pepper to taste and serve.