In this piece, originally published in September, columnist Michelle Locke tackles tongue twisters and tongue pleasers in Northern Greece.
I knew going in that Xinomavro was going to be a challenge.
After all, you know you're tasting something a little bit different when you have to start with a pronunciation lesson (it's ksee-NOH-mah-vroh). Throw in the fact that typical tasting notes include phrases like "lingering notes of tomato (tomato!) and mushrooms"—What, no pepperoni? — and one can hardly be blamed for lifting the glass with some trepidation.
I won't sugar coat it. You know how wine writers sometimes talk about a wine starting with an attack? Early encounters with Xinomavro had left me with the feeling that it not only attacked my front palate, it took my tongue hostage and finished up with a roundhouse punch to my tonsils.
But having strapped myself into a tin death tube and hurtled through the skies all the way to Greece, a trip hosted by the trade association Wines of Naoussa, I was game to give it another try.  It was time to do some research.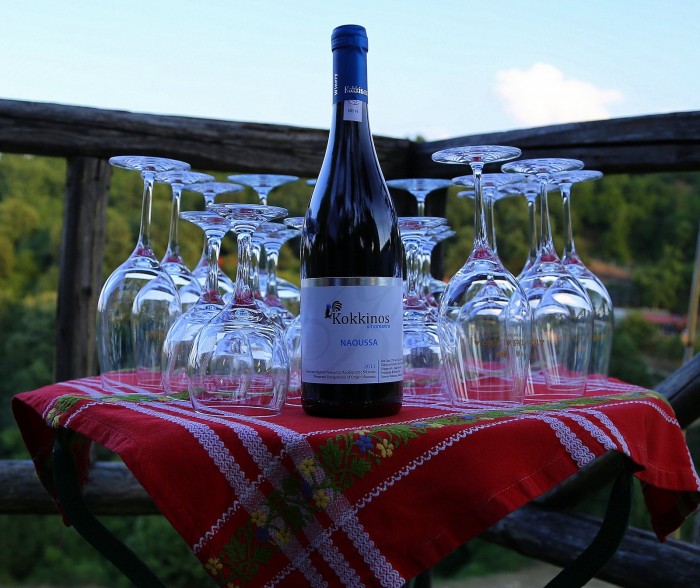 Xinomavro doesn't play coy. Its name xino, meaning sharp or sour, and mavro, meaning black, reflects the fact that the grape combines high acidity with powerful tannins. It's not easy to grow and is a challenge in the cellar; wines can turn out harsh.
On the other hand … the wines can age wonderfully, they can be tamed in the right hands and they are unique, an increasingly rare quality in a mass-produced world.
Winemakers could just give up and concentrate on something more recognizable like Cabernet Sauvignon (and certainly Greece does produce this and other international varieties in abundance). But as Naoussa winemaker George Diamantakos explains, there's something about Xinomavro. "The wine is our history. It's our DNA," he says. "My country is a small country. To make a difference, you have to show your history, your identity."
Diamantakos is part of a wave of young winemakers who are using modern winemaking techniques, growing at low-yields and experimenting with different barrel programs, to turn out high-quality Xinomavros that are winning over new converts. The small, family-run Diamantakos winery also makes Preknadi, a white variety that is making a comeback.  "We're trying to show the rest of the world and the market that there are grape varieties in Greece that can give you high-level, quality wines," Diamantakos.
It's exquisitely embarrassing to taste a wine you don't like right in front of the winemaker (in wine tasting etiquette, spitting is OK, gagging not so much) so I was relieved to find the Diamantakos wine to be rich and savory. And that was just the beginning. Not every wine I tasted was to my liking; some were just too heavy on the tannins for me, although those who like their wines bigger and bolder would relish them –and I'd be interested in tasting them myself with a few more years of aging– but there were plenty that were ready to go right now.
I tasted a deliciously light white Xinomavro made in the blanc de noir style at the Chrisohoou winery and a raft of hearty red Xinomavros from the Melitzani winery, including a 1983 vintage, a treat. I drank Xinomavro on the terrace of the Kokkinos vineyard at sunset. And at the organic Kelisidis farm and winery, I sat at rustic wooden table and tasted a red Xinomavro that was delicious, round, balanced and smooth, something that could stand up next to any fine red wine.
(Except I don't think you'd find too many fine reds priced at under 10 euros. That's another little secret of Greek wines; they're a bargain.)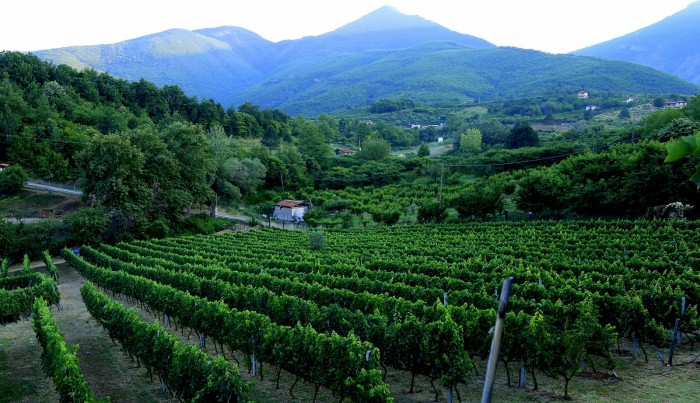 Naoussa isn't the only region that grows Xinomavro, but the grape is closely tied to this region of hilly vineyards backing up to the slopes of hulking Mount Vermio.
How much does the region love Xinomavro? In February 2008, officials of the town of Naoussa put 32 tons of wine into a fountain shaped like the five Olympic circles (commemorating the games going on in Athens) and let it run for 10 days. Passersby could hold up a glass and get a drink. At the end of the 10 days, they carted off what was left and turned it into ouzo.
I propose we have one of these in Napa.
The Naoussa fountain wasn't repeated due to a change of administrations but there are plans to revive it next year. So if you happen to be in Naoussa next February, be sure to have a glass handy. And, even if you're not traveling to Greece, try diving into Xinomavro anyway. You may find it's a big red you can warm up to.
Here are a few more tasting notes from the trip: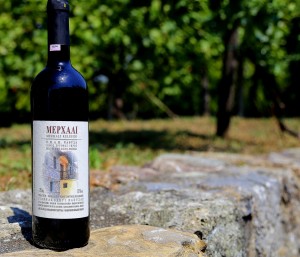 Vaeni Naoussa Grande Reserve 2008: This is a wine from the region's co-op. Herbal bouquet to start, some basil. Starts out with a bracing acidity and moves on to very firm but not green tannins, ending with a long and spicy finish.
Diamantakos Naoussa Xinomavro 2008: Red fruit and dark cherry aromas followed by more of the same with some tomato, a dusting of cocoa powder and firm tannins. Long, warm finish.
Chrisohoou Estate Xinomavro Blanc de Noir 2013: This wine is made by carefully crushing the grapes so as not to transfer color from the skins and gets a slow and cold fermentation. Aromas of flowers and peaches, more peaches in the mouth, a nice mix of sweet and tart with a zippy, citrus-y finish. A standout.