Well over ninety percent of all wines produced are meant to be consumed within a year of their bottling. For the remaining few percent — which include what most would consider the greatest still wines being produced in the world – how long do they have before they outlive their pleasurable drinking state and become more intellectual curiosities or, ultimately, expensive vinegar? Thirty years, maybe?
At that age, one style of wine – Madeira – is just getting started.
Here, a brief recapitulation of Madeira's history will be helpful for context. Madeira is a rocky island of off the western coast of Africa, settled by the Portuguese in the 1400s. Soon afterward, they burned most of the forests in order to have enough fertile soil to grow food. The island's location made it strategically important for Portuguese maritime interests, and so its steep slopes were cultivated using terraces and levadas [irrigation canals], with wine grapes becoming a part of that picture, despite the rigors of harvesting on such unforgiving terrain.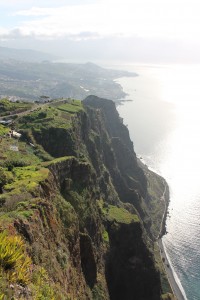 The island's high-acid base wines were eventually fortified in the style of Port, and for the same reason: to stabilize the liquid for long sea voyages to distant trading ports. During the journey, the wines were slowly exposed to heat and oxidation, creating a nearly-indestructible beverage rich in tertiary aromas.
Today, Madeira wines are still fortified, in styles ranging from vibrantly off-dry to spicily-sweet. The old seafaring aging conditions are approximated during Madeira production, with the most gentle methods (solera-style barrel aging) being used for the island's top wines. Some of these trace their harvests back not five, ten, or twenty, but one hundred years or more. The best of the best Madeira wines do, in fact, continue to age in the bottle; they just do so at such a slow pace, and in such small ways that few drinkers are likely to note the differences (or live long enough to talk about them). It's as close to a time capsule as wine can get.
More recently, the island of Madeira has become more famous as a tourist destination for aging Europeans than aging wines, and production of these remarkable Madeiras has decreased alarmingly. Currently there are only eight producers of Madeira, six of which actually export their wines. I was recently afforded an unprecedented media opportunity to visit Madeira, and taste through some of the oldest available wines sold by those six iconic companies. The wines themselves will tell the rest of this story, which amounts to the best shot wine lovers have at time travel without owning a TARDIS.
Let's begin our tasting journey at the point where most wines would already be dead: 30 years. Like Tawny Ports, the labeled age is technically a style designation, rather than a definitive measurement of time spent in barrel (though in practice the majority of wine in the blend has been aging in casks, on average, for at least as long as the timeframe displayed on the label).
M. Borges 30 Year Old Malvazia
The roots of the H.M. Borges brand date back to 1877, when its founders purchased what was then old wine stock, and it has remained under the ownership of the same family ever since. It's somewhat ironic, given their history, that this producer is one of the more vocal champions of selling "younger" Madeira wines. Theirs is a stellar example of the 30-year-old style for Malvasia, traditionally the sweetest type of Madeira; nutty, silky, floral, and long in the mouth. This is an excellent combination of indulgent richness and vibrant freshness, with an aroma reminiscent of a fine cigar.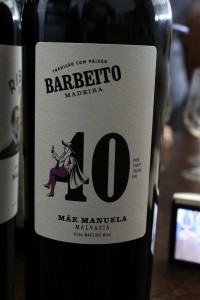 Barbeito 40 Year Old Máe Manuela Malvasia
Barbeito, a company that utilizes about 130 different grape suppliers, is probably best known for its Rare Wine Company brand of younger Madeira wines. But the combination of modern winemaking techniques and older wine stock used for their self-titled brand yields some stunning older wines, such as this Malvasia (which includes a bit of stock from 1880). It has incredibly pure wood spice and mineral aromas, deep dried fruit flavors, and a palate that is both elegantly lithe and titillatingly sweet.
Blandy's 1976 Terrantez
Madeira Wine Company produces the Blandy's label, one of the most recognizable in the U.S., tracing their roots back to the early 1800s when John Blandy founded his wine shipping company. They are one of the most tourist-friendly producers on the island; the location where their wines age in sixty-year-old American oak barrels doubles as wine museum. Their 1976 Terrantez bolsters the advice given by Portuguese wine writer Rui Falcão, who has urged wine lovers never to turn down an opportunity to taste Madeira made from the relatively rare Terrantez (not to be confused with Torrontés) grape. The nose is highly perfumed, with spice, dark honey, and fruitcake aromas. While it's richly sweet in the mouth, the wine also has gorgeous undercurrents of brandy and citrus fruits.
Henriques & Henriques 50 Year Old Tinta Negra
H&H, as it's widely known among Madeira lovers, counts tourists as one of its major customers, and offers those drinkers several excellent younger, entry-level Madeira wines made from the island's workhorse grape, Tinta Negra. H&H are also pioneers of elevating the humble Tinta Negra to loftier heights, as is the case in their 50-year old-bottling. Complex, heady, and powerful, this wine has amazing length and offers dried fig, caramel, toast, saline, and flint aromas, and a fresh, demanding mouthfeel.
Justino's 1954 Verdelho
Justino's, which is part of the same group that owns H&H, is the largest exporter of Madeira, and is most famous for producing the Broadbent brand. Their older stock, under the Justino's V.J.H. label, contains some stellar releases, perhaps none as impressive as their medium-dry 1954 Verdehlo. It's ever-changing on the nose as it moves from dried tropical fruit aromas to flowers, spices, stones, saline, and nuts. The palate is as near to perfect for Verdelho as this taster has ever encountered – fresh, fruity, and incredibly long.
Justino's 1940 Sercial
Sercial is the driest Madeira style, and in some ways can be thought of as the fresher Portuguese answer to Sherry. This 1940 bottling has a woody entry, with rancio, dried fruit, and walnut shell aromas, and a palate that is tense and intoxicating in both its power and its spicy, tart freshness.
D'Oliveiras 1927 Bastardo
Founded in 1850, the family-owned D'Oliveiras is sitting on some of the largest stock of older Madeira wine available, and has justifiably become famous for the quality of their oldest vintage releases, including rarities such as this Bastardo (a grape which has declined on the island due to its susceptibility to the oidium which thrives in Madeira's humid climate). Cigar, dried herbs, black pepper, and both dried and fresh berry aromas nearly explode from the glass; the wine is fruity, zesty, nutty, and almost freakishly delicious at 89 years young.
D'Oliveiras 1901 Malvasia
While this vintage dates back to the birth of Louis Armstrong, it's actually a new release, launched only in 2015. Salty and spicy, there are aromas of cigar, brown sugar, mint, wood, balsamic, and furniture polish. The palate is assertive, but with fabulous quality of flavors that include nuts, toast, and dried fig. (Also impressive is their 1907 Mavasia, which is even more intense.)
D'Oliveiras 1875 Moscatel
Moscatel is now a rare grape on Madeira; this one dates back to the presidency of Ulysses S. Grant. The wine's viscous, cough-medicine-like visual presentation is one of the more unique you're likely to encounter in wine. Baking spices, varnish, fig-flavored balsamic, walnuts, black licorice, herbs, and coffee all make up the nose, while brown sugar, prunes, and dried fruits blossom on the luxuriant, indulgent palate.
D'Oliveiras 1862 Sercial
What's fascinating about a wine like this – with components that are over 150 years old – is how delicate and fruity it still is. The first aromas from the glass are, somewhat surprisingly, of citrus and herbal tea. It eventually moves to rancio and a fantastic, pure nuttiness that lingers for several minutes on a gorgeous finish.
D'Oliveiras 1850 Verdelho
D'Oliveiras sells excellent vintage Verdelho releases from 1912 (roughly $400/bottle) and 1890 ($750), but their oldest, dating back to 1850 ($1,000), is probably their best. It is the oldest vintage wine that they currently offer; for some perspective, consider that prior to 1850, Los Angeles and San Francisco weren't yet incorporated as cities. The aromas and flavors offered by this wine read like a textbook definition of vintage Madeira: saline, licorice, herbs, balsamic, cigar spices, figs, cedar, brown sugar, dried fruits, rum raisin, cognac. Its palate is textured, poised, and fresh, ending in kisses of honey and spice. In other words, it's the type of tasting experience that redefines categories, and makes a compelling case for Verdelho being Madeira's most age-worthy wine grape.
Editor's note: Many of these wines are available from very high-end retailers, mostly in the U.K., from about $100 (30 year) to $1000 (1850).