Seashells are the key to Roero Arneis. Seashells and sand. To understand this underappreciated Italian white wine, you have to think about sitting on a beach – 100 kilometers from the sea.
Roero is just across the Tanaro River from Barolo, but by such small geographic differences fortunes are made, or envied. The growers of Roero would like to get the kind of money for their Nebbiolo-based red wines that they see across that river, but so far that's not happening.
Yet they have their own treasure, one Barolo doesn't have. Roero produces some of Italy's finest white wines from the centuries-old Arneis grape, and they do it on vineyards that – stripped of vegetation – look more like Florida than Piemonte. Roero was underwater 70,000 years ago. It's amazing how many clam shells vignerons still dig up from their vineyards. I found a few, completely intact, without even trying.


Roero has other kinds of soils too, and on those growers plant Nebbiolo and Barbera and Vermentino, which they call Favorita. In the sand, they plant Arneis, and you can tell.
The best Roero Arneis wines taste like white melon generously sprinkled with sea salt. It's a nice combination: you get the fruit up front, but the saltiness makes it a great food wine. And Arneis is very rarely oaked, which makes it taste fresh in summer.
"Arneis has a lot of minerality because, the soil, there's nothing to eat for the plant, so it has a lot of salt," says Federico Almondo, enologist at Giovanni Almondo.
You might think of white wine going with fish, and it does, but in Piemonte they drink Roero Arneis with all their typical appetizers, including salumi, vitello tonnato (veal with tuna sauce) and their favorite, chopped raw beef.
"The Arneis grape is not aromatic," says vigneron Marco Porello. "It's not Chardonnay or Sauvignon. But in the degustation, is a little bit salty. Is good for the food."
Arneis is an old grape. It may have been mentioned in a document in 1432, according to Wine Grapes by José Vouillamoz et al., though in Roero they date its first mention as 1478 regarding a local vineyard that is still cultivated with Arneis today. But it nearly disappeared after World War II. It's late-ripening for a white grape and it doesn't grow huge crops. Italian vintners barely took white wine seriously in the postwar years and the fashion for planting was French grapes, especially Chardonnay.
"For the farmer in the 1960s, the vinification of Arneis was difficult," said Pierfranco Bovone, owner of Cornarea. "For Arneis it's necessary to stop malolactic. Probably the farmer didn't know this. They don't understand why the acidity go down."
Arneis is also one of Italy's first rediscovered old grapes. In the early '70s, Cornarea was one of a quartet of producers that started making varietal versions of it, and fortunately for Arneis, two of them are famous Barolo houses: Vietti and Bruno Giacosa. By the late 1980s, Arneis was one of the examples Italians used to make the argument that they should pay more attention to their own treasure trove of grape varieties, rather than France's.
In the U.S., Arneis never took off because as it was having its Italian moment, savvy importers were teaching Americans to drink Pinot Grigio. Subsequently, we've unearthed trendy new white wines like Falanghina and Vermentino. Arneis isn't undiscovered and it isn't trendy. It's not awe-inspiring and it doesn't get 98 points. It's just a really good wine.
A few big Barolo producers make Arneis, but the economic divide of the Tanaro River is striking. On the Roero side, family-run Negro is the local giant, making about 30,000 cases a year. I had lunch in their living room; their momma made it while the Negro brothers asked if I was going to eat that leftover pasta.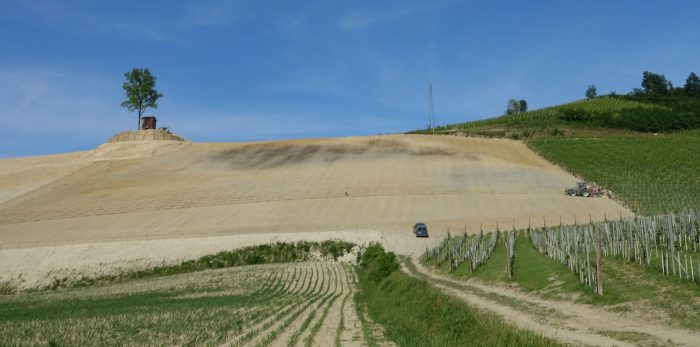 "My father says, this is the problem with Barolo: the families fight because they have too much money," Emanuela Negro tells me. "My father is always buying things: more land, new equipment. We say, slow down, we have to pay for it. He says, 'It's good, this means you will stay together'."
On the other side of the river, I visited Fontanafredda, a combination palace and factory where I had lunch with a PR rep and about 50 other people in the company restaurant. Both were good lunches, and because it's Piemonte, both included exactly the same dishes: a raw beef starter with Arneis; tajarin pasta with Nebbiolo. The Arneises cost about the same, but Fontanafredda can charge three times as much for its best Nebbiolo as what Negro gets.
Roero isn't as poor as it used to be, though. It was one of Italy's main sources of peaches, and in the 1950s half the population of Canale, the city of 5000 at the heart of the appellation, worked in agriculture. Most were sharecroppers. In 1960 a serious hailstorm ruined the crop and the loss of that one year's income forced many farmers to leave for jobs with Fiat or the nearby Ferrero plant, which makes Nutella. Today, less than four percent of the population works in agriculture, and the tourism industry benefits from Piemonte's truffle season.
But Roero producers are still the regional underdogs. For many years they were the people everyone walked by at Piemonte tastings on their way to taste Barolos and Barbarescos. In 2012 they finally formed their own Consorzio. Even so, it's a philosophical struggle because the potential for income is greater with Nebbiolo, but Arneis is what makes Roero special.
"With Arneis it's possible to produce a good white wine that's very similar to the other good white wines of the world," says vigneron Andrea Careglio. "We want instead to have the wine that's very typical of Arneis. Little by little I think that Roero will be one of the most important territory in Italy."
Recommended wines:
Because Roero is full of small producers making 1,000 cases or so each, the availability of its wines will vary a lot depending on where you are. I'd first say, just try whatever Roero Arneis your local wine shop carries.
Some of my favorites, all of which are single-vineyard wines, and all of which I scored 90 points or more:
Cascina del Pozzo "Montemeraviglia" Roero Arneis 2016 13%
Deltetto "San Michele" Roero Arneis 2016 13.5%
Giovanni Almondo "Bricco della Ciliegie" Roero Arneis 2016 13.5%
Malvira "Vigna Renesio" Roero Arneis 2015 12.5%
Marco Porello "Camestri" Roero Arneis 2016 13.5%
Monchiero Carbone "Cecu" Roero Arneis 2016 13.5%
Negro Lorenzo Roero Arneis 2015 13%
Negro "Perdaudin" Roero Arneis 2015 13.5%