Developing a taste for fine wine can sometimes be more a curse than a blessing. There are moments when drinkability alone isn't enough. Simple fruit-driven wines fail to satisfy. Perhaps you crave more sophistication, character, elegance or complexity – a wine that goes beyond being mere liquid, providing contemplation into the bargain?
The problem is that such qualities tend to come at a price, particularly if you look to the "big ticket" wine regions to satisfy that unslakeable thirst. Bordeaux, Burgundy, Barolo and Napa are expensive pleasures, out of proportion – some would argue – to their perceived quality.
There is an alternative. May I whisk you off to the Languedoc, in Southern France? Yes, yes you cry. Home of rustic, hearty fare – well priced, but elegant? Refined? Sure, if you know where to look.
Rising above
St. Chinian has always been ambitious. In 1951, the sub-region was one of the first to gain VDQPR status, under the clunky "Côtes de l'Orb et du Vernazobres" moniker. That lead to the much more prestigious AOC St. Chinian (now AOP) designation in 1982. St. Chinian and its surrounding area harbor low yielding vines, mostly grown on hilly sites – a natural recipe for quality.
The wines have the gutsy power that you'd expect from the Languedoc, but with added freshness and finesse. Blending is the name of the game, with Syrah, Grenache & Mourvèdre the major players and Carignan and Cinsault in cameo roles.
Yes, there are white wines too. Although often very good, they play second fiddle to what is unmistakeably red wine country.
What really struck me when I visited the region last November was its bang for buck. If you're shopping for upmarket Bordeaux – something with a bit of backbone and aging potential – $50 a bottle seems stingy. In St. Chinian, there are Grand Cru standard wines aplenty for half that amount. The phrase "Grand Cru" doesn't have any legal meaning here just yet, but the Syndicat du cru Saint-Chinian is working on it.
Virtuoso wines
Once a year, a grand tasting dubbed "Les Vins Virtuouses" is organized for sommeliers, journalists and visiting winemakers to taste and select the best of the best. The idea behind this is not mere marketing. Once St. Chinian has proved for 10 consecutive years that there is consistent quality, it can make a case to the INAO – the body which ultimately controls all French wine classification – that St. Chinian is deserving of Premier or Grand Cru denominations, in the same fashion as Bordeaux or Burgundy.
Why am I telling you this? Well, if the Syndicat and its producers get their way, there could soon be Grand Cru categories for the best wines – and quite possibly Grand Cru prices to match. So my advice is simple – fill your boots while the going's good!
Three top end wines at bargain prices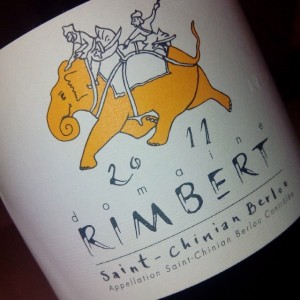 There's a clutch of consistently high quality producers in the region, but here are three wines that particularly impressed me in recent tastings (wines provided as media samples):
Domaine Rimbert St. Chinian Berlou 2011 13.5%
Hint of cocoa, lifted berry fruits on nose. Perfect texture – very fine tannins, enough acidity, minty freshness. Elegant chewy blackcurrant, cherry, hint of smoke. Subtle and well integrated oak. Delicious now but could age for a few years too. Finishes slightly short, but superbly refined. (Find on wine searcher – about $18)
Mas Champart Clos de la Simonette 2011 (AOP St. Chinian) 14.5%
Hot, toasty nose, with leathery dark fruit. Soft textured, firm structure underneath. Rich plum, hint of cocoa. Oak still evident but after 1-2 hours open, tasting very satisfying and moreish. Like sinking into a leather sofa. Excellent. (Find on wine searcher – about $30)
Château Pech Menel 2009 St. Chinian 14.5%
Slightly stinky nose – ripe, with notes of meat/animal signposting a healthy dose of Mourvèdre. Rich, tarry texture, fresh yet complex. Hints of cassis start to emerge after an hour plus of aeration. Deceptively large, yet without being too broad or pushy. Extremely soft, seductive tannins and structure. Plums, prunes, hint of herbs and forest floor. Very good but needs some time to show at its very best. (Find on wine searcher – about $17)
Also keep an eye out for Canet-Valette, Borie la Vitarèle , Château Viranel, Clos Bagatelle, Château Cazal Viel & Domaine de Montplo.