Living in Boston has taught me to be suspicious of cowardly March. As winter paws at its heels and spring serenades its sights, March lingers in spells of indecision. Wavers between days that boast sunshine and sweater-shedding warmth, and others who cry gray and wet storms.
We bear the brunt of this quandary with admirable patience. Crowding wardrobes with all-weather gear. Sneaking cautious heads out from behind doors ajar to morning. Growing weary of a gust of chilly wind. Shielding eyes from unexpected glare.
During these final days of March, as neighbors rekindle a familiar waltz with their rakes and garden hoes break through sleepy ground, I visit the market hopeful of spying any proof of spring's arrival—no longer reliant upon forecasts for this headline. On that splendid day, bins will brim with a mishmash of chipper, colorful bunkmates.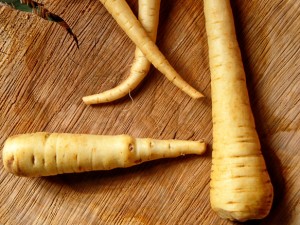 Still, that day has yet to arrive. Until then, seasonal pickings are sparse. I do, however, spy parsnips tucked between clusters of misted salad greens. I admit to unintentional parsnip ignorance. They just pale in comparison to the bright, cheerful appearance of their carrot cousins. I soon learn, however, that parsnips fool with their craggy appearance.
Stout tops, scrawny tips, a dusty pale skin riddled with deep, dark wrinkles and knobs. They stave us off with daunting ruggedness. As soon as the skin is shaved away, a jubilant nature is unleashed, revealing aromas of licorice, zest, and flowers. Its quite a captivating perfume. This glowing ivory flesh not only boasts fiber but vitamins including Potassium, Vitamin C, and Folate as well.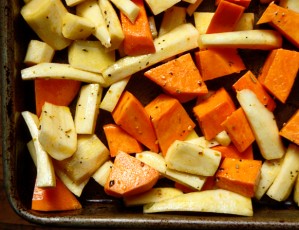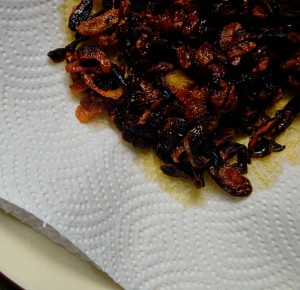 With these characteristics in tow a parsnip proves a fitting collaborator when planning a proper tribute to these final days of winter—a sweet, starchy and creamy soup. All that's tasked is to furnish a baking sheet with seasoned chunks of parsnips, yams, and garlic. Roast the lot while shallots caramelize on the stove top. Then, when all is golden and sticky sweet, bathe the whole shebang in chicken broth and whir with light cream. The roasting reaps maximum flavor from the vegetables. The result is a luscious, sweet and furtively spiced soup.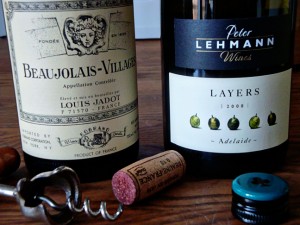 Pair with a wine that speaks the same language. A medium-bodied white like the Peter Lehmann Wines 2008 Layers from Adelaide, enhances the sweetness of the root vegetables. The five grape varieties of sémillon, chardonnay, pinot gris, gewürtztraminer, and muscat tout a medium body and acidity that match the weight of the soup. All are in cahoots to cleanse the palate with flavors of oak, honey, lemon, petrol, and spice. A lighter red wine also proves a pleasant partner. A Gamay, like Louis Jadot 2008 Beaujolais-Villages, with its floral, red fruit, and dark berry notes enhance the spice of the soup. The buttery essence also meshes well with the cream.
Creamy Soup of Roasted Root Vegetables & Caramelized Shallots
Yields 2 1/2 quarts
2 pounds parsnips, peeled, trimmed, cored, and chopped
1 pound garnet yams, peeled and chopped
3 chubby garlic cloves, skin on
10 tablespoons olive oil
1 teaspoon herbes de provence
1 pinch sweet paprika
1/4 pound shallots, peeled and sliced
2 tablespoons salted butter
48 ounces low sodium chicken stock
1 bay leaf
1/4 teaspoon chile pepper flakes
1/4 teaspoon salt
1 pint light cream
salt and pepper to your liking
sliced scallions and sour cream for garnish
Heat oven to 400 degrees. In a large bowl toss together the parsnips, yams, garlic, and 4 tablespoons of olive oil until all is coated with a golden sheen. Season with herbes de provence and sweet paprika. Evenly layer the mixture onto a large baking sheet. Bake in the oven for 30-35 minutes, stirring once, until all is golden brown and fork-tender. Remove the roasted mixture from the oven and set aside for cooling. Pluck the buttery garlic flesh from their cocoons.
Pour 6 tablespoons of olive oil into a heavy-bottomed 6-quart pot. Add the butter and heat over medium-high, until it melts and starts foaming. Add the shallots and stir until they shed their embraces and separate into singled ringlets. Reduce heat to medium-low and saute the shallots for 25-30 minutes, stirring often, until all is a deep caramel color. If the shallots begin to burn, reduce heat to low and continue stirring quickly. Upon caramelization, remove shallots from the pot with a slotted spoon, resting them on a paper towel-lined plate to rid of excess oil.
To the same pot add chicken broth and heat over medium-high, until it simmers. Mindfully scatter the shallots and parsnip mixture into the pot. Season with the bay leaf, chile pepper flakes and salt. Bring to a boil, then reduce the heat to a low simmer for 10 minutes.
Remove from heat. Cool for a few minutes. Remove the bay leaf. Pour in cream and whir the soup with an immersion blender. Season with salt and pepper. Top each serving with a dollop of sour cream and scallion bits.
---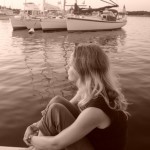 J.J. Adams is the food and wine writer behind the blog Palate-to-Pen. She has studied wine through a variety of venues and works in marketing for a distributor. It's only when she develops seasonal recipes with wine pairings to match, however, that her true passion shines through, fueling weekly blog posts. Also featured on Palate-to-Pen are book reviews, tea tips, dining experiences, and market finds.