The US is Italy's number one export nation—and the Italians want to keep it that way.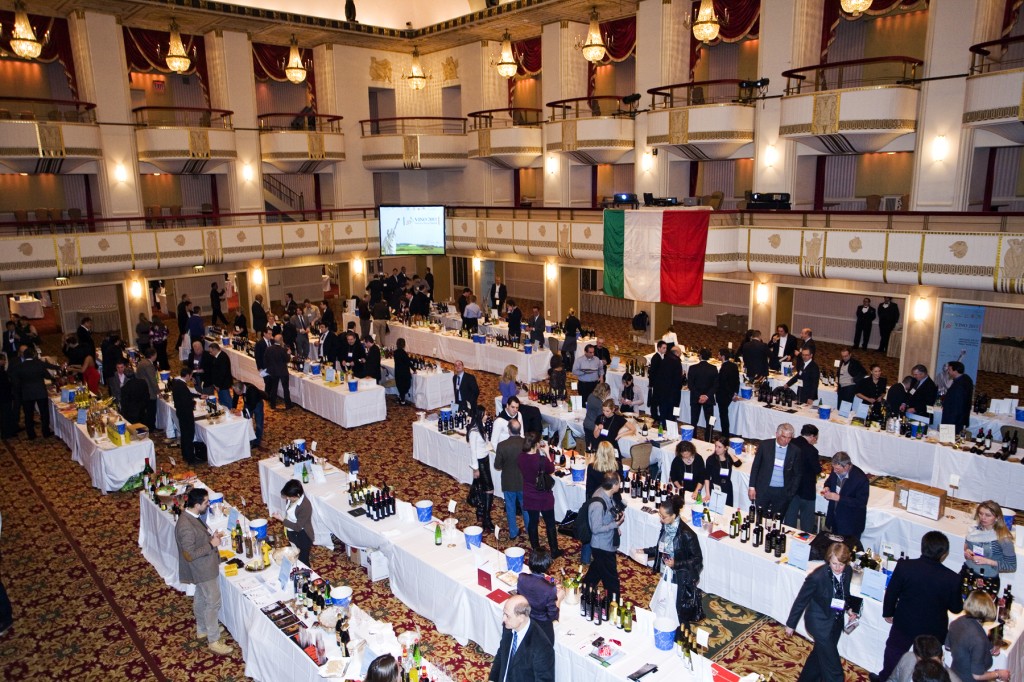 In many European countries wine consumption is declining, while in the US per capita wine consumption has gone up 25 percent in the past decade, according to Italian Trade Commission head Umberto Vattani. (Vattani is also responsible for overseeing the creation of ItalianMade.com, arguably the best wine—and food—website of any country.)
A couple weeks ago, the Italian Trade Commission convened several hundred wine buyers from large and small distribution companies, and from bars and restaurants as well. They added a bunch of journalists and gave us all several presentations on Italian wines in the US. They also offered seminars on social media, marketing, food-and-wine pairing, and cocktails, as well as guided tasting seminars by the sponsoring provinces of Lombardy, Puglia, Tuscany, and the Veneto.
I chose to concentrate on the business of wine, and here is what I learned.
In the US, 33% of imported wines are Italian. In income brackets, the top 20 percent of US buyers increased their wine spending by 25 percent last year, according to Bloomberg wine columnist Elin McCoy. She also said that wine outperformed any other asset class by increasing in value 32 percent. And this is with only 35 percent of adults in the country drinking wine. It turns out, we're a growing market; it's not just China, India, Russia, and other emerging economies.
Mid-America is slated to see the most growth because that's where the per capita consumption is currently lowest. By 2012, said John Fredriksen of Gomberg Fredriksen, the US will be the top consumer of wine in the world. A lot of this will come from Italy, because there's little planting going on in the US. Italy will also be a significant supplier of value wines. As of 2009, Italy produced 18 percent of the world wine supply. (I was surprised; it's a relatively small country.)
Generationally, Fredriksen said Echo-Boomers and Millenials are more open to wine than the previous generation. They drink wine younger, and more young males are into wine.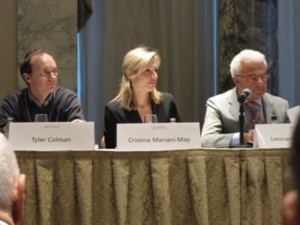 Tyler Coleman (drvino.com) agreed, citing 17 years of unbroken growth in wine consumption. He also noted that 18-to-35 year olds are turning toward wine, but away from wine judgments being "handed down from above." Instead, they are getting wine recommendations from "passionate people." They gather suggestions from shops, restaurants, and "friends" they either know personally or online, and they like discussions more than pronouncements.
According to Winebow founder Leonardo Locascio, $25 and under is the "sweet spot" for Italian wines in the US. The popularity of Italian cuisine has contributed to the demand for Italian wine, and he sees this trend continuing in the future.
His forecast is rosy since, "…the fundamentals are good in the US because we have both increasing per capita consumption and increasing population." He later added in an email, "in the US we consume about 13 bottles per person per year, compared to 40-50 in Western Europe. As we become more interested in wines as a nation, given our population of 300 million, every bottle of increase in per capita consumption translates into an additional 300 million bottles per year, and if we ever reach the wine consumption levels of other rich countries the numbers become truly stunning."
As an example, Locascio sees Italy's well-known Pinot Grigio as the alternative to Chardonnay. Specifically, for him, the up-and-coming Italian wine regions are mainly in the south with their diversity of wines at attractive price points, and in the Veneto which has good stories about its wine, easy for people to understand.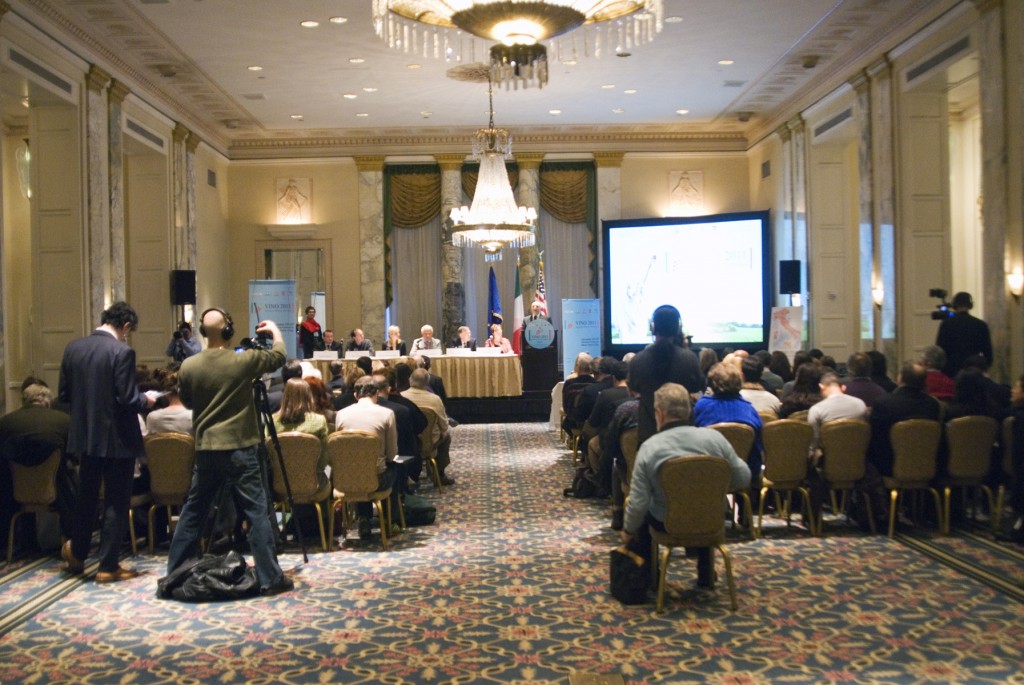 Vic Motto of Global Wine Partners pointed out that consumers are moving up, and paying more for wines—except at the very lowest end. Of the top five countries exporting wine to the US, price per case from Australia and Chile is down, from Argentina is steady, shows huge growth from France, and slight growth from Italy. Motto sees this as an opportunity for Italy to grow their per-case price from a wholesale average of $32 to $46. (I would hope there'd be a corresponding growth in quality, too.)
But Italian wines are not perceived as luxury wines, explains Sergio Esposito of Italian Wine Merchants; Esposito is also founder of Bottled Asset Funds, for which he has studied the luxury market. According to him, 15 percent of Italian wine is "bottled finer wine" and 2 percent is "true luxury." He believes that Italian luxury producers should look to the US as a market. For this, he cautions, among other upgrades they will need temperature controlled shipping and greater transparency in sales.
Sharon McCarthy of Banfi believes the US consumer buys wines by the five things they look for: brand, territory, grape, vintage year (for connoisseurs), and value. However, Elin McCoy sounded a cautionary note for producers in the over $15-category. While having a line of wines may simplify things for importers and distributors, she believes it does not work as well for media—those who are charged with informing consumers about the wines. When faced with a line of wines, she says consumers tend to want to know "which one is best?" McCoy has found it's much more important for producers to have a compelling story for their wines.
---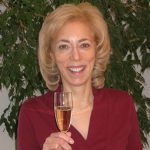 Becky Sue Epstein is Palate Press's International Editor. An experienced writer, editor, broadcaster, and consultant in the fields of wine, spirits, food, and travel, her work appears in many national publications including Art & Antiques, Luxury Golf & Travel, Food + Wine, and Wine Spectator. She began her career as a restaurant reviewer for the Los Angeles Times while working in film and television.