Spirits, sugar, drop of water, bitters, twist – there's nothing very complicated about the old fashioned. But those five ingredients — along with a few dashes of over-the-top kitsch — have added up to an action-packed history.
A few cocktail details:
Glass Act
The old fashioned is one of the few drinks to have its own style of glassware, typically a short glass with a thick bottom. One theory for this is that extra strength was needed for muddling the fruit, when muddling the fruit was in fashion, more on that later. Interesting note: The drink once came complete with a small silver bar spoon the better to scoop up any remaining sugar from the bottom of the emptied glass.
Some recipes call for simple syrup rather than sugar, here's New York bartender Cody Goldstein's take:
2 parts Makers 46
½ part simple syrup
3 dashes homemade orange bitters*
Orange peel garnish
Directions: Combine Makers 46, simple syrup and bitters into a stirring glass. Fill with ice and stir for 10 seconds. Strain into a rocks glass with a large ice cube. Peel an orange and zest the oils over the top of the glass. Place inside glass for garnish and enjoy.
*I'm going to give you permission to use store-bought because life is short.
Drink with two names
­ The drink started life as a whiskey cocktail, writes Robert Simonson in his 2014 book, The Old-Fashioned: The Story of the World's First Classic Cocktail.  After flourishes started creeping in to the drink in the late 19th century, purists led a call for a return to the "old-fashioned" style. This included serving the drink with a single, large, sometimes even chiseled. piece of ice.
Time-tested tipple
The earliest known definition of a cocktail was published in 1806 in the Balance and Columbian Repository, a New York state publication, which described the drink as a "stimulating liquor, composed of spirits of any kind, sugar, water and bitters." This is, says Jeffrey Morgenthaler,  author of The Bar Book: Elements of Cocktail Technique.  "probably the great-grandfather of cocktails."
Fruit Dispute
By the late 20th century a lot of old fashioneds had turned into floating fruit salads, with fruit muddled in the bottom and added to the top as a garnish. Some even had a squirt of lemon-lime soda to boot. Prohibition, and the need to mask the taste of bad liquor, often gets credit for this trend. Interestingly, the recently concluded Mad Men TV series helped usher in the current craze for classic, bourbon- or rye-based old fashioneds that use fruit sparingly. But in the series ad man Don Draper drank the heavily fruited versions made with Canadian Club whisky.
Brandy is Dandy
Although bourbon or rye are the best-known bases, the drink has been made with all kinds of spirits. In Wisconsin, the brandy old fashioned is wildly popular, usually made with Korbel. The drink does involve muddled fruit and can be finished "sweet" with lemon-lime soda or "sour" – usually Collins Mix or Squirt. A garnish of cherry and orange adds the final flourish.
Here's a slightly more sophisticated version from Morgenthaler.
1 sugar cube or 1 tsp 2:1 simple syrup
2 dashes Angostura bitters
1 orange wedge
1 cherry, preferably Amarena or Maraska
2 oz brandy or Cognac
Directions: In a chilled old fashioned glass, muddle the sugar, bitters, orange wedge and cherry into a thick paste, careful not to work the orange peel. Add brandy or Cognac, stir, and fill glass with crushed ice and serve.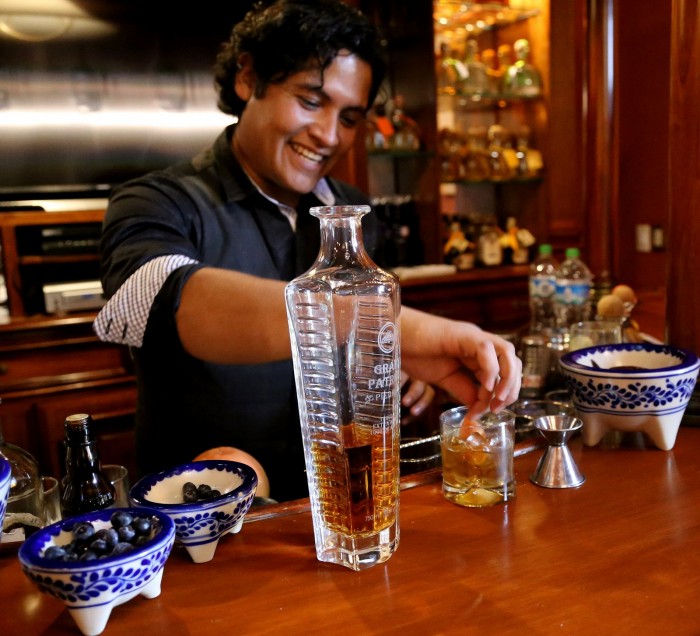 Go Agave
At the Patron Hacienda in Jalisco, mixologist Andras Moran makes his Old Fashioneds with, surprise, Patron tequila. Specifically, he uses extra añejo tequila, which has spent lots of time in oak, bringing the necessary barrel flavors to the mix.
He prefers his old fashioneds this way because "I love tequila more than whiskey."
Gran Patron Piedra, an extra añejo aged for more than three years, makes this really special, but you can also use the regular Patron Añejo to good effect.
Oaxacan Old Fashioned
1.5 ounces Patron Añejo
½ ounce agave nectar
½ ounce grenadine
5 dashes chocolate mole bitters
Place ingredients in ice-filled mixing glass. Stir 30 seconds and strain into chilled glass. 
Bonus Round
What should always be in an Old Fashioned?  "A well-balanced bourbon," says Goldstein. "Sugar!" says Morgenthaler.
What should never be in an Old Fashioned? "I can't really think of anything off the top of my head. I think anything goes," says Morgenthaler. Goldstein is not so liberal. "An old fashioned," he says, "should never, ever have a straw in it."