There's a reason that the Italian Trade Commission has held an annual wine fair in New York since 2009. Imports of Italian wines to these shores have increased enough that in 2010 Italy surpassed France to reach a market share of 30.3 percent compared to 24.5 percent for France, a country whose position at the top of the import heap was unsullied for decades. No wonder that the phrase often repeated during VINO 2011, held at the Waldorf Astoria the last week of January, was that we are in "a golden age for Italian wine."

VINO 2011 was a commercial event designed by the Italian Trade Commission to expose American importers and wholesale distributors, restaurateurs and retail store owners to a full range of Italian wines, though with emphasis this year on Friuli Venezia Giulia, Lombardy, Puglia, Tuscany, and the Veneto. While many of the participating estates and properties had importers and were, more or less, familiar to the American market (or portions thereof), the ITC had arranged for 80 producers without U.S. importers to be present. To aid in the smooth adoption of whatever of these wineries were picked up by importers looking for new Italian wines, the ITC had created a sort of "instant application" process to speed things along.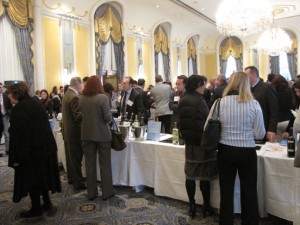 Whatever its impact in the way of a dazzling or overwhelming selection of wines to taste and a head-spinning roster of seminars and conferences, VINO 2011 could be seen as a series of sub-texts, one of which involves the conflict of Tradition versus Innovation in terms of oak aging, the kind of wood to use and the length of time in the barrel. In tastings and workshops both small and gargantuan, one felt the effect of this undercurrent of positions: No Oak or Large Old Barrels manning the barricades against that interloper, the small French barrique, not that this Gunfight at the Oaky Corral has not been fought before.
Perhaps the legendary or infamous American palate bears part of the blame for this contest of wills, since, at least anecdotally, Americans prefer their wines "well-oaked" and deeply imbued with the toasty, spicy, vanilla-laced aspects that barriques can impart, or at least that's the scenario implied by the popular wine press. Totally anecdotally, this writer was in Argentina in October and asked a winemaker what the oak regimen at his property was. "For Argentina," said the winemaker, "very little oak, because we like the wine to taste like fruit. For export to America, lots of oak, because that's what they like."
But listen to this: "I hate wood," said Lucia Zuliani, who with her brother runs Azienda Agricola Zuliani, an estate founded by their ancestors in 1589 in the Garda Classico D.O.C. region of Lombardy. "I want the wines to be fresh, and I want the personality of the producer, not a barrel, inside the bottle."
Indeed, the red wines that Zuliani showed at VINO 2011 had seen no oak and were bright, fresh and vivid, spicy and exotic. The grapes, by the way, are groppello and marzemino.
On the other side of the vast room at the Waldorf Astoria, Alberto Scarani, of Ca' Montebello di Luigi Scarani, in Lombardy's Otrepo Pavese D.O.C., gestured expansively and said, "French oak! That's the best! No Italian, no American! We prefer French oak!" And one feels that oakiness and austerity in the estate's Pinot Nero Riserva 2007 and the Barbera 2008.
It was barely 40 years ago that Giacomo Bologna in Barbera d'Asti, Angelo Gaja in Barbaresco, and Piero Antinori in Tuscany introduced the barrique (as well as, in the case of Gaja and Antinori, the cabernet sauvignon grape) to Italian winemaking, instituting a revolution in the seriousness of their region's wines and paving the way for what in the 1990s came to be called the "international style" of Italian wines, meaning, to take the narrow view, that they seem more Bordeaux- and Napa Valley-like than Italian. Many of these prestigious barrique-aged wines—which now include Barolo and Brunello di Montalcino and others throughout—have brought Italian winemaking to the attention of wine critics and financially-secure consumers and collectors around the world.
Perhaps there is a trade-off, however, not in quality—few would deny the high achievement of Solaia or Sori Tilden—but in regional integrity and authenticity. That has certainly been an implicit argument in Italian wine circles.
For example, at Azienda Agricola Campochiarenti, represented at VINO 2011 by Daniele Rosti, strictly traditional methods are followed. The estate lies near San Gimignano and produces, among other wines, Chianti Colli Senesi DOCG and Chianti Colli Senesi Riserva DOCG. Each is made of 80 percent sangiovese and "other autochthonous Tuscan grapes," meaning 10 percent each canaiolo and ciliegiolo.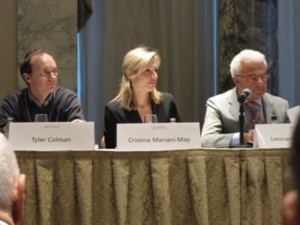 "We are not interested is using barriques," said Rosti. "That would be against what we think is best for our type of wines, which is more typical or old-fashioned. We don't want that much exposure to wood."
The Campochiarenti red wines are fermented in glazed cement vats and age at least six months or at least 20 months (for the Riserva) in 20 hectoliter barrels, that is barrels of 528-gallon capacity, as compared to the 59-gallon capacity of barriques.
Giacomo Benucci, however, carefully but enthusiastically explains that French oak is essential for the spirit of the wines of Tenuta di Morzano, where the Morzano Riserva 2007, a 100 percent sangiovese Chianti Montespertoli, ages one year in new French barriques. (Part of the Colli Fiorentine was renamed Montespertoli, after the town, in 1996.) An I.G.T. wine, Nicosole, a blend of one-third each cabernet sauvignon, merlot and sangiovese, ages 18 months in new French barriques.
"These are modern wines," said Benucci. "We want this kind of structure, the firmness, the spice, the complexity."
Among the many seminars to choose from at VINO 2011 was "Montefalco … Not Just Sagrantino DOCG," meaning that there's also Montefalco Rosso Riserva DOC, which allows, in addition to the indigenous sagrantino grape, sangiovese, merlot, cabernet sauvignon, and colorino. Even 20 years ago few commentators had much to say about Montefalco, a heartbreakingly cute hill town in eastern Umbria, or its sagrantino grape, except to praise the intense passito sweet wines made from it.
You can't build an international reputation on backwater passito wines, however, so Sagrantino di Montefalco was remade in a more sophisticated image to appeal to contemporary palates, mainly by extended aging in, of course, French barriques. Not all of them, however. Of four Montefalco Rosso wines presented at the tasting, only one aged completely in new French oak, the others seeing barrels of a variety of sizes and ages, though two of those aged for a stunning three years. Of five wines under what's now called Montefalco Sagrantino, two aged in new barriques, one in large barrels, and two in mixed barrels that included barriques. Of the latter the aging time was 36 months and 48 months, so the choice of barrels hardly mattered.
The almost schizophrenic attitudes in winemaking philosophies expressed in the differences among these producers from Lombardy, Tuscany, and Umbria indicate a deep-seated conflict that amounts to a culture war, the victor of which will control the history and myth, indeed the soul, of Italian wine. The boundaries of these arguments—notions of markets and marketing, regionality versus international appeal, tradition pitted against innovation—rest, for better or worse, in truth or misapprehension, on assumptions about American tastes and drinking habits. It's an awesome responsibility.
---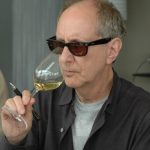 Fredric Koeppel wrote a weekly nationally distributed wine column from 1984 to 2004. He ran the now defunct website KoeppelOnWine until it became too complicated and in December 2006 launched the blog biggerthanyourhead.net. He is a former college English teacher and newspaper reporter. Koeppel and his wife live in Memphis, where they rescue dogs and foster puppies.