I've covered the Livermore Valley AVA, 30 miles east of San Francisco, for the past 14 years and have never been more impressed with the wines and the people making them.  With more than 50 wineries and wines taking top honors at major wine competitions, the Livermore wine country is better than ever. Three newcomers on the wine scene are raising the bar higher.
The Rising Star
He's a rock star of Livermore Valley.  A young gun in his late 20's, he's a completely self taught winemaker.  Meet Collin Cranor of Nottingham Cellars.  When I first tasted his Viognier and GSM (Grenache, Syrah, Mourvèdre) blend – I was blown away by the aromatics and complex flavors.
This guy's got major talent.  At the recent San Francisco Chronicle Wine Competition, Cranor's wines took home four medals. We think there's a real renaissance in quality wines coming out of Livermore, the valley's reputation keeps continuing to grow," he explains.
Nottingham Cellars produces reds from Bordeaux varieties and a Chardonnay.  Cranor's new label "Vasco Urbano" uses all Rhône varieties.  These wine labels are inspired by the work of Australian artist Vasco Urbano Loureiro, who visited Livermore in 1910 and drew caricatures of prominent local folks.  The GSM is named The Sheriff; the Speck Grenache Rosé is named for an ice delivery man.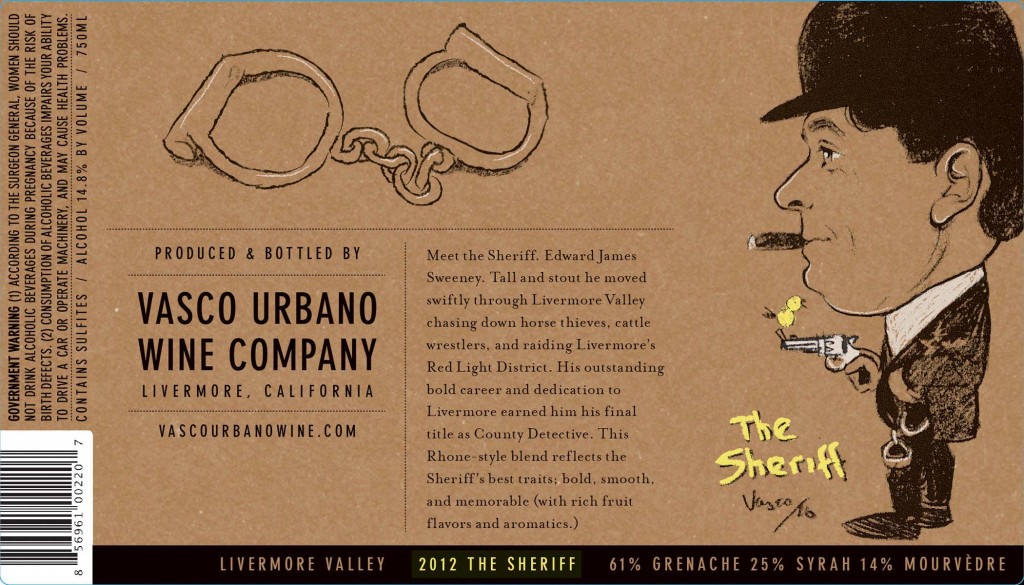 While Cranor crafts bold and powerful award winning wines, he's not ashamed to put them in kegs. He's one of the ultimate advocates of wine on tap.
New Kids on the Block
"We're in our pop up tasting room,"says Chris Sorensen, winemaker and co-owner of Caddis Winery.  "We've been making wine since 2010, all Livermore fruit except our Zinfandel,"  says co-owner Courtney Garcia.  That fruit comes from her parent's vineyard in Sonoma Valley.
At a production level of a mere 300 cases per year, "we're tiny but we're mighty,"says Garcia.  She and Sorensen met working together at nearby Occasio Winery, where Sorensen is still the associate winemaker.  The two are planning their wedding for June.
They named Caddis for Sorensen's love of fly fishing. (A caddis is an insect fishing lure.)
Caddis is a true garagiste operation. The pop up tasting room is in the garage where Sorensen makes wine.  He uses a small, hand-cranked basket press.  "Our biggest grape lot in 2013 was one ton,"he says.  "It took us about eight hours to press that."  He hopes to have a larger, mechanized press for the upcoming harvest.
Sorensen makes beautiful Livermore Valley Chardonnay, Syrah, an award winning Tempranillo and a luscious Cabernet Syrah 50-50 blend called "Better Together."  Indeed, with the upcoming marriage of Sorensen and Garcia, Caddis is better together.
Best in Show
The tag line says it all.  "3 friends striving to make the perfect wine."  Arriving at the 3 Steves Winery in Livermore Valley, and this is what you'll hear.  "Hi, I'm Steve."  "Hello, I'm Steve."  "I'm Steve too."  No kidding, these three guys are all named Steve.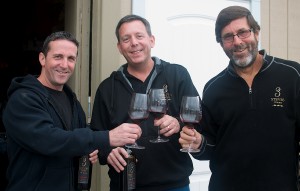 The 3 Steves started making wine at a local winery in 2010.  From the get go their wines were a hit.  They needed more space to meet rising demand and in 2012 moved into their own winery with a Cabernet vineyard to boot.
Then the 2014 San Francisco Chronicle Wine Competition happened.  The 3 Steves Cienega Valley Zinfandel won the Red Sweepstakes Award.  When I tasted it, I did the happy dance.  It's fruity and spicy, but not overblown, more like a classic California Zinfandel of yore.  Want to try it?  It's sold out.  The 2012 will be released soon and Burman says it's even better than the 2011.
Also sold out, the seductive Cabernet Franc.  3 Steves can't keep 3 Reds in stock, a soft, fruity blend of Cabernet Sauvignon, Cabernet Franc and an obscure variety, Cabernet Pfeffer.
Luckily you can get the 2012 Livermore Valley Chardonnay, a rich, fruit foward wine and the 2010 Livermore Cabernet Sauvignon, an explosion of fruit in your mouth.  The back label on the Cab reads "We bottled only 50 cases of this particular wine and are glad it found its way to you."  These guys are making seriously good wines.