This story is continued from "Wine is too cheap: Working Harvest in South Africa (Part 1)"
As a tasting exercise during meals, Burger pulled two bottles of wine for me and the assistant winemaker Drew to sample blind and guess the grapes and origin. We could ask four strategic questions to narrow down the answer. Swirling and sniffing, we discussed the attributes in each glass. "This wine has the aromatics of a Sauvignon Blanc," I'd comment, and we'd ponder whether it included Sémillon as a blend. The cellar hands, peculiarly, had little interest in tasting wine with us, despite spending all day in the pursuit its production. Only one team member extended his glass for a sample, although he contemplated the wine quietly at the other end of the table. The rest preferred to drink hard cider (a new Cluver product using their orchard apples.)
In my mind, I could ascribe reasons for the local black employees' lack of interest: they perceived wine as a white person drink or possibly it seemed complicated or expensive or maybe they felt intimidated to talk about it around their white, educated employers. Maybe they didn't like the taste, or maybe working at a winery was as much a job to them as picking apples or working in a factory; a job they desperately needed in a country with 25 percent unemployment. Too desperate to worry whether the Pinot showed red or black cherry fruit. Whatever the impetus, their disinterest carried a tinge of sadness that seemed to allude to a larger socioeconomic dynamic within the country.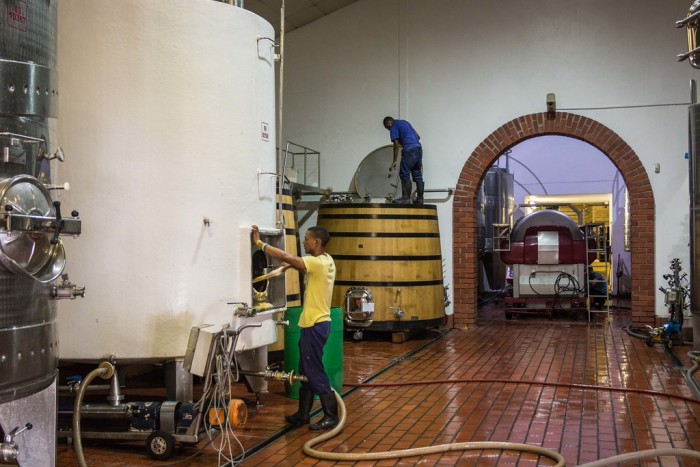 When I first arrived at the farm, I asked Burger if any other interns would be joining us. "A few months ago I had two German wine students emailing me about flying down" he said. "However, this season I decided to give the work to the local men who needed the position – and pay – more than a foreign intern student [interns are unpaid]." His decision demonstrated a smart and solicitous attitude towards the welfare of his community.
Speaking to some of the cellar staff over punch downs or mopping, they seemed happy for the work they had. But few believed moving up in the wine industry – beyond a cellar rat role – would ever be possible. Did they want for enterprise, or believe in the existence of an employment ceiling, knowing better than I with my American optimism, that black South Africans just don't get assistant winemaker jobs? (It's important to note that most winemaking positions require viticulture and oenology degrees, and have become scarce even for those holding one, due to increased competition. Of course, aspiring winemakers need money to attend school in the first place.) Clearly these are complicated questions with roots deeper than my time in South Africa afforded me to dig.
According to Burger, programs to provide training and certification to cellar staff interested in pursuing long-term employment in the industry are growing. Also, the Cape Winemakers Guild, of which Burger is chairman, instituted a protégé program to help young students with demonstrated aptitude, finish school and gain winemaking experience through a three-year paid internship at Guild member wineries. It seems there is progress afoot.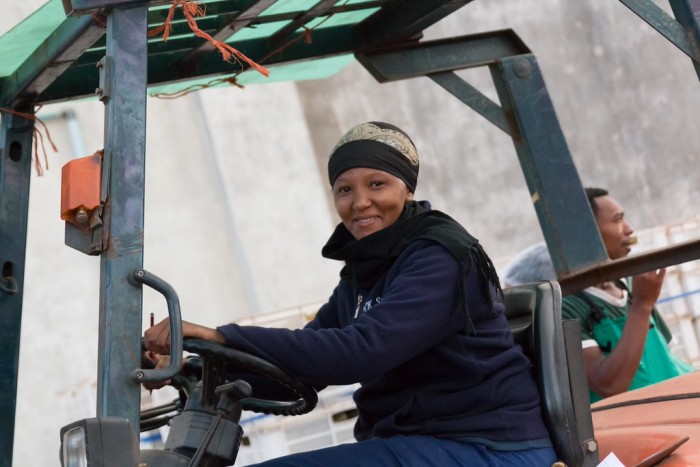 For two weeks, I aided a tight knit team of people in the process of moving grapes from vine to barrel (obviously I wasn't there long enough to see any wine through to bottling). Ascending and descending ladders; lifting, bending, squatting, and standing all day on one's feet. Winemaking isn't for out-of-shape acrophobes afraid of injury and long hours. And, frankly, it is still a male-dominated industry, from the head winemaker, down to the cellar hands (at the majority of wineries I've visited around the world, not just in South Africa). It's not that women can't do the physical labor (yes we can, dammit), but it could be a limiting factor for some women when considering winemaking versus wine marketing, as a career path.
The experience also cemented my belief that consumers demand too much wine for too little money. The number of hands (and risks) involved in turning healthy grapes into a characterful, lively drink, let alone one with a soul that speaks of a singular time and place, are numerous.
Vines only bear usable grapes several years after planting. Pruning, pests, disease, weather, and now a changing climate: all these variables demand management and determine the quality of the fruit. Add training in proper picking and sorting technique, ensuring healthy ferments, keeping the power on so your temperature controlled tank stays cool. There are many critical points in the process where mistakes (not catching bacterial spoilage in the wine), accidents (falling into a tank and dying), and natural catastrophes (birds wiping out a vineyard), can lead to long-term consequences. Producers only get one vintage a year from which to earn an income.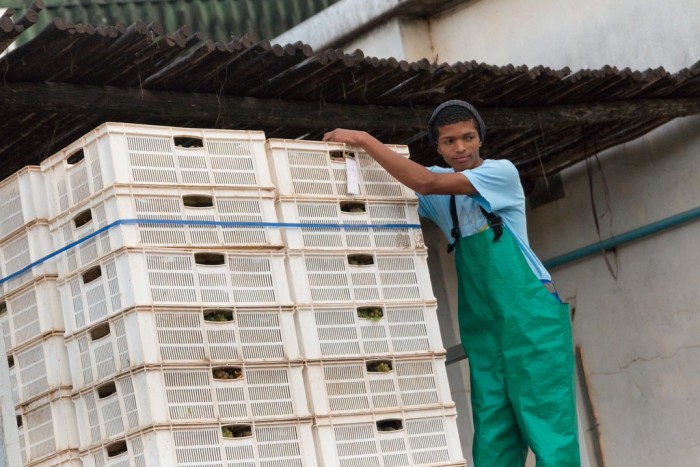 And what about the farm workers: the cogs in the wheel of the wine industry? Minimum wage for agricultural labor in South Africa is 130 rand a day (about $10 U.S. dollars). Many employees live on the farms of their employers; those that don't, and can't afford cars (most), are transported by trucks en masse from their villages to work and then home again at night. The Cluvers commendably provide education and health care for employees and their children, but these basic securities aren't accessible to many others around the country. (Not to single out South Africa, the U.S. has a troubling reliance on cheap Mexican and Central American labor.)
The wine business is fraught with fragility, tenuously held together by people who share a common devotion to its cause, not big salaries and handsome margins. But that doesn't justify forcing producers to price wine arbitrarily at $11.99 because consumers have decided that's all they want to pay or because they perceive, to use South Africa as an example, the wines to be cheap because they historically were. Government and our three-tier distribution system all take big bites out of that figure, too. Writers that argue solely in favor of drinking cheap wine do an injustice to the industry at large by perpetuating the notion that wine should be inexpensive and accessible to all at all times, while failing to acknowledge that often the only way to achieve low price points is at the expense of someone else's livelihood, or quality, or worse, both.
Shouldn't the producer turn some profit to compensate for their risk and investment in the business? Shouldn't winemakers afford to pay off education loans and save for their future? Shouldn't a laborer earn a living wage to buy a $20 dollar bus ticket to see a sister in Johannesburg, the equivalent of two bottles of weeknight Merlot from the supermarket?
Before my sojourn to South Africa, I admired winemakers for their labor of love, but mostly as a notion, an ideal. After spending two weeks with one – especially one making wines of purity and finesse (now that I've tasted Burger's Chardonnay and Pinot Noir), while balancing the well-being of his team and minding the pesky bottom line – I've found that ideal chiefly congruent with reality. While I'm not sure I want to follow in his footsteps permanently back up that ladder, I might work another harvest; after all, in their line of work, I'm cheap labor.