Harvest is under way and internationally known enologist Alberto Antonini is giving a master class on the coming vintage. Behind him, framed in the large windows of the new winery, a landscape of terraced vineyards unfolds under a lacy blue sky, a view reminiscent of his native Italy.
But these vines are most definitely not under the Tuscan sun.
This is Bodega Garzón, brainchild of global vintner Alejandro Bulgheroni, and the newest addition to Uruguay's emerging wine scene.
"What we have got here is a beautiful environment," says Antonini.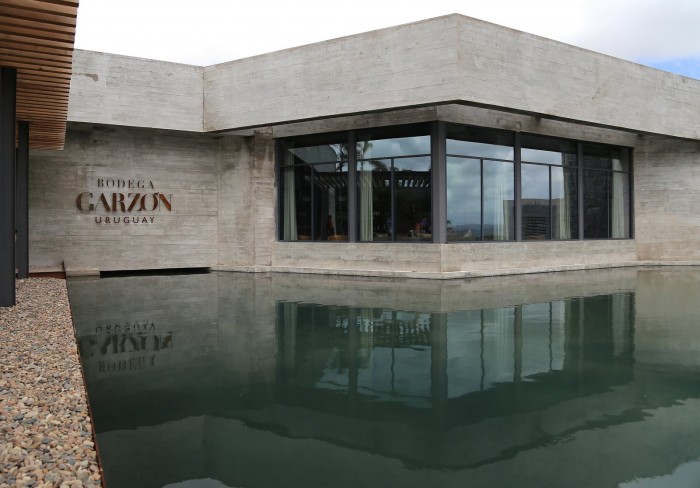 Set near the southwest coast of Uruguay, about 110 miles from the capital of Montevideo, Bodega Garzón is the first winery outside of North America seeking LEED certification for its entire facility – winery, vineyards, restaurant. It's part of Bulgheroni's ambitious agri-tourism project known as Agroland, a 10,000-acre spread where visitors can tour an olive mill, take hot air balloon rides, picnic, bike, barbecue and more.
The winery celebrated completion of the facility and restaurant with a grand opening in March with ceremonies that drew the well-heeled and the well-known, including current Vice President Raúl Fernando Sendic Rodríguez and former president Jose Mujica, known for his humble lifestyle and socially progressive administration.
Sandwiched between Argentina and Brazil, Uruguay is known for its political stability, high quality of life and thriving farms. (There are about 3 million people here but 12 million cattle.) It's in the same latitude as other southern hemisphere wine producers like New Zealand and Chile and the wine industry as a whole has been modernizing and boosting exports in recent years.
Bulgheroni, an Argentinean energy entrepreneur who owns vineyards around the world, and his wife Bettina bought the Bodega Garzón property in 1999. At the time, Garzón was a railway ghost town fading into obscurity. The Bulgheroni family planted olive trees – now operating as a premier boutique extra virgin olive oil company, Colinas de Garzón, and then started considering the possibility of planting grapes.
Antonini was brought on board and for the past seven years, the project has slowly moved forward, turning into a $100 million investment that now includes 500 acres of vineyards, a modern winery and production facility along with a sleek restaurant boasting terraces with sweeping views of the property.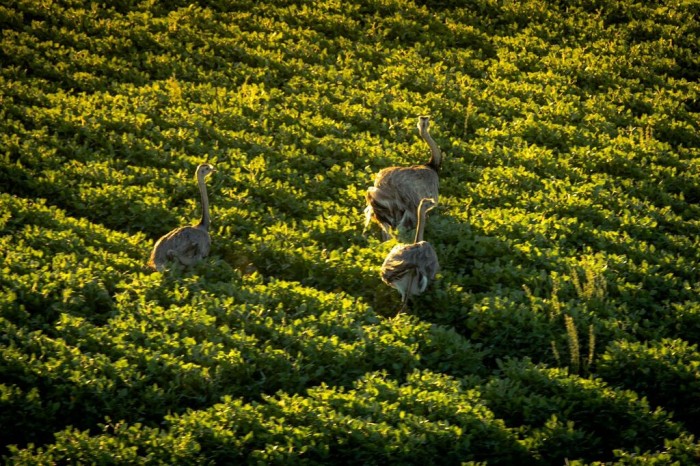 Plantings include Tannat grapes, the signature red grape of Uruguay, and the winery is also producing whites including Albariño and Sauvignon Blanc. Existing trees have been left alone, with vineyards planted around them to create a diverse environment rather than a grape monoculture.
"I believe the way we're doing it is the way it should be done," says Bulgheroni.
One of the things that makes the property unique is its vicinity to the Atlantic Ocean, only 11 miles away. Cool ocean breezes refresh the vines in summer and the climate is often cloudy or humid producing a filtered light that Antonini says creates "a nicer flavor development and aromatic development."
Harvesting began in 2014 and production is now at about 33,300 cases per year with the potential to go up to around 167,000 cases.
All in good time, though.
"If you look at the great wine regions and how long it took them to understand the grapes sometimes it was, you know, not just decades but centuries," says Antonini. "Obviously, now you have tools that allow you to go faster, but still you need to do things at the proper time. You can speed up the process, you can't rush."
Wines currently available include the Albariño, Tannat and Sauvignon Blanc. The plan is to add more varieties as well as introduce premium, reserve wines.  A major market is neighboring Brazil, but the wines are available in several other countries including the United States. The Bodega Garzón Tannat retails for $16-$20 and is a crowd-pleasing red that is refreshing, not cloying.
I visited the winery as part of a group of journalists hosted for the grand opening ceremonies and we got to taste barrel samples of the 2016 Albariño, which even as a youngster was promising, brimming with tart peach, zesty lemon and a slight touch of honey on the finish. The 2015 Tannat was similarly refreshing with an earthy, leathery aroma followed by blackberries and blueberries and a kick of white pepper.
Bulgheroni isn't the only Argentinean investing in Garzón. Well-known chef Francis Mallmann got interested in the place around the same time as Bulgheroni. In 2004, he opened a hotel and restaurant (where he cooks exclusively with Colinas de Garzón olive oil) that have attracted people intrigued by the combination of high-end dining and an out-of-the-way location.
"I love the idea of the voyage," says Mallmann. "The person who comes for lunch or comes to stay with us some days at the inn – there's a sort of search to arrive here. It's not that you are at Park Ave. and 56th Street."
In the same way, Bodega Garzón is striving to carve out a niche as a unique addition to New World wines.
"Wine is about two things," says Antonini. "Places and people. So what you have to talk about is places and people, there isn't much else to say. And the uniqueness comes from making wines that can express these two components. That's all."