Even in its heyday, Communism didn't change people's enjoyment of drinking. But it did change how wine was made and sold, and while many of those changes weren't for the better, there's an interesting legacy in a pretty corner of Europe.
Two years ago I happened upon a terrific story about a post-Communist comeback, of a family reclaiming its heritage after a Marxist dictator took it away. I'm sorry it took me so long to tell it, but better late than never.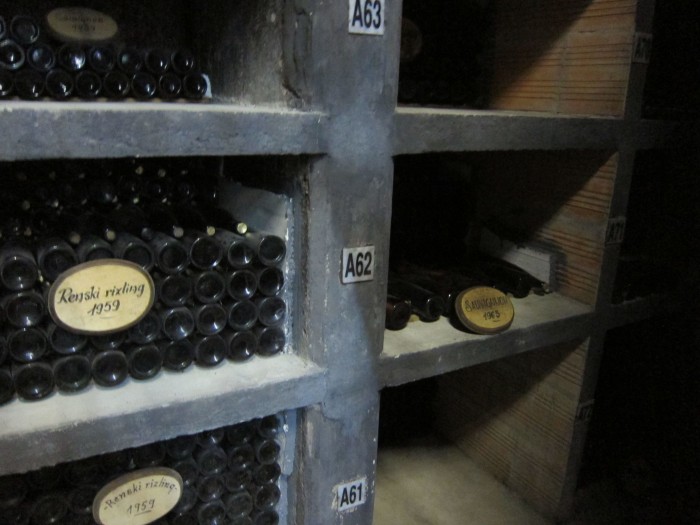 There's some urgency to this, though, because if you can find your way to Slovenia, you have the chance to shop at what might be the largest archive of aged white wines in the world: 250,000 bottles that have been aging in good conditions, five stories underground, for up to 50 years. And the average price is just 50 Euros. I had an amazing 1971 late harvest Pinot Blanc, with a lovely rich, honey texture yet no sweetness at all, and there are more than 3,000 bottles left of that wine alone.
The story started in the 1950s, when Tatjana Puklavec's grandfather Martin was in charge of production at the largest winery in Slovenia, which was then part of Yugoslavia. Slovenia is smaller than New Jersey and mountainous. The population is just 2 million – and of those, 4,500 people grow wine grapes. Slovenia borders Italy and Austria, and its wines, mostly whites, fit nicely with its neighbors.
Wine was big business even during the Communist era: 80% of the wines made by Jeruzalem Ormož were exported. "Buckingham Palace was a good customer," Tatjana says.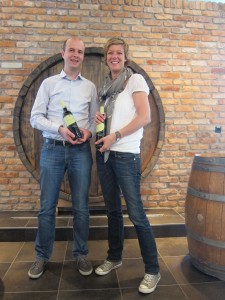 Martin built Jeruzalem Ormož in the 1950s, before it was nationalized by the dictator Josep Tito. When that happened, he was made general manager of the winery, but he didn't join the Communist party. "My grandfather was not political," Tatjana said. So there were consequences: he was demoted. "They put him on the bottling line for his last two years," she said. "And his pension was based on his last job."
The demotion led Martin's son Vladimir to emigrate to Germany, where he became an engineer and stayed away from the wine business. Vladimir worked in the gas industry for 40 years, and in 2008, his company went public and he sold his shares. He was 65 years old and suddenly wealthy.
Meanwhile, Jeruzalem Ormož –  treated surprisingly well under Communism, because Slovenians love their wine – suffered from years of neglect after the breakup of Yugoslavia. The winery had one GM from 1973 to 1998, but seven managers in the next decade as it struggled to find its way in a new capitalist environment. The facility –  seven stories in all, five of them underground – was more enormous than necessary. Hygiene was lacking. And the grapes being brought in by local co-ops weren't consistent.
Vladimir Puklavec had no special affinity for wine. He traveled the world for the gas business. "I always say he will be found dead in Frankfurt Airport reading the paper," Tatjana said. But, she added, "My whole family is pretty stubborn. One of his school friends called him and said, 'The company in Ormož wants to sell.'" The winery was in bankruptcy. Vladimir Puklavec knew the history, knew how his father put his life into it. For 28 million Euros, he bought not only Jeruzalem Ormož, but its biggest competitor, Ljutomerčan.
The company is now called Puklavec & Friends, or "p&f wineries" for short. Tatjana and her sister Kristina run it. They have two other siblings, but one sister is a doctor and the other works in the gas business. Tatjana grew up in Germany and also speaks Dutch, English and French but, "my Slovenian's really bad," she says.
So she hired Ormož native Mitja Herga as managing director. Herga won a "young promising winemaker" scholarship in 2006, but his desire to work at a modern winery led him out of the country, first to Stellenbosch, South Africa, and later to New Zealand, where he worked for Pernod Ricard's massive Montana winery. He liked New Zealand, but when he got a call in 2009 to come back to Ormož, he didn't hesitate.
"With our company, 600 people in the area were connected," Herga says. "The first year (the Puklavecs) took over, they increased the grape price they're paying by 60%. They also increased the quality demands. We didn't have many problems with that. In Slovenia people were committed to the quality of the wine."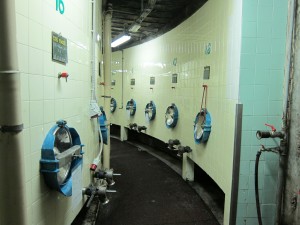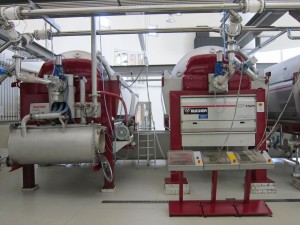 The contrast between the old and new parts of the winery are extreme. Some parts look like a factory that has been out of use for decades. Then you turn the corner and see the new refrigeration system, used to chill the grapes in the pipes on their way to the fermentation tanks.
It took three years, but Slovenia's wine links to England were still strong enough to get Puklavec Sauvignon Blanc into Tesco, a 5,000 case sale starting with the 2011 vintage. As always, though, the supermarket won't pay for P&F's best wines, even though most don't cost more than 10 Euros.
Example: Under the Jeruzalem Ormož brand, the winery makes an excellent Sauvignon-Pinot Gris blend that's aromatic and has terrific mouthfeel; it could pass for an Alto Adige white. "A lot of the Sauvignon can be quite aggressive here," Herga says. "We use the Pinot Gris to tone it down."
P&F placed another Sauvignon blend, this time with Furmint, into KLM's business class. It's easy to see why: there are floral notes up front, and a hint of tannin gives it a good mouthfeel. It's a nice food wine and it's so unique that nobody paying for business class would know it could be had for under 5 Euros in Slovenia. The more upscale Puklavec Family Heritage brand also has a terrific straight dry Furmint that challenges the best in Hungary, as it's picked earlier than most of those for great freshness, violet notes, good structure and a long finish.
I regret not telling this story two years ago. Here's why: did you know Cleveland has 200,000 Slovenian-Americans? I thought, I'll sell this to some newspaper or magazine in Cleveland. Did you know newspapers and magazines in Cleveland are in worse economic shape than post-Communist wineries in Slovenia?
But better late than never, and if Palate Press doesn't have so many Slovenian-American readers, we do have plenty of exotic wine lovers. If you do find yourself near Slovenia, the white-wine archive at P&F is truly exceptional.
"Sauvignon Blanc '63 for me is the best in the archive," Tatjana says. "We have just 90 bottles. It's still Sauvignon after 50 years. It's really green in character. It's fantastic wine. But 1971 was one of the best years in the archive, and we have a lot of those."