Montoliva Vineyard & Winery: Italian Varietals in California;
From Southern Italian Dreams to a Chicago Park Reality
Mark Henry's wine journey started in 1992 at a fancy steakhouse in Seattle with a bottle of
Rosemont Estate Balmoral, an Australian Shiraz. He was a beer guy, but "this wine was my
epiphany wine. I was hooked from that day forward" says Henry. It was in the same year that
he birthed the idea to one day own his own vineyard and make wine. After a couple trips to
Italy, the dream began to manifest.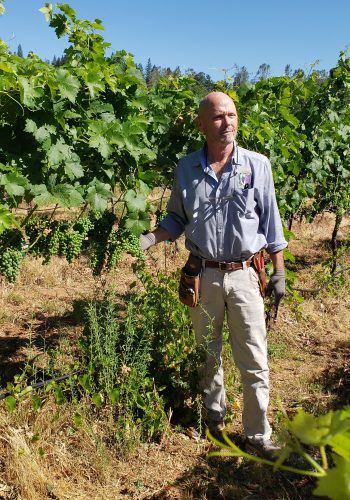 Henry grew up on a small-scale subsistence farm and knew farming was hard work. As he began
planning, his focus turned to Italian grapes. But why? A couple years before he planted the
vineyard, the University of Florence published the results of a ten-year study as it related to
southern Italian varietals, especially Sangiovese and Aglianico. Henry got his hands on an
English translation of that study and in 2000 settled on the north Sierra Foothills of California as
the best place on the west coast of the US to grow those (mostly) southern Italian varietals he
so loved.
Chicago Park, California lies in the north Sierra Foothills, northeast of Sacramento, and west of
Lake Tahoe. Farming two small vineyards, Mark Henry produces roughly 1,500 cases of wine
made from Italian varietals. With no professional training in winemaking, the process was trial
and error. Says Henry, "I've watered the vineyard with more wine than I like to admit", and
somewhere along the way, quality wine appeared.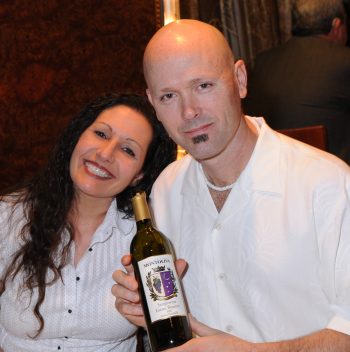 In the Montoliva vineyard, the grapes are farmed organically, though not certified. Henry
"firmly believes in the idea that the best fertilizer is the owner's boot prints in the soil". He does
have a goal to seek biodynamic certification, but doesn't have the amount of land necessary to
meet the livestock levels required. His daughter is slated to take over the business/sales and
winemaking side of things, and Henry will then be able to focus on that goal.
Henry is a low-intervention winemaker and does most everything by hand. He is personally out
in his nine acres of vineyard every day. "It's hard work" He says, "but I sleep well". His goal in
the winery is to "let it [the wine] become whatever it is it wants to be". The Montoliva wines
are balanced, a bit rustic, and calling for food, similar to Italian wines.
You'll see "Chicago Park" prominently on the labels for Montoliva, although it's not a
recognized AVA. Technically Montoliva is in the Sierra Foothills, but Henry doesn't prefer to use
that designation as it's too large, rendering it almost meaningless to the consumer, and in any
case, has a "less than stellar" reputation.
Henry says he did not come into this business with delusions of grandeur. Making wine from
obscure grapes in a place called Chicago Park was never going to lead to fame or fortune. His
goal, according to Henry, was "to raise children in a nice small community, operate a farm that
was successful enough to pay the mortgage, and wake up every morning looking forward to the
day." I'd say Mark Henry has succeed both in life and in the bottle.
Montoliva Vineyard & Winery 2019 Negroamaro $35
Made from the Negroamaro grape, with "negro" meaning black in Italian and "amaro" meaning
bitter. The wine is unfiltered and throwing a bit of sediment in the glass. Pale garnet in color,
with a hint of bricking. The nose was very earthy, yet the palate gave ripe fruit plus the same
earthiness. On the palate, the wine is gives ripe red and black fruit notes plus a savory,
herbaceous character. 120 cases produced
Montoliva Vineyard & Winery 2019 Dolcetto $35
Made from the Dolcetto grape, native to Piemonte in norther Italy. In the glass, the wine gives
both fruit and spice, both pleasantly integrated. Moderate tannins have you thinking about
what to eat with this. I'm thinking of a slow cooked ragù on a Sunday afternoon. 135 cases
produced.
Montoliva Vineyard & Winery 2019 Nero d'Avola $35
A widely grown red grape in Sicily, Nero d'Avola, has a reputation for being rustic in nature, and
this wine is no exception. Serving heaps of deep, dark, rich fruit, almost as if the grapes were
ripened from the Sicilian sun. 139 cases produced.
Montoliva Vineyard & Winery 2018 Teroldego $35
Teroldego is a red grape from the Trentino area. Black fruit and drying, though well-integrated
tannins, form the foundation of this wine. There's a smokiness to this wine that calls for a plate
of BBQ to complete the picture. 140 cases produced.
Montoliva Vineyard Winery 2017 Sinistra $40
A blend of Teroldego and Barbera, Sinistra is Italian for "left", and the name arrived because
Mark is left-handed. A good combination of fruit and earthiness, characteristic of Montoliva
wines. Also, a bit lighter than to be expected with a 65% Teroldego blend. An interesting wine
to keep you intrigued as you're drinking it. 120 cases produced.
Montoliva Vineyard & Winery 2020 Due Baci $35
Italian for "two kisses", this Due Baci wine is a blend of 70% Sangiovese and 30% Aglianico. This
wine was originally made in 2008 when Mark married Julianne. Their guests loved the wine so
much, they decided to continue producing it. A great smooth and easy wine for the red blend
lover. Red fruits plus pepper spice. What's not to love? 140 cases produced.
Brianne Cohen is a Los Angeles based event producer, certified sommelier, wine educator, and writer. Her writing focuses on wine, food, and travel. She writes on her own blog and for outlets such as Decanter, Monarch Wine, Matador, SommTV, Edible, Wine Tourism, and Wine365. She also holds a Master of Business Administration from Loyola Marymount University.
Brianne Cohen operates a certified woman-owned business with WBENC.