People who write about wine seem to have a really bad habit of navel-gazing. I know of few other sectors where so many column inches are devoted to what wine writers should be writing about – and how. My reaction is simple – who cares? Wine lovers/geeks/connoisseurs are enough of a niche. People who like to read about wine writers writing about wine writers? Please.
I love wine, and that's why I write about it. So in honour of that, here's an alternative "best of 2014" – or if you will, "what I damn well will write on my wine blog, whether anyone thinks it laughable or not".
Tasting somewhere north of 1,000 wines a year means that inevitably some very good bottles get overlooked. This is a quick round up of some gems I encountered last year, and failed to adequately report. Seek out these wines and try them for yourself – I've provided supplier information wherever possible. It is unapologetically an eclectic selection.
Red
Caminhos Cruzados "Titular" Alfrocheiro 2011 (Dão, Portugal)
Alfrocheiro is most often encountered as part of a red blend, in wines from the Dão or Alentejano regions. On this showing, I'd love to taste more varietal versions. Titular has crunchy blackcurrant fruit and silky, refined tannins. The elegance was redolent of a slightly fruitier left-bank Bordeaux.
One wish I have for 2015 is to see this wine become a bit more available – right now, it's barely available outside its native Portugal. If you visit, forget the holiday trinkets, throw away all your possessions and fill the suitcase with a 6-pack instead. With a sub-$10 a bottle price, it's absurdly good value.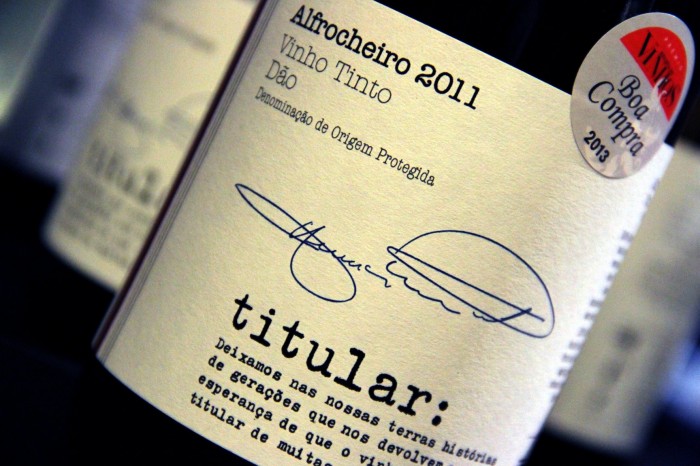 Clos Figueras – Font de la Figuera 2010 (Priorat, Spain)
I tasted this wine on at least three separate occasions over the course of two years, and each time it wowed me with its supple, cassis scented beauty. I reckon the Carignan in the blend is key – Priorat is a hot, dry region and it can be hard to retain freshness, although you'd never know from tasting this.
Widely available across the US, between $29 – $42 including taxes.
White
Chateau Peybonhomme Les Tours – Le Blanc Bonhomme 2013
This biodynamic estate in the Cotes-du-Blaye makes very nice clarets – but I think their white is even better. 50/50 Sauvignon Blanc/Semillon, it's a perfect blend between Sauvignon's citrus zing, and Sémillon's more fleshy texture. Stupidly cheap, given the region and the care and attention that goes into the farming. Worth maturing for a year or two as it's still very young.
Available from Chambers Street Wines, NYC, $16.99
Chanton Weine – Gwäss 2013 (Valais, Switzerland)
Gwäss is the local name used by Chanton Weine for gouais blanc, the so called "casanova variety" – it is responsible for more than 20 crosses, including most of the Pinot family. One of very few varietal examples still produced from this incredibly rare but important variety. Very light, with only 11% alcohol, it delivers a massive jolt of steely acidity, but with just enough citrus, melon and the tiniest whisp of honey to give interest. Fascinating to think that without this grape, a huge proportion of the wine we enjoy today would simply not exist in the same form.
Sadly unavailable in the US, although UK readers can buy from specialist Alpine Wines, £30.
Orange
La Castellada – Friulano 2009 (Friuli Collio, Italy)
The aromatics of Collios's Friulano often seem to be positively accentuated by skin contact, and La Castellada's 2009 is a great example. There are intense aromas of peach and jasmine tea, and subtle lemon-scented honey on the finish. This is a wine with considerable girth, as is typical for Friulano, but while fat, it is nicely balanced, with a tiny bit of grip that freshens the finish.
The 2007 is available from Saratoga within NY State, $60.
Gravner – Breg 1998 (Friuli Collio, Italy)
An expensive treat at over $100, but it's a piece of history – Josko Gravner's white blend, from before he started using Georgian qvevris. Fermented in open-top vats, and of course left on the skins for many months. The bottle I opened was sensational – perfectly fresh, dense and closed for the first few minutes, but quickly opening up to reveal complex herbal, honeyed and nutty flavours. Very long, with incredible drive and focus, and gorgeous texture.
Having decided to focus purely on Ribolla Gialla, Gravner is no longer making Breg, which I personally regard as a shame. It's for that reason that I recommend snapping up recent vintages, which easily have the potential to become as great – the 2004, 2005 and 2006 are all readily available. Try Italian Wine Merchants or Saratoga (NYC), Flickinger wines (CA) or check wine searcher for other stockists. Around $90.
Please note that I have no affiliation to any of the retailers listed, and I make no guarantees as to the availability of the wines. Good luck!