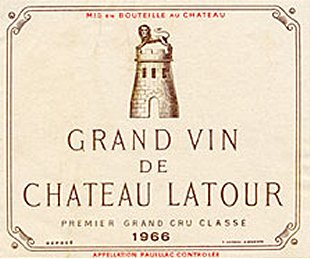 WHO: Chateau Latour
WHAT: Red Bordeaux Blend
WHERE: France, Bordeaux, Médoc, Pauillac
WHEN: 1966
SIZE: 750 ml
RESERVE: $600
MINIMUM BID INCREMENT: $100
96 Points, Robert Parker Jr., Wine Advocate
"The wine of the vintage, the 1966 Latour is a classic, old style Bordeaux that has required decades to become drinkable. A dark, opaque garnet color is followed by a fabulous nose of cedar, sweet leather, black fruits, prunes, roasted walnuts…96." Wine Advocate, June, 2000.
Recent individual reviews assure the buyer of a marvelously young wine in a 45 year old bottle:
Given the age of this wine, we more or less pulled the cork just about 20 minutes before serving. It quickly became apparent that we weren't properly prepared for just how sturdy and healthy this wine is. Indeed, it defied our host's expectations and sang just beautifully—albeit in a rusty, bloody, savory sort of baritone that was Tom Waits-unique in tone. Specifically, I took note of aromas of bloody meat, iodine, pan drippings, black leather jacket, cigar wrapper, turned earth and jalapeno pepper that slowly yield to the damson, pomegranate, black currant and orange peel fruit lurking below. It is also in great shape on the palate—coming across as totally resolved of tannin but still showing solid drive and heft on a medium-bodied frame. It is dominated by black fruits, fine spices, savory earth and gentle green pepper flavors that have an effortless flow across the palate and lead to a lifted and surprisingly gutsy finish that is just delightful. It has a little wild streak that is really appealing but you have to love how smooth, balanced and delicious it is, as well.
– Wine Lovers Discussion Group
Absolutely beautiful stuff. This was probably the red wine that was drinking the best on the night. It had a wonderful nose that drew me in and won me over on first sniff. Starting with gentle washes of tobacco and spice, then little earthy notes, a touch of capsicum and darjeeling tea, and finally a wonderfully lush layer of very Pauillac cassis scents. Beautiful, profound stuff. The palate did not quite match it all the way unfortunately, but was still nonetheless top class. The tannins here still had a touch of grippiness to it, on the attack and right at the finish, making me guess 1966, but the rest of wine had otherwise softened into a velvety caress. Matched with fine acidity, this made a lovely backdrop for melting cassis notes that spread across the mid-palate before melding into a gentle finish with black tea and autumn leaves floating around like a halo. Unsurprisingly, this was beautifully integrated by now and really harmonious, but what stood out for me was how the wine, at 45 years of age, still showed lovely purity, definition and balance. Superb stuff, which made me guess Latour. My only issue was perhaps the lack of power at the finish, but that was nitpicking – with time, it kept unfolding with those lovely autumnal tones, filling any gaps that might have been there at first. This was brilliant – a wine that I will remember for a long, long time.
45yrs old by now but still so fresh, lively and having intense dark ruby core. The beautiful bouquet is fully matured and while dominated by the secondary notes, this still has very intense dark fruits core as well as dried flower that well accompany by cedar, pencil shaving, antique furniture, leather as well as earth. I really love the nose here, pure, complex and harmonious. The palate is equally compelling with its lively and vibrant profile, still wonderfully structured and so much to offer: layers of fig, dried floral, sweet currant and mushroom all perfectly integrated along with little touch of really silky tannin that flow through the palate with care, so silky smooth that culminated to the medium length, persistent complex finish with autumn leaves, dried floral, sweet plum nuanced that lingered. Latour once again demonstrated its stunning aging potential. This lacks a little bit of depth and length to be extraordinary but still, this is a classy, outstanding Latour that is drinking at its peak now.
Please submit your bid in the comment section, below. If the reserve is met, the auction will be won once a bid goes unanswered for a full calendar day.
The winning bidder will be asked to pay directly to the Hillel Foundation at Indiana University, "Find Lauren Fund." The Hillel Foundation at Indiana University is a 501(c)(3) charity with a dedicated fund. Palate Press: The online wine magazine will not collect any proceeds as part of this auction. The buyer will also pick up the wine at, or pay shipping from, Zachy's in New York City.
For more about the auction please go to Wine for Lauren. For further information about the search for Lauren Spierer, please visit http://www.findlauren.com.