It's been nearly five years since Joe Roberts visited with a dozen Pennsylvania winemakers to learn about their commitment to quality dry wines, so an invite to the recent PA Sommelier Judgement Day event — hosted at Nectar restaurant in the Philadelphia suburb of Berwyn — seemed like a good opportunity to check in on the industry's progress during the past half-decade.
Organized by Nectar sommelier Scott Zoccolillo alongside the PA Wines consortium, the event was a sequel of sorts to the same restaurant's 2014 Judgement of Pennsylvania blind tasting between the best of our commonwealth and a selected group from California. Back then, although two PA whites (Penns Woods Chardonnay Reserve, Waltz Old Line Chardonnay) bested the left coasters, the resulting shockwaves were far less impactful than those of a certain Paris tasting a few years prior.
This time, there was no competition, just a top 10 list for tasting and a promise of overall winners from within the bunch. I sampled the full list while chatting up the producers, and came away with the following conclusions:
Cabernet Franc is truly the flagship red
Though insiders have been talking up Cabernet Franc as the most important PA red for years, only one of six wines tasted at the 2014 event were based on the famous Loire variety. This time around, all four reds in the top 10 (which was whittled down from 110 total entries by a panel of sommeliers) boasted this grape on their label.
Decidedly European in tone, these wines tended towards lean, clean and bright, which perhaps shows that local producers are finally learning to forget about the California comparisons and play to their cooler-climate strengths. (Or that our somms happen to enjoy this style more, another distinct possibility.)
The Cabernet Franc 2014 of Tolino Vineyards, deservedly chosen as best overall wine, was a perfect example: tart, fresh cranberry flavor alongside a classic veegetal note. Compare this to the same winery's Cabernet Franc 2010, which my notes from 2014 describe as plummy, velvety and heavily oaked. Though both were well-made wines, the former seems to have better captured the idea of terroir, something that's often the most difficult aspect of making high-quality wine in the mid-Atlantic.
Whites show more diversity
In contrast to the focus of the reds, the paler siblings produced a broader spectrum of flavors. Of course a few Rieslings featured, but there was also Chardonnay, Albarino and Gruner Veltliner. One might argue the white wine practice is more mature in PA — meaning that they've been making quality whites for longer (see the aforementioned 2014 tasting results above) — and that this diversity is illustrative of such. As such, it would not be crazy to predict that we'll be discussing other emerging cooler-climate reds — such as Lemberger, Barbera and Saperavi — 5 years down the line.
Of particular note was the best in state white, Maple Springs Vineyard's 2016 Albarino, a deliciously creamy, balanced quaffer that shined despite having very little in common with the steely, bracing Albarino wines of Rias Baixas. Considering the Cali roots and UC Davis education of winemaker Jef Stebben, however, a decidedly modern approach isn't all that surprising.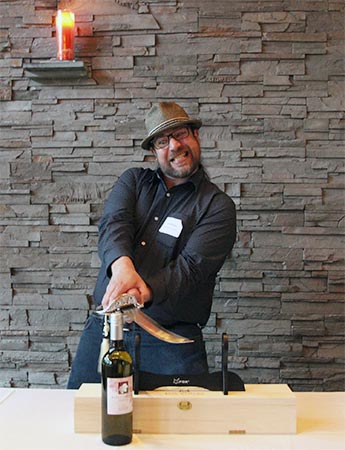 Newer, lesser-known vineyards can be stars
In addition to Maple Springs, which planted its first vines less than 10 years ago, other new players included Rushland Ridge Vineyards — who took home best in state red for their Cabernet Franc 2014 — and Nimble Hill Vineyards & Winery. The latter showcased two Rieslings, both which featured enough acidity to help balance their tendency towards sweetness. Though nobody in the Mosel should be fearful, these were quite enjoyable just the same.
As an aside, Pennsylvania's Galen Glen Winery – who did not participate in this particular contest – was recently included in Austrian magazine Falstaff's "Best of" list from the International Riesling Symposium in Germany, scoring a whopping 94 points for their Fossil Riesling, the highest of any international entrant. (OK, so maybe PA does have a flagship white after all.)
Challenges persist
Though PA winemakers absolutely continue to make progress towards universal acceptability, roadblocks remain. Off odors associated with the ripening challenges of the east coast are still prevalent in many of these wines, even some from the supposed top 10. Though certainly this is less of a widespread problem than it once was, it endures as the most notable barrier to long-term success.
In addition, the target consumer for these wines – which typically cost at least $20 a bottle — has become more sophisticated. Local still has cache, yes, but that's mainly because local is so darn good. World class, even. The beer scene in Philly certainly deserves that moniker.
A similar thought came to mind when sampling the event's featured cheesemaker – Yellow Springs Farm, part of the Chester County Cheese Artisans — who served jaw-dropping goat cheeses alongside the wines, including everything from fresh, bright chèvre to deeply complex aged and bloomy rind beauties. Chester County, of course, has a rich tradition in dairy farming — think Breyer's and Philadelphia Cream Cheese — so it's no surprise this has become a hotbed for artisinal production as well.
But it's yet another example of world-class expectations, even from our local purveyors. And, despite the fact that we can now easily say PA wine is consistently good — at least from the best winemakers — it's not like the competition has been standing still. In an international market where the bar is constantly being raised, being merely good may not be good enough.
All images by Vanessa Beahn for PA Wines