This might be the first serious wine article about Mallorcan wine in English since the advent of the Internet. In the pre-html era, Pliny the Elder praised it. Food & Wine's Ray Isle visited Mallorca in 2005, but his article was – duh! – about food AND wine.
So I'm the guy to whom it falls to tell the story of Mallorcan wine, after I spent all of 48 hours on the Mediterranean island off the east coast of Spain. No pressure.
Why bother? Because Mallorcan wines hit all the enophile's sweet spots. Indigenous grapes you've never heard of that aren't grown anywhere else (Mallorca is like the Galápagos of grapes.) Minerality from the salty air. White wines made from red grapes. Moderate alcohol. Cooler climate than you realize. In short, good Mallorcan wines are both delicious and guaranteed to stump your sommelier friends (Last night, I stumped an MW and an MS!) You can even buy some in the U.S.; I was surprised at how many I saw on Wine Searcher.
When I want to write about wine from some little-known region, often I first go to Jancis Robinson's Oxford Companion to Wine. Here it was no help. The Companion has listings for DOCs I've never heard of (Fara?) and there's a listing for Scotland ("northern British country too cold for vine-growing"), but not for Mallorca.
Yet Mallorcan wine was once very important. As phylloxera ravaged France in the 1870s, the Mediterranean Sea kept the island's vines safe for about 20 years. Mallorca had 75,000 acres of vines in 1891 – about 2/3 more than Napa County has today. Mallorcan wine was shipped to France and relabeled as French.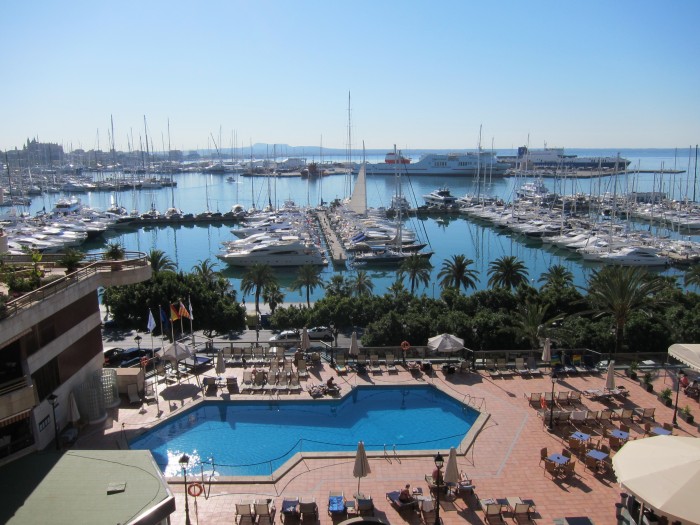 Then the louse got there, and Mallorcan viticulture entered a long downward slide, lately fueled by the fact that even interior real estate on the popular vacation island is more valuable for other uses. Michael Douglas has a house; Rafael Nadal is from here. Today there are only about 1,400 acres of grapevines. This is not nothing: it's almost twice as many as Bien Nacido Vineyards, for example.
But only about 15% of Mallorcan wine makes it off the island. Mallorca gets 15 million tourists a year, most of them European, which means they're wine drinkers. Local wine is a splash in the pool of wines sold in hotels and restaurants. Many people are just seeking a poolside rosé and don't stop to wonder about the grape varieties Callet, Escursac, Fogoneu and Manto Negro.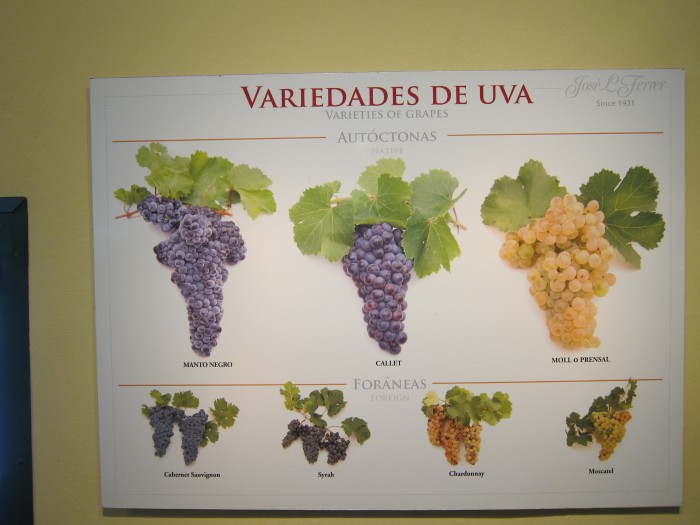 Another Jancis-published book, Wine Grapes, helps a little. José Vouillamoz, the grape DNA specialist co-author, lists all the unique wine grapes of Mallorca – including white grapes Giró Blanc and Prensal – as indigenous to the island, and can't find them elsewhere. Callet, the most important grape on Mallorca, with all of 330 acres, is the only one for which Vouillamoz speculates about off-island parents (I hadn't heard of these either: Beba from Andalucia and Giró from Sardinia). But, he says, "these parentages were based on too few DNA markers." In other words, we don't know how wine grapes got to Mallorca.
During France's phylloxera era it didn't matter what Mallorcan grapes were called. The French needed wine and they bought red blends. Most of the old vineyards on Mallorca are interplanted, often with Callet and Fogoneu and table grapes for the pickers to eat. Even today bush vines outnumber trellises.
French grapes are also well-established here, and they do better than you'd think, because Mallorca is breezier, cooler and drier than you'd think. "When Spain gets very hot, because we're surrounded by water, it doesn't get that hot here," says vintner Miquel Gelabart. "And it's very dry." It's also windy, and you can sometimes feel a salt spray a mile or more from the sea; you can also taste it in the wines.
The Mallorcan wines that have the most U.S. presence, perhaps because they're imported by Winebow, are sommelier favorites from the winery Ànima Negra, which means "black soul." Pere Ignasi Obrador was a dairy farmer when he started the winery in 1994; he made his first wines in milk tanks. Now he makes 20,000 cases of wine in concrete tanks built three years ago after he decided he likes concrete better than stainless steel.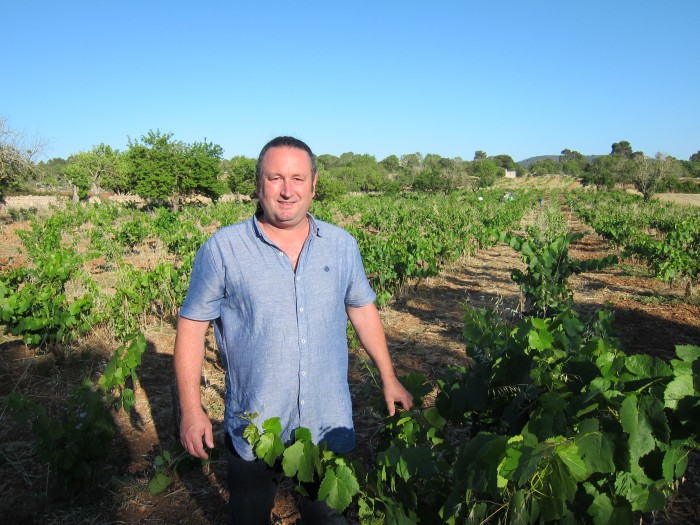 Obrador uses a little Syrah in his second red wine, AN/2, but otherwise he's a big champion of indigenous grapes. He bristled when I said that a 2007 Son Negra, a single vineyard field blend of Callet, Fogoneu and Manto Negro, tasted a little Bordeaux-like. I hadn't meant it as an insult: it has nice fruit and nice toasty oak, which it probably got in recognition of its top-of-the-lineup status. A balanced Washington Cab would have been a better comparison, but then there might have been fisticuffs.
The wines I like best from Ànima Negra are the ones where comparisons fail. Ànima Negra Quibia is one of the most unique wines you'll ever taste. It's a white wine made from 60% Callet, a red grape, along with white grapes Prensal and Giró Blanc. It's juicy, salty, and fresh, with apricot and lemongrass notes and the texture of a rosé. For no particularly good reason it comes in 500 ml bottles. I also really like 2013 AN/2, made mostly of Callet, Fogoneu and Manto Negro; it's light-bodied and spicy, with raspberry and floral notes and a terrific aroma of salt and spice.
Obrador normally likes his wines riper than this one, which is 13% alcohol. (Mallorca is not a big place for high-alcohol wines, though some reach the mid-14s.)
"You can make the same wine every year, but the wine is never the same," he said. "This is the fantastic part of the job." Because nobody says that about dairy farming.
I visited Mallorca's two largest wineries, Maciá Batle and José L. Ferrer, which together make more than half the wines on the island. Both make competent, affordable wines for the tourist trade, and they probably represent Mallorcan wine to most Europeans.
But my favorite visit was with Gelabart, a former chef and restaurant owner. Gelabart's father-in-law owned a vineyard that he wanted to rip out in the 1980s and sell for development.
"Before he ripped out the last hectare of vines, he said, 'Why don't you make a wine from it?' Gelabart says. "Wine was my hobby. I had a palate, I could taste, but I had no idea how to make wine. My first wine, my wife helped a lot. We made it from a book. My wife said, you're a great cook not because you're a trained cook, but you know how to buy the best fish and make a good meal. You're going to make a great wine because you'll use great fruit."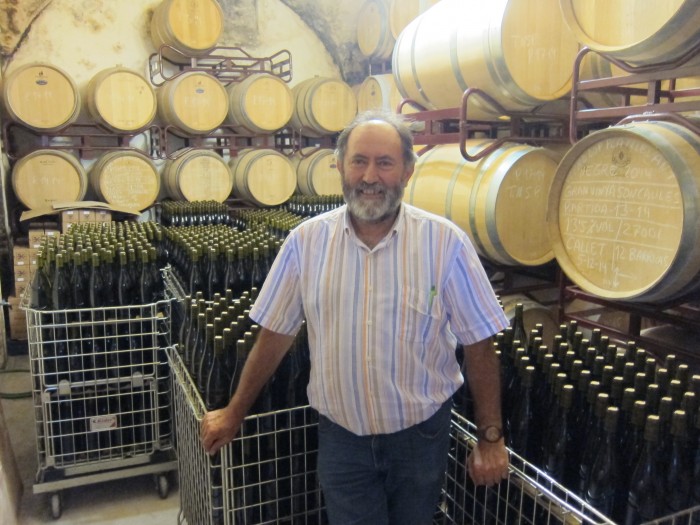 Gelabart was happy with the wine, and gradually acquired 16 different vineyard parcels. He sold his restaurant and now makes 4,000 cases of wine a year. He works only with his own fruit and makes a crazy range for a winery his size: 20 different wines from 35 grape varieties.
"It's anti-commercial," Gelabart says. "It's a big problem. No importer wants to work with that many wines." But when asked why he doesn't just make fewer, he says, "I can't work that way."
"In today's world, all wine is good," Gelabart says. "We don't have bad wines. So you have to make wines with real character and personality to distinguish yourself."
He does. His non-indigenous-grape wines were the best of that type I had on the island. A New York restaurateur visiting with me said the 2012 Miquel Gelabart Chardonnay Selecció Especial could sell for $145 in her restaurant: it's intense, with chunks of jackfruit and citrus and a lively saltiness. His 2013 Pinot Noir rosé, made only from free-run juice, is juicy and smoky with a salty finish. He only makes 90 cases though, and sells half of it to Switzerland after a Swiss tourist who drank it in a restaurant sought ought his tiny urban barrel room. It's a foolish wine to make because he could sell a red wine made from the same grapes for more money, but he says, "I like to constantly have a challenge. Rosé is very hard to make, to make a good one."
His favorite wine is an unusual white wine made from 60% Giró Blanc with four other grape varieties, including Pinot Noir. I preferred a different, also unusual 4-grape white blend of unoaked Riesling and Muscat of Alexandria with barrel-fermented Giró Blanc and Viognier.
Gelabart, the former chef, loves this sort of cooking-up blending. Better get his wines now, though, because there's about to be a generational change. His son is in New Zealand getting some practical winemaking experience for his enology degree.
"He's coming back to the winery, but he doesn't know how to make wine," Gelabart says. "To make wine you have to have passion. He has technical expertise, but the challenge will be to get him centered in the terroir."
Hopefully Gelabart's son can use his expertise and New Zealand-honed English skills to write the definitive article about Mallorca's wines. Until then, consider that Pliny the Elder said they were equal to the best wines of what is now Italy. Technology changes, but good terroir endures.