"Adama" is Hebrew for "soil." Tabor's "Adama" series  focuses on unique soils and grapes selected for growth in those soils. The "Adama" Sauvignon Blanc comes from 30 year old vines grown in chalky soil in the Kfar Tabor area of Israel.
On the nose, the wine might be picked, blind, as a New Zealand Sauvignon Blanc, with the gooseberry and cat aromas so common in those wines, with passionfruit coming through a moment later. On the palate, passionfruit, gooseberry, and white grapefruit leads. Citrus drives the mid-palate, from white grapefruit to lime. Acids are very bright, making this wine a clean knife for cutting through rich foods on the palate. Drink with stuffed flounder with hollandaise sauce. Highly Recommended. 90 points.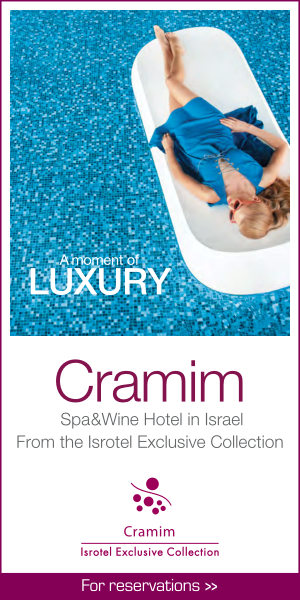 WHO: Tabor Winery
WHAT: Sauvignon Blanc
WHERE: Israel, Kfar Tabor
WHEN: 2013
HOW MUCH: $12
A statement from Cramim Spa and Wine Hotel, our Kosher Wine Week Sponsor

Cramim Spa and Wine Hotel

is situated in the heart of the Judean wine region, a 15 minute drive from Jerusalem. The hotel is surrounded by a beautifully scenic, pastoral setting and offers a quality experience of combined leisure, recreation, fine wines and impeccable tastes. Hotel guests will enjoy an exquisite chef restaurant, boutique wine bar, a contemporary spa complex with unique vino-therapy treatments, as well as pampering rooms and suites that boast a modern interior design.