Big-bellied clouds are lumbering across the sky and a threatening wind tosses the sprawling arms of the Bobal vines surrounding us at the Mustiguillo winery in Spain's Valencia region. But winemaker Toni Sarrión hardly seems to notice the gathering storm as he talks about his favorite topic: Bringing Bobal back.
Today, the red grape variety is showing up more frequently in U.S. stores and restaurants and has even amassed some awards hardware. But back in 1999, when Sarrión decided to concentrate on the local grape, more than a few eyebrows were raised.
Sure, Bobal (bo-BAHL) is the third most-grown grape in Spain, behind Tempranillo and Airén, a white grape, and goes into a lot of the country's red wines. But historically it had mainly been used as a blending grape destined for bulk wine.
Sarrión thought differently.
By 1999, he'd already had careers in finance and construction before going back to school to study enology.
His plan was to change the way Bobal was treated. The variety, native to Valencia's Utiel-Requena DO (denomination of origin), has a natural inclination to form compact bunches, meaning grapes in the middle get cheated of sunlight and air. He used canopy management (removing foliage for better air circulation and sun exposure) and green-pruning (removing some clusters early in the season) to create softer, looser bunches that have fewer and better grapes.
Farming at Mustiguillo is organic and some of the vines are more than a half-century old – age is another factor in taming the grape's natural vigor.
Our group, brought here as part of a tour hosted by Wines of Spain, admires the gnarled old trunks of the Mustiguillo vines as the storm intensifies. Forks of lightning stab the horizon and thunder rumbles stage left. We learn a new Spanish vocabulary word: "tormenta," the storm.
We repair to the cellar.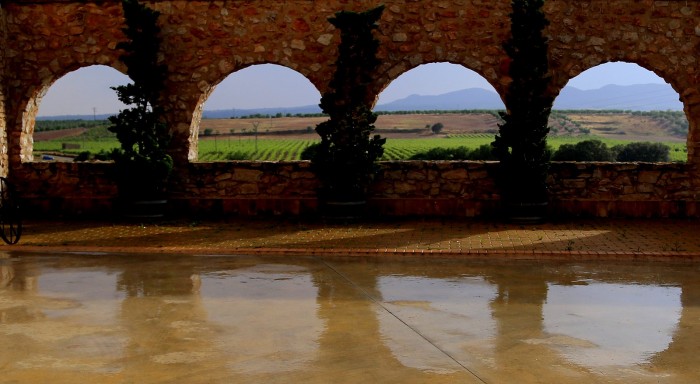 The first Mustiguillo vintage, 1999, only 25 barrels strong, was not released commercially. But in 2000 they sent their first two wines, Finca Terrerazo and Quincha Corral, both 100 percent Bobal, to market.
Since then they've racked up a number of awards, including International Trophy: Red Spanish Varietals over £15 (about $25) for the Finca Terrerazo in the 2014 Decanter Wine Awards. And a 2000 Quincha Corral was opened at the famous farewell dinner held when Spanish gastronomical star Ferran Adrià closed his groundbreaking El Bulli restaurant.
Mustiguillo wines are not classified as part of the Utiel-Requena DO. The winery estate, El Terrerazo, has had its own DOP (protected region of origin) designation since 2010. The current designation is DOP El Terrerazo (Vino de Pago, a classification applied to individual wineries or estates) for reds and Vino de España for whites.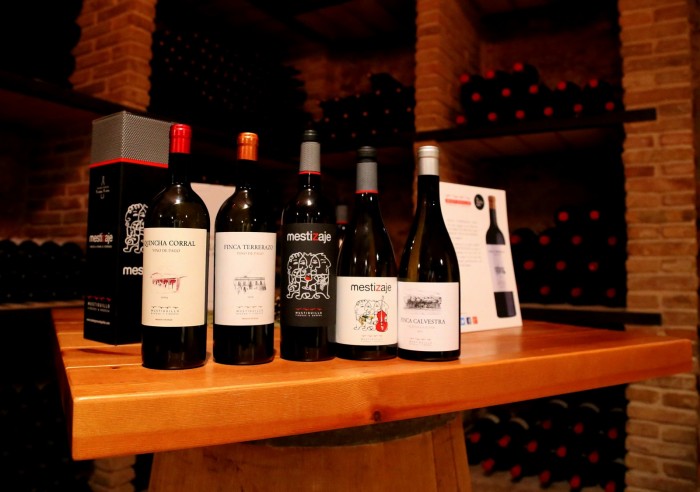 The push to produce premium Bobal has picked up steam across the region as winemakers recognize the importance both of carving out a regional identity and bringing something new to the table for a generation of drinkers interested in going beyond their parents' go-tos.
"In the past people ordered what they knew, 'I want chardonnay, I want cabernet,' and now they order what they don't know. They want to make some discoveries," says Javier Gandia of the Valencian winery Vicente Gandia, an early champion of Bobal and producer of Bo, a 100 percent premium Bobal. "I think we need to let people know that there is a grape, it's called Bobal."
Depending on production methods and blending decisions, Bobal can vary from easy-drinking to a big, chewy red. It's also widely used in rosé – a good example is the Pasión de Bobal rosé from Vinos Sierra Norte.
At Mustiguillo, wines our group tries include the 2013 Mestizaje, a blend of 75 percent Bobal, 9 percent Grenache, 8 percent Merlot, 7 percent Syrah and 1 percent Cabernet Sauvignon that calls out for a dish of pasta, and the 2012 Quincha Corral, a bold red that delivers blackberry fruitiness with a generous sprinkling of cocoa powder (best-quality cocoa powder) and a warm, lingering finish.
There are white wines, too, and here Sarrión is using another local grape, Merseguera. The 2014 Mestizaje Blanco is a blend of 60 percent Merseguera, 35 percent Viognier and 5 percent Malvasia. It's zippy with lots of crisp apple, some tropical fruit and a zesty lemony finish. Priced at around $14, it's something to consider adding to the summer lineup.
As with Bobal, growing Merseguera requires painstaking attention to detail.
Why bother? I ask Sarrión. Why not just plant an easier grape?
"I think it's good for the winery to innovate, to make more things, make good things for Valencia, for the Mediterranean," Sarrión replies.
Outside, la tormenta has ceased to torment and the Mediterranean sun is painting the sky pale blue and gilding the lingering puddles.
"When you live in Spain you hear all day, 'We are Rioja, Ribera, Ribera, Rioja.' This area has good things," says Sarrión. "We have altitude, very good soil, the Mediterranean influence, sun. Why not make good wines?"