Meat and whiskey lovers have known for a while that pork and rye are a great pairing. Templeton Rye is taking the match just a bit further, raising heritage pigs on spent mash left over from the distilling process.
The idea formed when Scott Bush, president and CEO of Templeton Rye was enjoying a few Templetons with company co-founder (and recipe holder) Keith Kerkhoff and brand ambassadors Andrew Tomes and Michael Killmer.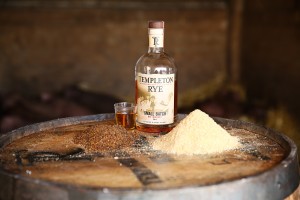 "One of us brought this up, we are not sure who," Bush recalls. The group was tuned into the culinary scene, having been involved in several high-end food events around the country such as Aspen Food & Wine and Cochon 555. And, all four are from Iowa, where, Bush notes,"there are more pigs than people."
The notion of raising their own Templeton trotters —and giving whiskey and pork lovers a little taste of hog heaven— took shape. "We thought this was cool, something Templeton fans would embrace and something we could pull off with our backgrounds and network of folks in the ag industry," says Bush, who sees the Templeton Rye Heritage Pork project as an opportunity to tie into the farm-to-table movement.
Templeton Rye has its roots in the 1920s when residents of the small town of Templeton, Iowa, defied Prohibition and produced a sought-after whiskey. Eight years ago, the Templeton brand was launched, based on a handwritten recipe Kerkhoff got from his father, Merle, one of the outlaw distillers from the Jazz Age.
Two dozen pigs are being raised in an open-pen environment at a family farm in Woodward, Iowa, under the care of Dr. Nick Berry, who has a PhD in Animal Science from Iowa State. One of the pluses of the project is that Bush has been able to tap into the expertise from experts in the animal and nutrition fields who are both Iowans and Templeton fans.
Bush can't be sure using spent mash will affect the taste of the meat, but he does point out that the spent grain has a very distinct smell so it's possible hints of it will influence the final product, enhancing pairings with the rye. When they're ready for harvest around June or July, the pigs will be processed whole and available for sale on the company website. They'll be shipped frozen at a price of $699 a pig plus $100 shipping.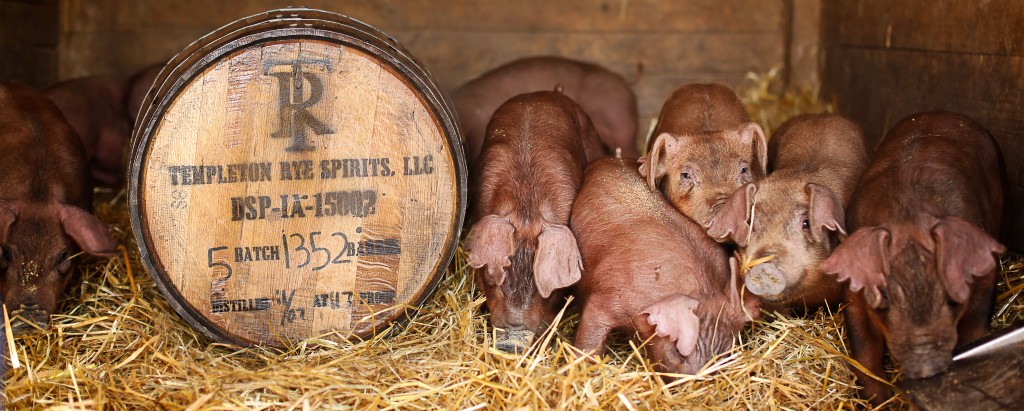 A number of chefs have indicated interest including Stephanie Izard from the Girl and the Goat in Chicago and Justin Brunson from Old Major in Denver.
The practice of recycling spent grain as livestock feed, common in the beer industry, hit a snag this year with a proposed rule from the Food and Drug Administration that would regulate the grains in the same manner as pet food, requiring they be dried and packaged to ward off contamination. The rule is not yet final and the American Feed Industry Association is lobbying for changes.
For now, Templeton Rye is concentrating on its first batch of pigs and after that will evaluate what to do next; one possibility is working with more breeds.
It all depends, says Bush, "on what we come up with the next time we all get together for some great Templeton cocktails."