As you know, John and I always encourage folks to experience new wines. If you've never seen something before and it looks interesting, try it. That's the way your knowledge of wine grows and it's a heck of a lot of fun. Well, I want to tell you a story about the joy of rediscovering old friends, too.
A few months ago, I was invited to a New York wine store called Vino-Versity for a tasting of odd pairings: wines that went with pickles, ice cream and hot dogs—stuff like that. It wasn't a tremendous success. They were unprepared for the hordes that descended. And, as you could guess, Riesling went well with just about everything. Nevertheless, we were so glad that we'd gone. There were treasures on the store's shelves – our own personal nirvana, as it turned out!
A couple weeks later, John surprised me with a case from the shop. Still in his suit from work, he sat on the kitchen floor and, like a kid holding up one birthday present after another, he showed me his finds. After the last one had been put back in the box, I said, "You know, those represent our history with wine; our life in a case!"  In some instances, the wines were the same — same winery, same varietal — just experienced decades apart. In others, the winery was an old favorite and the wine was something new to us from its line-up. And a few wines were just plain new to us, chosen because we believe you should always try new stuff. Here are the new versions of six of our milestone wines.  I'm not going to take you through all 12—that would fill a book and some weren't successful. Hey, sometimes you kiss frogs and they remain frogs!

The first wine we had from this case was a Heitz Cellars Grignolino ($25.50). We hadn't seen that wine in ages and probably last tasted it at the winery in 2005 while the kids sat pouting in the car. Heitz Cellars, in Napa, has made three Grignolinos — regular, rosé and Port — for many years and we've enjoyed each of them. Pronounced, roughly, green-yo-lean-o, it was one of our go-to Italian reds in the '70s when we lived in Miami and enjoyed it with a slight chill. It reminded us of Beaujolais Nouveau in its light, aromatic fruitiness — think strawberries, my favorite — but with a richness that belied its somewhat pale color. The Heitz bottle from Vino-Versity was the 2010, released this past April. John picked up a 2009 Heitz from another store a few days later for $18 to compare while the 2010 was still in our heads and it was a bit old,  a reminder that these wines are meant to be drunk young .
Back in 1997, when The Wall Street Journal began putting together pages of features as a precursor to what became Weekend Journal, we struck a deal with our editor. We were going on a family trip to an inn in New Marlborough, Mass. We bet him that small wineries were so pervasive in the U.S. that, without doing any research, we could just bump into one. If we did and wrote about it, he'd pay for our trip; if we didn't, we'd pay for it, as planned. We didn't have any luck on the way up, but on the way back home, we saw a billboard for Millbrook Vineyards in Millbrook, N.Y. Yes!  The wine John snagged recently was Millbrook's 2011 Tocai Friulano ($18), a variety that hails from Friuli, in northeastern Italy, but these grapes were grown in New York. Millbrook made 1,500 cases and at 12 percent alcohol, it's a lovely, citrusy quaffer.
Tip: Try unusual varieties. When you find them outside their place of origin, the wines are likely produced by someone passionate about them. The Heitz Grignolino vineyard was planted by previous owner Leon Brendel, and reflective of his passion, it was the only varietal he planted.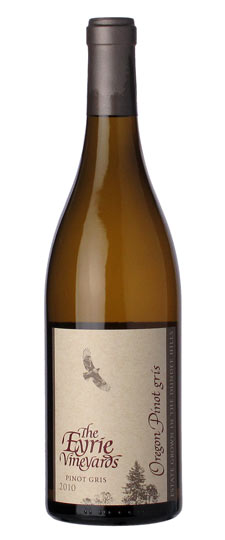 BC (before cellphones), we used to travel in a most leisurely fashion, ensconced in a deluxe sleeper car aboard an Amtrak train, our luggage stuffed with Champagne, all meals brought to us by a porter we tipped handsomely. There, we were blissfully unreachable by our bosses at The Miami Herald and later Newsweek and The New York Times. The longer the trip, the better. On one such trip, in the mid-'70s, we stopped over in Portland and scooped up several bottles of Oregon wines.  At dinner that night, at Jake's Grill, a waiter suggested we try a chardonnay from Eyrie, a winemaker that was new to us. This was during the many years that we adored chardonnay and we loved this lean iteration of it. In May 1985, on another stopover in Portland, we bought a 1984 Eyrie Vineyards Pinot Gris for $8.45 at wine store called Wine and Roses and celebrated just being together, happy aboard the train called the Coast Starlight. In the case that John bought at Vino-Versity was a 2011 Eyrie Pinot Gris ($21), which instantly brought back the memory of a wine that tastes like Champagne, complex with ripe fruit, but without the bubbles.  Eyrie says it made the first Pinot Gris in the United States and its experience with the varietal shows. We don't often eat fried foods, but I fried oysters in its honor. Intense and pure, the wine's fruity acidity was the perfect foil to the crunchy and creamy oysters. Tip: Use any travel as an excuse to try the local wines.
Although wines from New York would be local for us now, we had our first Konstantin Frank wines from the Finger Lakes when we lived in Miami. We were probably just buying something we'd never seen before. But Frank was a big deal, successfully growing vinifera grapes in upstate New York. His grandson, Frederick, has taken over the winery now and done a fine job with it. John picked up the Frank 2011 Pinot Gris ($15.50): a light, floral wine with good minerality that was charming and refreshing.
With harvest season approaching, think about checking out the wineries nearest you for the many events they stage to celebrate the harvest. When the kids were young we would sometimes head to the North Fork of Long Island during harvest season. One of our must-see wineries was Lenz. John picked up a Lenz 2010 Blanc de Noir ($17.50); it's a juicy yet dry marvel made from pinot noir.
Decades ago, on our first trip to Italy, we made Monforte d'Alba, in Piedmont, our base. We memorized seven Italian phrases that had to do with tasting and purchasing wines, ordering at restaurants and directions to restrooms. The necessities! One day, while we were driving around La Morra, we happened upon Cantina Renato Ratti, a famous Barolo producer. Quivering with excitement, we rang the bell and a gentleman in a comfortable gray sweater answered the door, Ratti himself. Wine is a common language and we passed a few minutes with him, leaving with a bottle of Barolo that we brought back to the U.S. Renato Ratti died unexpectedly more than two decades ago and his son Pietro has expanded his impressive legacy. For our case, John found the 2011 Renato Ratti Barbera D'Alba ($21.50) —  and we gave it away to Mark, the plumber. When a water main broke outside our country cabin he came to our rescue even as his wife's birthday was bearing down on him. It seemed like the right thing to do.
Ultimate tip: Wine is better shared.
[author] [author_image timthumb='on']http://palatepress.com/wp-content/uploads/2013/08/Dottie-Gaiter.jpg[/author_image] [author_info]Dorothy J. Gaiter, with her husband John Brecher, wrote the wine column Tastings for The Wall Street Journal from 1998 to 2009, when, to the consternation of wine lovers everywhere, they suddenly announced their last column. Together they share their lives, raised daughters Media and Zoë, and wrote Love By the Glass, Tasting Notes from a Marriage, Wine for Every Day and Every Occasion, and several editions of The Wall Street Journal Guide to Wine. Dottie and John have hosted Open That Bottle Night in Palate Press: The online wine magazine since they left the Journal.[/author_info] [/author]