They may have mischievous names: Sex on the Beach or Sexy Lady.  They may be fanciful like Faliraky by Night or world-famous:  Caipirinha, Cosmopolitan, Tequila Sunrise, Tom Collins. But they are all colorful, fun, fresh: a glass in hand, good company, a bit of music and the warm breeze from the sea all around you… No doubt, it's holiday time!  I spent my vacation on the Greek island of Rhodes, a popular tourist destination because of its mild climate, the beauty of the sea all around, and the many things it offers: history, mythology, fine local handicrafts, gastronomy …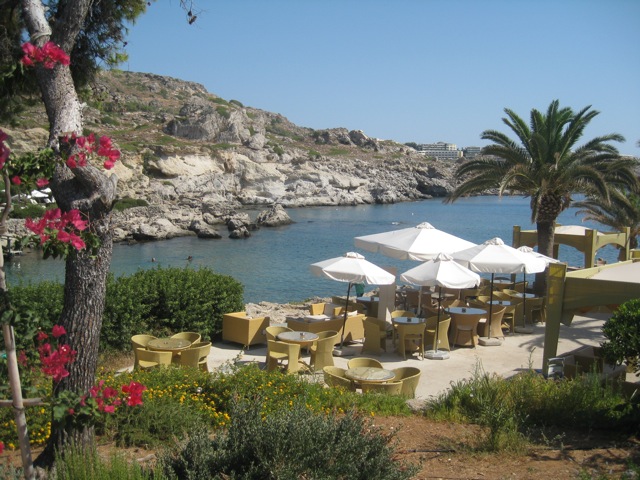 Wine production, too?
Well, let's say that the wines in Rhodes (mainly from the Dodecanese) are very interesting and often very good. However, wine bars here are almost non-existent, because there isn't a local culture of drinking quality wine.
However, what you do find are cocktail bars almost everywhere, often in restaurants, pizzerias and coffee bars. The cocktails are always the same, and so are their prices, though some bars have become true gathering points for vacationers. In Faliraky, for example, a village famous for its movida (loud, intense nightlife) one of the most popular cocktail bars is the Pepito Café in Kalitheas Avenue, where you can find an impressive list of over 180 cocktails (with fruit, ice cream, milk, coffee, creams, even some alcohol-free and some special drinks for children). It is always crowded with young people, because it also offers music and large-screen TVs.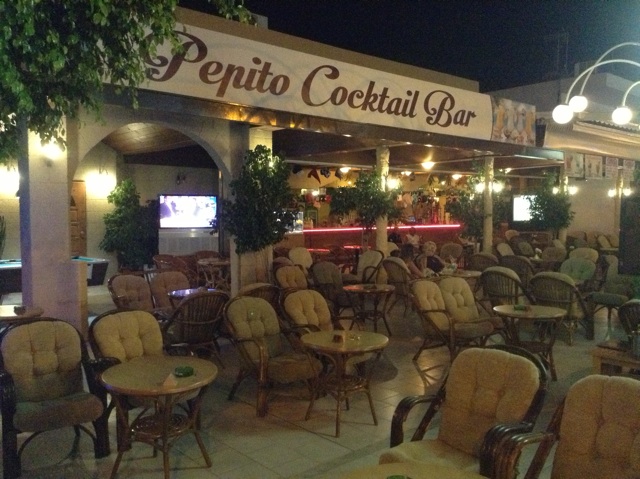 Another local spot worth visiting is the Oasis Cafè Bar on Eucalyptus Street in  Kolymbia, a village not far from Faliraky which is also known for its souvenir shops.  But here you can drink one of the best Mojitos on the island — and if you love to sing, almost every night there's karaoke.
But to really get into the spirit of the evening – especially the drinking part — there two places on Rhodes that you absolutely cannot miss. The first one is located in the Old Town of Rhodes, in Odos Sokràtus: it is the oldest kafenìo (coffee bar) of the island. It dates from the mid-1700s, and it is easy to spot because it has a wooden, Turkish-style façade. Inside, the atmosphere is vaguely oriental; the furnishings seem rather old and the floor is a mosaic made of white & black koklaki (stones).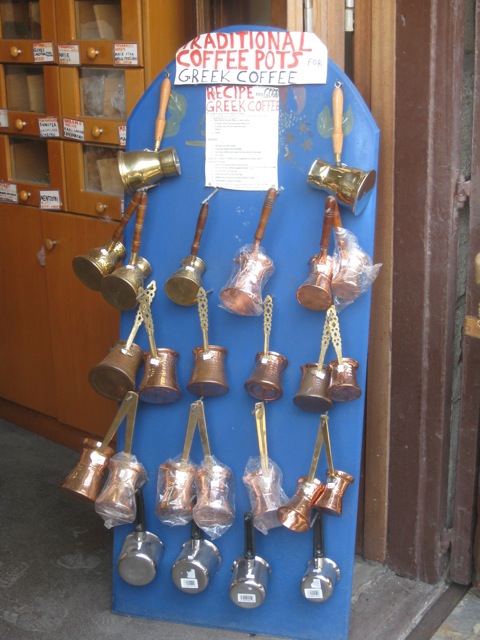 The second place you have to visit is Kallithea Springs, close to the town of Rhodes, on the east coast of the island. Here, during the Second World War a beautiful thermal bathing structure was built by the Italians; it was considered one of the finest buildings of the time. When the Italians left the island (their occupation lasted only twenty years), the entire complex was abandoned and over time it fell into disrepair. Only recently, after years of restoration, has this establishment returned to its former glory. Today it is definitely the more charming and romantic place on the island, and its elegant coffee bar often hosts parties and banquets.
In these local establishments – and in many others scattered throughout the villages of Rhodes — you may enjoy a traditional Greek coffee, but you will also want to sample their specialty drinks made with ouzo.  Ouzo is the most typically Greek spirit, such an integral part of the domestic culture that in 2006 the Greek government was awarded the exclusive worldwide right to use the name "ouzo" for this product.
Ouzo is an anise-flavored spirit, and the origin of its name is not clear. According to some experts, it comes from the Italian phrase uso Massalia (to be used in Marseille) which, in the past, referred to high-quality products.  According to others, the name comes from the Turkish word üzüm (grape) because Rhodes was ruled by the Ottoman Empire for over four centuries.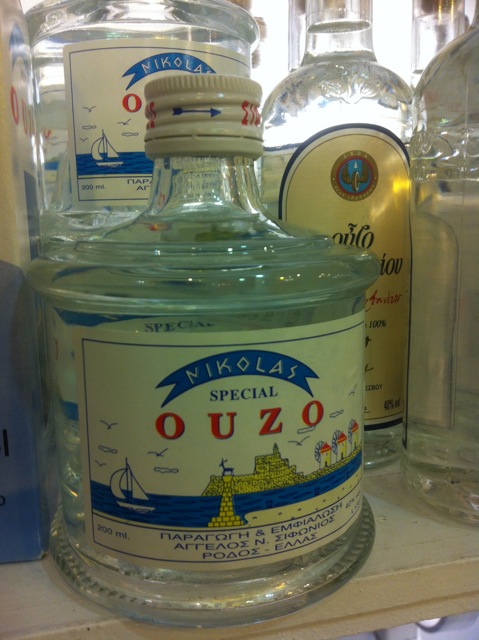 Ouzo's taste is reminiscent of the French Pastis, the Turkish Raki or the Italian Anice; it's made from a combination of pressed grapes, wild aromatic herbs and berries (including aniseed, licorice, mint, wintergreen, fennel and hazelnut), and each producer has his own personal formula.
Usually it's served as an aperitif, but it's often blended in mixed drinks and cocktails. You can drink it neat, on the rocks, or diluted with water.  When water is added don't worry if you see the ouzo turning whitish and opaque. This occurs because the anise oil dissolves and become invisible when mixed with a conventional alcohol percentage, but as soon as the alcohol content is reduced, the essential oils transform into white, opaque crystals.
In Rhodes, as in Greece, ouzo is served with appetizers, also known as mezethes (meh-ZEH-thes), which are small, savory plates of food. Neat or not, with or without food, ouzo is a very pleasant drink, but … be careful! It's still a beverage with 40-50% alcohol content.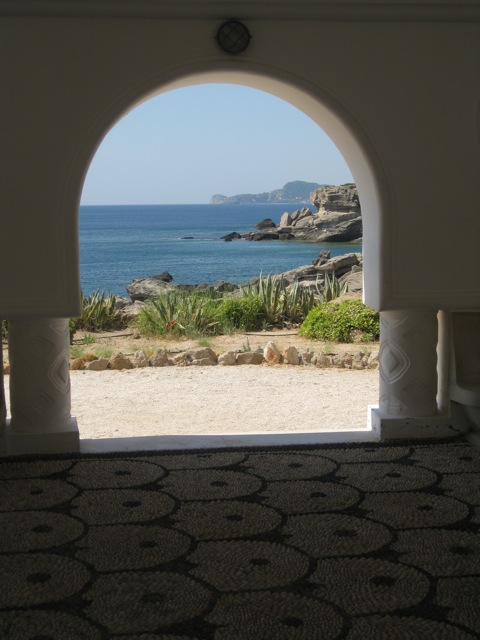 So if you are planning to spend some time on the island of Rhodes — or somewhere in Greece — my advice is to buy a bottle of ouzo.  Some of the best ouzo is from Mytilini island.  Buy another bottle on the way home to try the recipes for the following cocktails. And when you're raising your glass, do not forget the customary toast in Greek: stin ygeia mas  – to your health!
[box] Greek Lightening Shooter
1/3 oz Ouzo
1/3oz Vodka
1/3 oz Crème de Cassis
Pour into a glass with 2 or 3 ice cubes, and chill. Strain into shot glass or test tube.
Greek Tiger
1 part ouzo
4 parts orange juice
Put four ice cubes in a shaker, shake and strain into an old-fashioned glass. Add a squeeze of lime, garnish with a twist of lime peel.
Zorbatini
Pour the vodka and ouzo into a cocktail shaker filled with ice. Shake well, strain into a chilled cocktail glass, garnish with a Greek olive.[/box]
[author] [author_image timthumb='on']http://palatepress.com/wp-content/uploads/2010/02/162f729-e1266674226608.jpg[/author_image] [author_info]Elisabetta Tosi is a freelance wine journalist and wine blogger. She lives in Valpolicella, where the famous red wines Amarone, Ripasso, and Recioto are produced. Professionally, she serves as a web-consultant for wineries, and in her free time writes books about Italian wines. She is also a contributor to Vino Pigro.[/author_info] [/author]