Walk through vineyards in the region of Cognac in the fall, and you will experience vast hillsides filled with nearly ripe grape clusters just a few short weeks from harvest, typical of most wine producing regions in the northern hemisphere. Walk through a cognac production facility, however, you will experience something very different than a walk through a winery.
The stacks of oak barrels throughout the cellar or warehouses may be a familiar sight, but Cellar Masters themselves may first walk you through their distillery, which is the first sign you are not in Kansas anymore.  And while the barrels are familiar, the barrel regimen is a different from anything that I've experienced at a winery.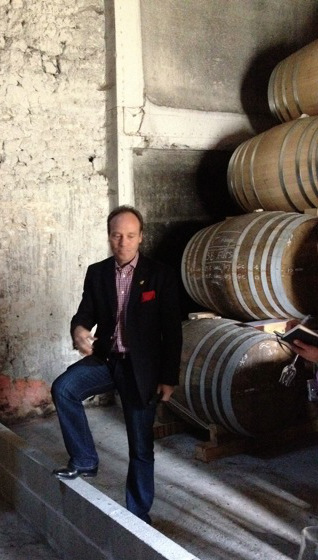 A complex system
Most of us understand the important role oak barrels play in winemaking.  But barrels are not necessary to the production of all of the worlds' wines; many of the best wines never see the inside of an oak barrel.  In Cognac, however, barrels are absolutely vital to the production of its spirits and it becomes evident the moment you begin to speak with a cellar master about his cellar.
From the exact placement of the barrel in the cellar, type of cellar (dry or humid), and the detailed approaches to its use, these techniques are vital to the production and quality of cognac.  I visited the region this past September, and returned with a newfound interest and a deep curiosity towards the very precise, and creative barrel regimen techniques used by cellar masters in Cognac.
A tour of the cellars of Cognac Ferrand is a lesson in oak, patience, passion, and art.  I was privileged to get a tour from President and Cellar Master Alexandre Gabriel and discovered that he is as passionate about his oak program as he is an enthusiastic ambassador of his region.  And he was willing to share some secrets to making a great cognac.
 "At Ferrand, wood management is multi-dimensional.  The size of the cask matters, the age of the wood matters, the type of oak matters, the hygrometry of the aging cellar matters, the variations in temperature and the average temperature of the aging cellar matter, the toasting of the wood matters. These are levels that we use to make a great cognac," He explained.
"A freshly distilled cognac is like an uncut gem. Our work as a cellar master is to make it shine."
Humid and dry
Listening to Gabriel talk about some of his techniques, you begin to understand the difficult and intricate job of being a cellar master in Cognac.  At Ferrand, for instance, there are eight different cellars, all with various levels of heat and humidity.  We toured two of them — one humid and one dry.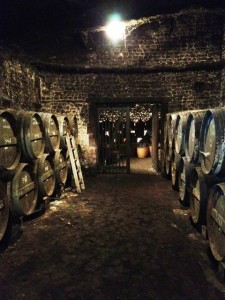 The humid cellar sees very little sunlight.  It was warm, dark, damp, and noticeably moldy, with mud on the earthen floors, dark mold surrounding the walls, and webs in every nook and corner of the ceilings.  Being afraid of spiders, I hesitated to look up towards the ceiling, in fear of what I might have seen.
The dark mold on the walls, Gabriel explained, is from "La Part Des Anges" or "angels share" — the term used to describe the alcohol evaporation that naturally occurs in the barrel and stains the walls.  Those angels must be very thirsty because this evaporation, which slightly reduces the alcoholic strength of the spirit, represents about 2% of the total inventory, an estimated equivalent of 22 million bottles a year in all of the region!  The alcohol, which is roughly 72% immediately following distillation, will eventually reduce to 40% by the time it is bottled, either through evaporation or by being cut with distilled water.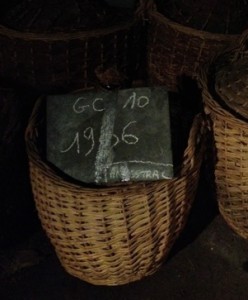 In the humid cellar Gabriel shared a barrel sample of a cognac from 1976, with an alcohol level of 45% (almost drinking proof), which happened naturally while aging in the barrel.  It was lush in the mouth and just beginning to mellow out.  We then tasted a cognac from 1936, with an intriguingly sweet nose of maple syrup, butterscotch and caramel, and a body so smooth and inviting I was tempted to slowly savor each drop.  This cognac spent over 70 years aging in the barrel, and close to 90% of it went to the angels share (lucky angels!).  The small amount that remains will be blended into special, rare bottlings.
Different cellars, different profiles
In general, aging in a humid cellar will create a more round, smooth, and lush cognac.  This is because these damp cellars create more evaporation of the alcohol, and less water.
On the contrary, in a dry cellar, the water will evaporate faster than the alcohol, creating spicier and drier cognacs with less alcohol evaporation.  The temperature and humidity in the dry cellar we visited was vastly different, the air was temperate and dry, the floor was cement (rather than earth), and the walls show little sign of mold or webs.
Tasting through his barrels every two to three months Gabriel knows what each individual barrel needs at any given time.  If he finds that one particular barrel needs more spice, he will transfer it into the dry cellar.  If it needs to be rounded up, it will spend time in the humid cellar until it achieves a balanced flavor.  The barrels will be rotated between cellars, depending on their individual needs, until the ideal flavor profile is achieved. This process could take several years, or, in many cases, decades.
New wood, a stave at a time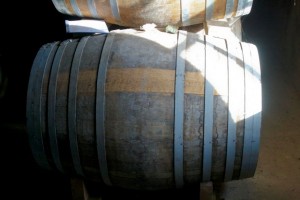 It was in the dry cellar, however, that I saw one of Gabriel's most fascinating techniques.  Upon walking inside Gabriel pointed out a particular barrel — an older barrel that had a single stave replaced with a fresh new one.  This technique, called "redouellage" (or "restaving" in English), is used by Gabriel to add just a touch of wood flavor.  Though this technique is often seen in the production of whiskey and other barrel aged spirits, it is used simply to replace a broken stave.  Gabriel, on the other hand, does it to add flavor.  I asked Gabriel to explain the importance of this method he was so enthusiastic about.  He told me I was touching in a very important point in the production of his cognacs and said, "It seems you are going to make me share a few secrets with you!"
He first explained that this method is not to be confused with "interstaving," the steeping of staves in the tank, which, he believes, not only produces inconsistent results and is difficult to control but is also illegal in Cognac.
"Aging a cognac involves the combination of many factors (wood, angel's share, oxidation of the fatty esters …)," Gabriel continued.  "Some people just think that it's adding wood/tannins, and they are dead wrong because it is so many more things."  For many cognac producers wood management must be followed closely, especially the use of any new wood.  Therefore, when it comes to using new wood in the cognacs of Pierre Ferrand, Gabriel is very careful.  "When we have an older barrels and think a cognac needs a touch of wood flavor we will change one or more staves of the cask and place it back there.  It adds a delicate touch of wood without overwhelming the taste. Then when we [make our final] blend we use the taste of the cognac itself to make our decision, not the wood content."
Working with an artisanal producer whose production is limited, Cellar Masters like Gabriel have the capability to literally nurture every barrel.
Few producers practice this method, and even fewer have eight different cellars, each with different humidity levels.  Some have large warehouses to store their barrels where the temperatures have to be closely monitored as heat levels in the warehouses fluctuate, affecting the temperature inside the barrels.
Unique profiles
The various methods and techniques of wood control and barrel management I witnessed throughout the region are all efforts to try to achieve a unique flavor profile and style specific to each cognac house.  It is an intricate process that requires patience, talent, and above all, time.
Though the production facilities and techniques may differ from what I am used to seeing, visiting wineries, the passion and attention to detail that several producers, like Gabriel, have for their products is on the same level as many of the greatest winemakers I have met.
I later emailed Gabriel, thanking him for taking the time to answer many of my questions, and he responded with genuine enthusiasm: "I live for what I do, and it feels great helping people who share the same passion".
As if I were his student, he finished up by explaining that was just the beginning of my lesson about the importance of barrel management in producing world-class cognac.  "It would take us 20 years together for you to become a full fledge cellar master. This is your first course!"
[author] [author_image timthumb='on']http://palatepress.com/wp-content/uploads/2010/05/marycressler.jpg[/author_image] [author_info]Mary Cressler is a Certified Sommelier through the Court of Master Sommeliers, a Wine Location Specialist through the Center for Wine Origins, and is the proprietor of Vindulge: Wine Education & Consulting. She conducts wine classes and events and offers consulting for individuals, restaurants, and event planners seeking a dynamic wine education event. She also writes about wine, food, and travel on her blog Vindulge. For more you can send Mary an e-mail at mary@vindulge.com.[/author_info] [/author]