On April 7, 2007, I left the town of Pamplona on foot, carrying a pack with clothes, water, and a few other necessities. The words of a friend echoed in my head: Buen Camino.
So I walked.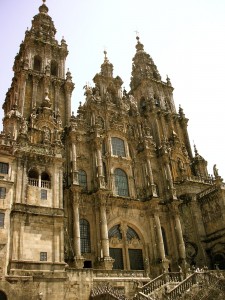 El Camino de Santiago, or Way of St. James, is a pilgrim's path that begins in the French Pyrenees, stretching 800 kilometers across northern Spain before finishing at last in Santiago de Compostella, 80 kilometers from the Atlantic Ocean. On May 8, I finished my pilgrimage, arriving before the immense gothic cathedral of St. James.
The anniversary of my arrival in Santiago, and the end of my Camino, is approaching, and every year at this time I reflect on that thirty day trek. I learned enough Spanish to survive in very rural areas. I cooked for twenty hungry strangers—who became quick friends—hailing from at least five different countries. I exercised patience during the long moments of solitude.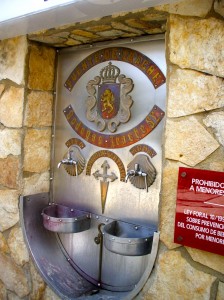 And I fell in love with the wine. The way of St. James wends through three major wine growing regions in the north: the Ebro River Valley, the Duero River Valley, and Galicia. Each is home to a  number of smaller Denominación de Origen (DO) regions.
Wine plays an important role in a pilgrim's journey, both as a reward for a hard day trekking and a palliative for aching muscles and sore feet. Most of the wine found along the Camino is made from tempranillo, garnacha, and albariño grapes, though other varieties are also grown. Signs of the wine trade are seamlessly integrated with the countryside's natural beauty: vineyards of stubby, low cut, gnarled vines are a common sight, and bodegas dug into hillsides seem like mythical Hobbit holes. A fountain at the Monasterio de Irache even dispenses both water and wine to weary travelers.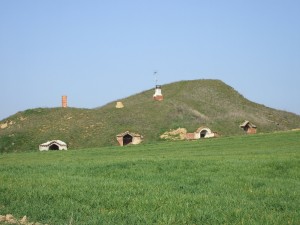 Spain has many indigenous grape varieties, and wine styles range from sweet to dry and still to sparkling. But Spain is actually easy to learn: unlike other European wine regions, there aren't a ton of little French towns to memorize, no huge Germanic words to decipher. In fact, on the Camino, many of the bottles don't even have labels. But there are a few key words to learn:
Bodega: winery
Joven: wine that is sold one year after harvest
Crianza: wine that is aged two years with six months in barrel
Reserva: wine that is aged three years with one year in barrel
Gran Reserva: wine that is aged five years with two years in barrel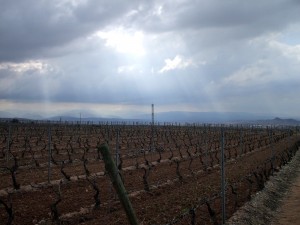 These terms are especially helpful when considering tempranillo-based wines from the Rioja DO, situated close to the start of the Camino. Tempranillo, an early ripening variety, produces wines that age well in American oak and offer flavors of red fruit, plum, tobacco, and vanilla. Other Spanish regions use tempranillo, but often under one of its many pseudonyms. In Ribera del Duero, for example, the variety is called tinto fino, and while the aging process is similar, the region's terroir produces wines quite distinct from those in other areas. Tempranillo is often blended with garnacha and, more recently, cabernet sauvignon.
In Navarra, which was the first DO encountered on my Camino, garnacha is the grape of choice. Though the vine originates in Spain, many know this variety by the name used in southern France, grenache. Its wines boast flavors of blackberry, fig, coffee, olive, and pepper, but are generally lower in acidity and tannin than many other reds. Garnacha is also used to produce young-drinking, refreshing rosé wines.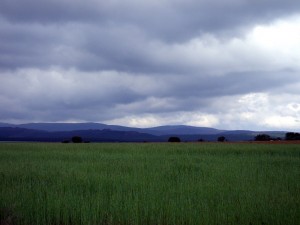 Another excellent area for high-end Garnacha wines is the Priorat DO to the east, in Catalonia. These wines tend to be pricey, though, and it's possible to find similarly stellar quality at a fraction of the cost by buying from Priorat's surrounding area, the Montsant DO.
• • •
Five days into my Camino, I landed in Rioja's capital city, Logroño. Arriving at the pilgrim shelter I had but two things on my mind: a cool shower and dinner. The former dispatched, a fellow hiker and I headed for the town's center, feeling much refreshed and lighter without our packs. There, in a large indoor market, we found beautifully displayed fresh fruits and vegetables, rows of cured ham strung above the stalls, and fresh fish and meats in large glass cases.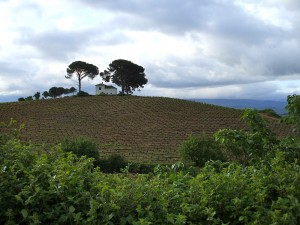 We loaded up with veg and some bright red beef—learning yet more Spanish along the way—and returned to the shelter. There, we seared and sautéed our ingredients in a large pot, simmered it as long as we could stand, and at last dished out our hearty beef stew. The rustic wines of Rioja paired beautifully with this communal dinner, the first of many to come.
• • •
There are a number of grape varieties native to Spain that took on different identities when they were adopted elsewhere. In France, for example, cariñena became carignan, monastrelle became mourvèdre, and of course, garnacha became grenache.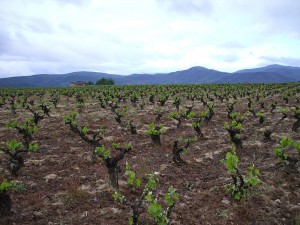 The grape called mencía, though, is wholly Spanish, and is best produced in the DOs of Bierzo and Ribeira Sacra. When I was first in Spain, staying with friends in the remote village of Moratinos, much of the wine I drank was likely Mencía.
There is something unique and bewitching about this wine. They're poured young, full of spice and fruit. Because of the bright cherry and herbal notes, the grape had once been mistaken for cabernet franc, which also grows in the region. But now mencía stands strong in northwestern Castilla y León and Galicia. Perhaps the wines gain mystique along the Camino from their unlabelled bottles.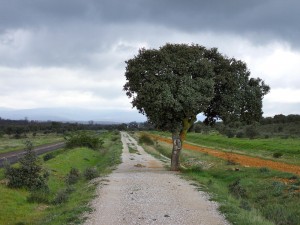 Mencía's strong standing aside, Galicia is perhaps even better known for the white wines produced using albariño. This variety, as alvarinho, is very popular across the Portuguese border in Vinho Verde, where they use it to produce fresh, light, young-drinking whites for incredibly low prices. In verdant Rías Baíxas, the grape is used to make fruity, high-acid wines that have limited aging potential. They pair wonderfully with fresh seafood, another specialty of Galicia, including provincial pulpo a la galega—boiled octopus with olive oil, sea salt, and paprika. Towards the Camino's end, pilgrims walk by many a bar boasting huge copper pots outside used to cook the day's catch.
• • •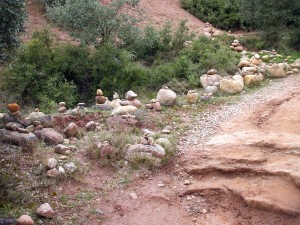 Certain parts of the Camino felt remote and isolated, and I might walk for miles without seeing any other travelers. One such stretch followed a bleak section of freeway, a grim counterpoint to the beauty I'd encountered elsewhere along the route. After what seemed like ages of nothingness, I slowly became aware that the distant foothills were drawing closer, dividing my path from the busy road. At last, turning a corner and rising into the hills, I saw that hundreds of varied stones had been stacked along the trail by the many solitary travelers who had walked before me. I wasn't really alone.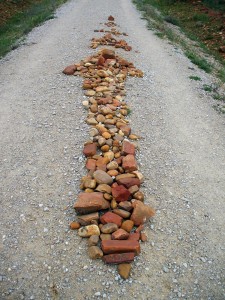 I landed in Santiago with a tremendous sense of achievement and an appreciation for simplicity and traveling light. I also had acquired a passion for Spanish culture, its people, food, and wine.
Back home, I continued my exploration of Spanish wines, and eventually became a Spanish Wine Educator. I fully plan to return to the Camino, this time with an even stronger focus on wine.
Fortunately, you don't have to follow in my footsteps to get your hands on equally great vino. In the U.S., nearly any good wine shop will stock bottles from the DO regions of Rioja, Navarra, Montsant, Bierzo, Ribera del Duero, Rías Baíxas, and Rueda, many at excellent prices. The list below should guide you well on your own journey.
So enjoy: Buen Camino.
• • •
[author] [author_image timthumb='on']http://palatepress.com/wp-content/uploads/2012/05/ryan-reichert.png[/author_image] [author_info]Having grown up in the midwest, Ryan Reichert followed his passion for wine to the Willamette Valley region of Oregon. Always the explorer seeking to learn more he has travelled around the United States and through France, Spain, and Italy. He holds the Advanced Certificate with Distinction from the Wine & Spirits Education Trust, is a French wine enthusiast, a certified Spanish Wine Educator, and is working towards certification as a sommelier with the Court of Master Sommeliers. Ryan is the creator and author for Northwest Whites, a site dedicated entirely to the white wines of the Pacific Northwest. You can also learn more about Ryan on his personal website. Ryan lives in Portland, OR.[/author_info] [/author]