"Red meat and gin." – Julia Child, when asked about her longevity.
"The gin and tonic has saved more lives, and minds, than all the doctors in the empire." – Winston Churchill
"I'll stick with gin. Champagne is just ginger ale that knows somebody," – Hawkeye Pierce
Gin – which went from "mothers' ruin" to cool sophistication in the 50s and 60s to out-of-consumer favor status in the late 60s and 70s –is back, and it's bigger, better, and more diverse than ever, with an astonishing range of styles and choices.
Welcome to the Ginaissance.
You may not have noticed it, but it is happening, especially in the United Kingdom. Consider this one astounding statistic: the number of gin producers in the UK has risen from just 10 in 2008 to 128 in 2017.
Evidence of the Ginaissance is everywhere, as I saw in a just-completed trip across the pond.
The selection of gin in bars and pubs has grown markedly. Where you might once have found only Beefeaters and Tanqueray, you will now find new kids like Sipsmith, Hendrick's, Portabello Road, and Hayman's. One bar, the Holborn Dining Room, has over 400 gins (from around the world, including the US) and 30 tonics.
Gin palaces – the once-ubiquitous purveyors of gin that were all over London – are being reincarnated as bars devoted to the joys of juniper. The Distillery, a bar in the Portobello Road area, has several stills and a basement museum which houses the Ginstitute. (They make Portobello Road gin as well as another line under the label of "The Distillery." They also have an upstairs hotel of a few rooms, making the stagger bag much easier.) Similar establishments have sprung up all over London.
Speaking of tonics, where you once got a small bottle of Schweppes for your gin and tonic, the upscale Fever Tree has become the default tonic water for a G&T, even in the most humble pub. (And lots of ice is now the norm; the days where you had to beg for more ice like it was wartime rationing are gone.) And new premium tonics are being made to compete with Fever Tree.
The rise of gin, say experts, is attributable to three things: relative ease of production, changing tastes, and savvy marketing.
"Gin is very quick and easy to make. You can make it in a very small space, you don't need to age it in a barrel," said Emma Stokes, author of The Periodic Table of Cocktails. "And they (gins) can be very local. It's not like Scotch whiskey, which can only been made in Scotland. Gin can be made anywhere, but it will have the hallmarks of a place you have visited. You can use botanicals from the local area."
Gin is essentially made by infusing a high-proof distilled base spirit with a selection of herbs and spices such as juniper, coriander, citrus peel, cinnamon, almond or licorice. The mother botanical is, of course, juniper berries. The distiller can simply macerate the them directly into the spirit. Other distillers use vapor distillation, which basically uses the heated fumes to flavor the would-be gin. Once distilled, water is added.
Back in the 18th century, gin had an unsavory reputation as a cheap booze that was sold to the poorest classes of English society. It was often adulterated with poisonous compounds (such as the equivalent of Sterno) to boost alcohol levels, Its unsavory reputation prompted a famous engraving by William Hogarth, "Gin Lane," that graphically displayed the ravages of "mothers' ruin," as gin came to be known. (Beer was considered healthy and respectable as the drink of the honest workingman; Hogarth also made a more bucolic contrapuntal engraving, "Beer Lane.")
Gin gradually clawed its way to respectability, fueled (so to speak) by the introduction of the gin and tonic in British-ruled India in the mid-1800s (quinine helps ward off malaria) and the invention of the martini in 1888. Boozy Americans coming to England during Prohibition discovered gin cocktails, and an air of sophistication grew, further fueled by Hollywood films of the 1930s and 40s. ("A perfect martini should be made by filling a glass with gin then waving it in the general direction of Italy," said playwright and bon vivant Noël Coward.)
But gin fell out of favor in the late 1960s and early 1970s, overwhelmed by changing tastes. Vodka, with its more neutral flavors, became a favored platform for many drinkers' cocktails. Premium vodkas started appearing. Michel Roux (the spirits businessman, not the famous Michelin chef) transformed Absolut Swedish vodka from an obscure import to a super-premium brand in the 1980s.
Stokes, an unabashed gin enthusiast who goes by the handle "Gin Monkey" on social media, is the force behind World Gin Day, now in its ninth year. (It's always the second Saturday of June.) Over a copious G&T at The Distillery Bar, she recalled how Roux started the Ginaissance with a similar kind of campaign with Bombay Sapphire gin in 1987.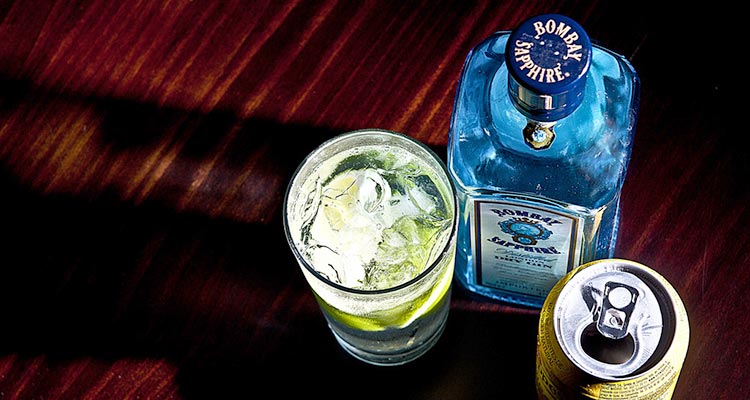 Stokes pointed out that with its distinctive square blue bottle and picture of Queen Victoria, Sapphire was conducting what she called "aspirational marketing."
"It means people want to buy it and have it in their house because they think it gives them status, a kind of symbol. It says 'we're a premium gin, you know what you're talking about when you drink it,'" she observed. "Rather than Tanqueray or Beefeaters or the same old brands, you're drinking something new, and it's unusual, and it's cool."
Hendricks Gin followed a similar promotional path in 1991. But the big game changer was the 2009 opening by Sam Galsworthy and Fairfax Hall of the Sipsmith Distillery. Once operated out of a garage (previously owned by the late English beer writer Michael Jackson), it was the first copper-pot based distillery to open in London in 189 years. Under the guidance of master distiller Jared Brown (a dead ringer for Jeff Bridges in "The Big Lebowski"), Sipsmith was a smashing success that sparked a spate of new gin mills across the United Kingdom. (Sipsmith's new location in London with the "Three Sisters" stills – dubbed Patience, Constance, and Prudence – is a five-minute walk from Hogarth's house.)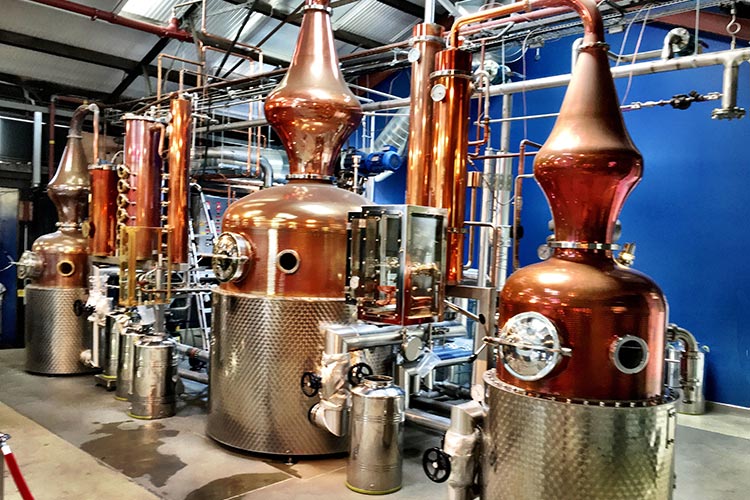 By way of an aside, the tonic makers have kept pace. Fever Tree, an English premium tonic, is far more prevalent in bars and pubs across the pond than in the U.S. (where it is much more expensive). According to Stokes, Fever Tree engaged in the same aspirational marketing to match the rise of premium artisanal gins. "Three-quarters of a gin and tonic is tonic, so you may as well have the best," she said. "It's the premium tonic, it's the best tonic. So if you know what you are talking about, you of course use Fever Tree."
How long will the Ginaissance last? UK gin sales rose 16% in 2016 to pass £1 billion. Exports are in good shape. (Shipments to America are surging, but a glance in many U.S. liquor stores shows far more vodka than gin on the shelves.) The Global Gin Report by IWSR, which charts the world drinks market, says gin sales are "on fire" in Spain.
"Gin's current boom can be attributed to a number of factors: generational shifts in consumption habits, a new-found quest for 'authenticity,' plus a revolution in the way that the spirit – the gin and tonic especially – is presented," a recent IWSR report says. "Gin provides a counterpoint to vodka as growth for the latter slows, displaying an authentic image not enjoyed by most flavoured vodkas, and a distinctive character and flavour lacking in most mainstream vodka brands."
But drink trends to tend to move in cycles, just as in tastes in music. IWSR notes that with the massive proliferation of brands, there will inevitably be some shakeup in the market, with some brands falling by the wayside in the competition for shelf space.
I say, would you mind topping up that G&T for me?
Tasting Notes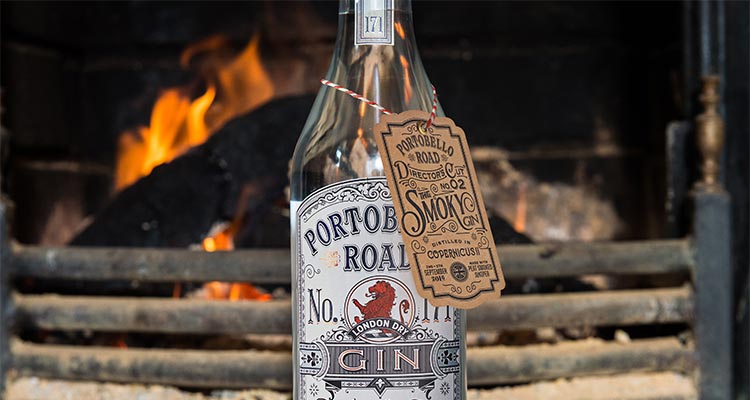 CAORUNN GIN – A Scottish gin made in a whiskey distillery utilizing some local botanicals such as heather, bog myrtle, dandelion, and rowan berry along with the juniper, orange peel, and coriander. Quite floral, somewhat delicate, crisp. An apple garnish with its G&T is suggested. Available in US market.
SIPSMITH GIN – My first true gin love and a personal favorite. Quite citrusy with a bit of nuttiness and great juniper flavors. A great martini gin. If you really like juniper seek out the SIPSMITH VJOP (Very Junipery Over Proof) but be careful! They went all in on the juniper on this – and the alcohol: 57.5% ABV – which is 115 proof US!!! Both available in the US.
PORTOBELLO ROAD GIN – Ah, gin o' my dreams. Forward juniper and coriander, but with some peppery notes and less citrusy than Sipsmith. Make a classic G&T (and don't stint by using crappy tonic!) and Negroni. They also have just started bottling an OLD TOM GIN, a mid-19th century style different from what we know as "London Dry" that uses more sugar and somewhat fewer botanicals. The Portobello Road is in a couple US markets but not in wide availability.
Featured image by Cyclone Bill