Your guests have arrived, and your dinner party is bubbling along. Everyone's twirling flutes of Champagne and nibbling canapés as they chitchat and catch up.
You sit for apps, and more wine is poured. The chatter now mingles with jolly tintinnabulations of cutlery and stemware.
Soon that course is through, and the plates are cleared. Next up: salad. But everyone's glass is dry. You can't serve wine with salad—can you?
Yes, you can. And it's not only possible, it's heavenly.
It helps to know a few tricks. Most aim to manage the interplay between the acidity of the salad and the acidity of the wine, and to balance the weights and flavors of the elements.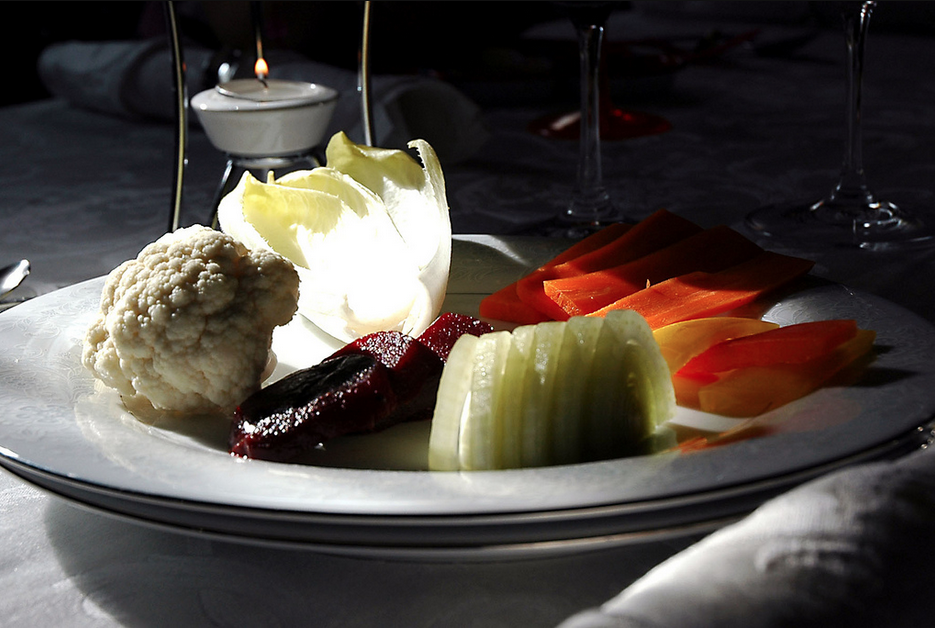 Let's take the acid first. Highly acidic foods can make a wine seem flabby, so it can't do its job of refreshing the palate between bites. This is why a crisp, bright Sauvignon Blanc is one of the most often recommended salad wines: its acidity can balance even tart vinaigrettes.
But a salad's acidity is not just in the dressing. Other components contribute, too: tomatoes, fruits, olives, pickles, and leafy greens like sorrel or beets. "Even certain dairy products, certain cheeses, have acidity," observes Mary Cressler, a certified sommelier and wine educator in Hartford, Connecticut. "That's why Chenin Blanc and Sancerre go so well with goat cheese."
All those other tasty bits in the salad—from cheese to fruits and vegetables, meats, seafood, and nuts—play a key role, too, contributing to the salad's weight and essence and influencing the choice of amiable wines.
"It's what's on top of the salad that gives me most of my pairing ideas," says Eric Guido, a private chef and writer in New York City. "For example: red wine with salad? Most wouldn't think of it. But if you add dried fruits like cranberries, apricots, or raisins, it can open the door to using a lighter red, like a Gamay, or light Côtes du Rhône."
When a salad serves as a main course, those toppings—perhaps grilled fish, meat, or roasted vegetables—take the lead, while the greens get dressed for the occasion. A salad with blanched calamari might get a light, citrusy dressing, for example, while grilled kebabs get tossed with aged balsamic vinaigrette. In other words, the main element sets the tone for the dish, and the components play a supporting role.
You can use this same approach when selecting the wine, too, matching the wine to the protein. This almost lets you pretend it's not a salad, so you can follow more standard pairing recommendations, thus reducing the problem to one that can be solved. Just be mindful to choose a wine that's crisp enough for the crunchy greens, too. For that calamari salad I'd probably serve a briny, citrusy white, like Albariño or Assyrtiko. For the kebabs, I'd probably choose Grenache.
Fat helps, too. Vegetable and seed oils, cheeses, nuts, and marinated vegetables add substance to a salad's raw materials and also gloss the palate, making wine more welcome. Adding fat to a salad might seem a little counter-intuitive. Aren't salads supposed to be healthy? But fat is healthy—good fat, that is.
"Get over the fear of fat!" urges Lia Huber, chef at Bonterra Organic Vineyards in Mendocino, California, and founder of healthy eating website Nourish Network. "There are two things proven to be fantastic for your body. One of them is healthy fats, and the other is vegetables—and as many as you can get. Vegetables are so lean, and oil adds just the right amount of fat for the wine to play with in the mouth."
Strive for balance. Winter salads might be richer, but summer sun and heavy, humid air call for lighter, crisper flavors, both on the palate and in the glass. "I look for wines that are light and pure—little manipulation, little oak, lighter in alcohol," says Cressler. "When the food is light, fresh, delicate, I look for wine that's light, fresh, and delicate, too."
Tim Kaulfers, the executive chef at Arista Winery in Healdsburg, California, agrees. "I stay away from big, fat, creamy stuff, and try to highlight the vegetable," he says. "Keep it complementary, and let that vegetable component shine through."
So, no. Your guests needn't switch to water when raw vegetables materialize before their polos and pearls. Pour them wine with confidence. Here's how.
A Mixed Case of Tricks for Pairing Wine With Salad
Look for crisp, vibrant wines—white, red, rosé, or sparkling. Wines with good acidity help balance a dressing and acidic ingredients. Although you'll want to key off the salad's major components, the following wines are often safe bets: Riesling, Sauvignon Blanc, Grüner Veltliner, Pinot Gris, Chenin Blanc, Sancerre, Muscadet, Chablis, and un-oaked Chardonnay; juicy reds like Beaujolais, Grenache, Barbera, Zweigelt, and cool-climate Pinot Noir; sparkling wines (in a range from dry to sweet) including Champagne, Cava, and Prosecco; and dry rosé, especially Bandol.
Go easy on the vinegar. "I don't put a lot of vinegar in my dressings," says Mary Cressler. "I use lemon instead. While it's still acidic, it's not as harsh as, say, balsamic. Plus, lemon is a flavor component in a lot of fresh, springy wines, so it tends to act as a bridge." Other citrus juices work well, too. I'm partial to fresh lime juice, which adds a citrusy acidity without pronounced lemon flavors. Chefs Lia Huber and Tim Kaulfer vouch for verjus, which is the unfermented, tart juice of under-ripe grapes. Verjus likewise creates a flavor bridge to the wine, grape to grape.
Add extra oil to the dressing. Increasing the proportion of oil in the dressing gives it a fuller mouthfeel, in addition to dialing back its acidity. Instead of the standard ratio of two parts oil to one part vinegar, use three- or four-to-one. Add a dab of Dijon mustard as an emulsifier. (Note, though, that since prepared mustard is made with vinegar, it must factor into the acid equation, too.) Buttery olive oil, truffle oil, and roasted nut oils—walnut, hazelnut, or pumpkin seed—can add wine-friendly savory notes.
Skip big, tannic wines. High-alcohol wines with ample structure can swamp a salad's delicate features. Even a salad topped with grilled meat needs a red that will negotiate harmoniously between both meat and greens. Try a Cabernet Franc red or rosé from Chinon or Bourgeuil in the Loire, or a Cru Beaujolais, a Zweigelt, or a Grenache, all of which have a supple juiciness and peppery or herbal notes that will tie this dish together.
Add fat to the salad. Cheeses, nuts, bacon, hard-cooked eggs, and vegetables marinated in oil add richness and coat your palate, helping offset sour and astringent flavors. Imagine dressing a spinach salad with a lemon vinaigrette. Spinach is astringent and a little tangy to begin with, and when combined with citrus, you'll get a very cleansing palate effect. This salad might pair okay with a lean, minerally white, but the whole experience might feel a bit—severe. Now imagine you've dressed that spinach with a warm bacon vinaigrette instead, and added crumbled blue cheese. This salad seems completely different; it has rich, savory, salty elements, plus a heft that would let it stand up to a bigger wine, even one with some sweetness.
Add umami. Aged cheeses, nuts, tamari, mushrooms (including truffles), sardines, anchovies, and many other foods containing abundant natural glutamate add savoryness to salad. They make it taste more substantial and allow it to partner with aged, substantial wines. Substituting roasted garlic or sautéed shallots for their raw counterparts in vinaigrettes also helps the salad pair with fuller wines, including oaked whites and fruitier, rounder reds.
Give a red a chill. Reds with good acidity and modest tannin can be served lightly chilled. It mutes their flavors a bit, but it also renders them more temperamentally similar to cold foods. "A chilled Beaujolais is a great pairing for salad, and Cru Beaujolais in particular," says William McNeil, co-owner of the farm-to-table restaurant Hen of the Wood in Waterbury, Vermont. Zweigelt and Grenache can take a chill, too.
Try a sparkling wine. Most sparklers are naturally high in acidity, even those that are slightly off-dry. Mary Cressler particularly recommends the Basque white Txakoli. "I like it because it's really light and effervescent. It's a nice alternative to other sparkling wines because it's less harsh. It's also low in alcohol." Hard sparkling cider is another terrific low-alcohol choice. It's especially good with salads incorporating bitter greens, blue cheeses, walnuts, and—of course—apples, says Corrie Wolosin, marketing director at Farnum Hill Ciders in Lebanon, New Hampshire. Chef Eric Guido suggests sparkling rosé. "I recently had a salad with roasted vegetables, walnuts, and blue cheese on top of mixed greens with a light vinaigrette. I drank a rosé Champagne with it, and it worked out beautifully."
Try dry rosé. "To me they bring the best of both worlds," says Lia Huber. "They've got the full flavor palate of a red wine, but still have the characteristics of a white wine, and are a better pair with leaner dishes." Rosé can be great with fresh tomatoes.
Try an orange wine. Orange wines are almost-rosés, made by fermenting white grapes on their skins. This imparts flavor compounds and tinges the wine a salmon color.  McNeil includes a range of orange and oxidative wines on his by-the-glass list at Hen of the Wood, and he's quick to recommend them with salad: "You get a roundness, which you're looking for to help with the acidity in a salad. You get sweet and sour tones. And orange wine is always served chilled, so you don't have to worry about time spent chilling a red like Beaujolais." Eric Guido also endorses this style. "Orange wines have more tannin on the palate, and tend to have a red wine structure. But they also can be so floral, and so exotic, I feel I'm almost chewing on flower petals."
Try an oxidative wine. Vin Jaune, Fino Sherry, and some small-producer orange wines have noticeable nutty, honeyed aromas that come from exposure to oxygen during fermentation and aging. These flavors harmonize especially gloriously with salads containing aged cheese and toasted nuts.
Pick a wine with a little sweetness. Floral, fruity, and off-dry wines—Muscat, Viognier, and sweeter Riesling—can work beautifully with salads featuring salty ingredients like capers, olives, or feta cheese, as well as nuts and fruits. And remember: a tomato is a fruit. Ripe fresh tomatoes do have some acidity, but they also have notable sweetness. I recently dressed a tomato caprese salad with fruity olive oil, aged white balsamic, and snipped chives. With this I poured a floral, slightly off-dry Austrian blend of grüner veltliner, welschriesling, and muscat. I took a bite, then a sip. I heard the angels singing.