Becky Sue Epstein is back in Bordeaux, for the annual en primeur tastings. Before the Union des Grands Crus tastings started on Monday, she put in a hefty amount of time amongst the other red wines of Bordeaux. Here's what she learned in her first 24 hours on the ground.
---
The small but-prestigious Saint-Émilion appellation in Bordeaux has been in crisis mode since 2006. That's when their carefully crafted system of recategorizing their "classed growths" every ten years fell apart. Formerly, Saint-Émilion had declared less than 1/10th of their châteaux (wineries) to be "cru classé" and about 15 of those châteaux were Grand cru classé." In 2006, some of châteaux who were "de-classified" decided not to take this lying down, and in a rare, gutsy move, they sued to be re-instated. And amazingly, they won in court. But in the process, they also decimated the old self-governing classification system in Saint-Émilion.
When the court invalidated the 2006 classifications, it set back in place the 1996 classifications. Then the châteaux that had been newly included in 2006 weren't happy. So the government stepped in and declared all the châteaux from the 1996 and 2006 classifications to be classified. Until 2012, that is. Which is coming up soon.
Now, by November 2012, Saint-Émilion is charged with putting in place a new system for classifying its finest châteaux. And for the first time, people outside Bordeaux will also be participating in the process. There will be a commission of French wine professionals from regions OUTSIDE Bordeaux, members selected by the INAO who tour the châteaux to look at the vineyards and winemaking. INAO's theory is that a winemaker from one area can distinguish enough of the tools, techniques and processes going on anywhere, in order to form a good judgment about likely candidates to be considered Cru Classé and Grand Cru Classé. About 100 of the 1,000 vineyards in the area will probably apply; last time 72 were classified.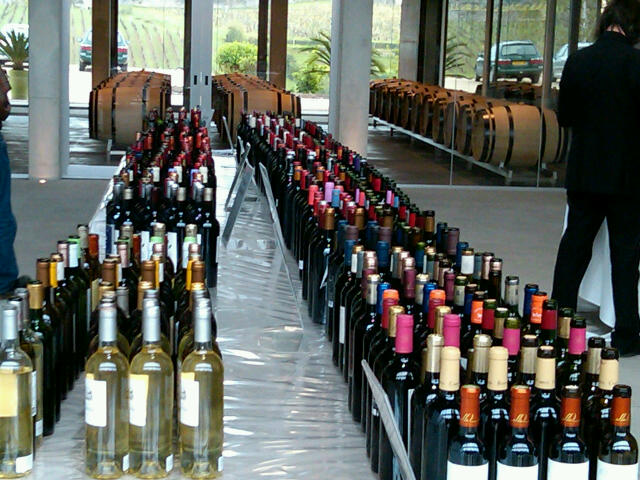 But then there's the issue of tasting the wines. Who but the Bordelais know their wines well enough?, asked the outraged wine producers of Saint-Émilion. In this case, the court agreed. A team of people from Bordeaux will taste all the Saint-Émilion wines. They will taste blind, to ensure there's no favoritism. From next September until the following June, they will have to taste about 1,000 wines from 1999 to 2008: the past ten vintages of finished wines, from each of the 100 wine estates that applies.
As Jean-Francois Quenin, president of the Saint-Émilion producers, told me, this has been public knowledge for months. Yet people persist in spouting off incorrectly and writing inflammatory articles about how the Saint-Émilion classification is in the hands of non-Bordelais. You can imagine how this re-ignites all the smoldering complaints in Saint-Émilion, every time it happens – as it did once again this week. And it is often done by people who should know better, said Jean-Francois. Head in his hand, he conceded he'd just have to explain it all another ten times, and probably ten more after that. Shaking his head, he pointed out that all this is about just six letters: the word "classé."
We in the States believe that French people can get this worked up about wine. It's their history, their livelihood, their culture. But of course it's more than that. It's also about the money.
An average bottle of classified Saint-Émilion wine sell for €2 more than a non-classified wine, at the château. In a shop, the customer pays € 4-5 more. But here's the real kicker: the price of the château's land doubles!
It's about history, culture, wine – and land.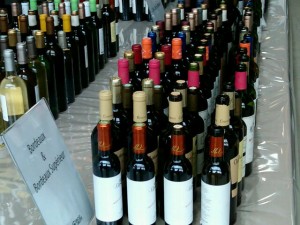 What's tasting in Saint-Émilion
Saint-Émilion is part of the Cercle Rive Droite, a group of Right Bank wine regions in Bordeaux. Today I attended the Cercle Rive Droite tasting of the 2010 vintage en primeur from the following appellations: Bordeaux, Bordeaux Supérieur, Cadillac/Côtes de Bordeaux, Castillon/Côtes de Bordeaux, Fronsac, Canon-Fronsac, Pomerol, St-Emilion Grand Cru, Saint-Émilion Grand Cru Classé, Montagne St-Émilion, Lussac-Saint-Émilion.
If you'd like to get a headstart on thinking about what you're going to order from the very good 2010 vintage (in a couple years), here are some of today's highlights, in no particular order: Girolate, Château Beaulieu Comtes de Taste, Château Reynon¸ Château de la Dauphine, Château Penin, Château Perron la Fleur, Château Barde-Haut, Château Lassegue, Château de Lussac, Lynsolence, Château La Marzelle, Château la Fleur de Gay, Château Peby Faugeres, Château Faizeau, Château de Pressac.
With or without the "de"?
Before I finish, I'd like to mention a small issue that Jean-Francois Quenin is struggling with, himself. He and his brave, lovely wife Dominique own Château de Pressac. It's only three words, not too hard to say. But in a list, they never know if their wine will come up under "d" or "P"? For their label re-design, they're trying to figure out if it will be simpler to lose the French "de" and call the wine simply "Château Pressac." What do you think? Vote here and leave your comments below!
[polldaddy poll=4849341]
---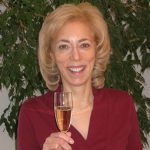 Becky Sue Epstein is Palate Press's International Editor. An experienced writer, editor, broadcaster, and consultant in the fields of wine, spirits, food, and travel, her work appears in many national publications including Art & Antiques, Luxury Golf & Travel, Food + Wine, and Wine Spectator. She began her career as a restaurant reviewer for the Los Angeles Times while working in film and television.