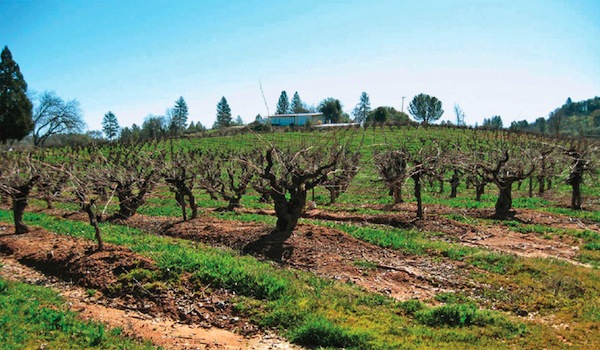 At 143 years of age, the Original Grandpere Vineyard in the Sierra Foothills is the oldest documented Zinfandel vineyard in California, and it still produces wines of high quality. Its history is closely linked with that of California wine, and with United States wine consumption in general.
The identity of the original planters is a bit hazy, though genealogical research has narrowed it down to the Upton family: either to John D. and Mary T. Upton, the original settlers, or their daughter Martha Upton and her spouse George Rouff, who were married in May 1866. An 1869 land deed shows grapevines planted on the 10-acre site, located in the Shenandoah Valley about five miles northeast of the town of Plymouth.
 Following its origin in Croatia, Zinfandel came to New England in the 1820s, where hobbyists cultivated it in hothouses as a table grape. Some of these cuttings arrived with Gold Rush settlers to northern California nurseries that likely supplied the Upton family. At the time that the Grandpere Vineyard was established, Zinfandel cultivation was a rising trend, as growers preferred its wine to that of the Mission grapes that the Franciscan friars had brought. Eric Costa's research on the history of Amador County winegrowing uncovered an 1870 agricultural census showing 250 gallons of Zinfandel in the possession of George Rouff.
 When the phylloxera root louse attacked California vineyards in the 1880s, the remoteness of the Shenandoah Valley spared many of its vineyards. Grandpere also weathered several ups and downs in the California grape-growing economy, as local wineries and Italian immigrant home winemakers reliably purchased the produce.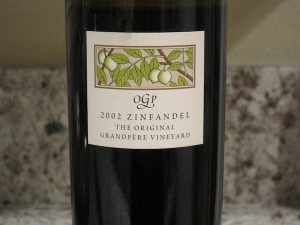 The vineyard dodged the bullet of Prohibition because the law allowed a loophole for home winemaking. In Amador County, merchants known as jobbers arrived in trucks stacked with empty wooden boxes, and bought the grapes for shipping by rail to customers in many parts of the country. (One of these jobbers was Amador native Ernest Gallo.) Zinfandel was a favored grape because it withstood the journey. Thus the Grandpere Vineyard thrived, and grape acreage across Amador actually increased during Prohibition.
Big changes came with the Zinfandel boom of the 1970s. Darrell Corti put Amador on the map then with his bottling of 1968 Deaver vineyard old-vine Zinfandel. Other wineries such as Ridge, Monteviña, Joseph Swan, and Sutter Home were finding that if they returned to the pre-Prohibition vineyards, pruned aggressively to limit yields, and practiced low-intervention winemaking, quality went through the roof. The Grandpere vineyard was then owned by John and Virginia Downing, and they still operated in the old mode: selling to jobbers, home winemakers, and a few wineries that made white Zinfandel. Scott Harvey of Santino (later Renwood) winery was among these customers, and when the Downings retired in 1984, Scott and his wife Terri bought the place. They trimmed the yield to less than two tons per acre, and Scott began bottling wine made from its grapes for Renwood, using the name "Grandpere Vineyard."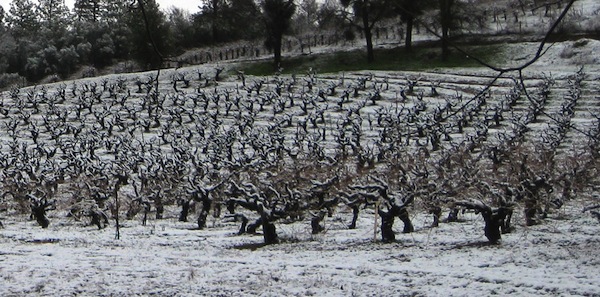 Today, Terri is sole owner, and she tends the vines herself. The vineyard occupies gently sloping land at about 1,300 feet elevation, with sandy loam soil derived mostly from decomposed Sierra Nevada granite. The slope and the soil type give good drainage and contain little organic material, stimulating root development and naturally limiting yields. The vines are on their own roots, head-pruned, and spaced at 9 x 9 feet. Only about five percent of the vines have needed replacement, Terri says, as the rest still thrive. She sells grapes to Scott Harvey, C.G. diArie, Macchia, and Vino Noceto wineries. Near the time that Scott left Renwood for Napa in 1995, Renwood winemakers took cuttings from the vineyard and planted them nearby, and also trademarked the Grandpere name. Wineries that still use grapes from the historic vineyard either use the full name Original Grandpere Vineyard, or they call it something else: Scott trademarked the name Vineyard 1869; C.G. diArie calls his Southern Exposure; and Macchia bottles it as Prestigious.
Vino Noceto is the boldest in using the Original Grandpere Vineyard grapes and name, hence the choice of Rusty Folena's Noceto vintages for the vertical tasting. All five were elegant and medium-bodied wines, very well-structured from the use of partial whole-berry fermentation and French oak. The family resemblances include deep spice-forward aromas, good acid balance, and medium color. Each vintage shows an intriguingly different profile of spice and fruit flavors.
Vertical tasting: Vino Noceto Zinfandel, Original Grandpere Vineyard

2002: Medium garnet, trending orange at the edges. Nice nose of blackberries, spices, a hint of licorice, and cedar. Medium-bodied on the palate, with firm structure supporting flavors of red berries and cinnamon. Finishes with orange peel, some grip, and light tannins. This wine is in fine shape and could hold longer. A classy and serious wine.

2004: Rich ruby with orange at the very edge. Earthy nose of plums, must, mushrooms, and black cherries. Dust and plum notes lead on the palate, with sandalwood and hints of anise. A medium-bodied and rich package of fruit flavors yields layers of complexity, held in place by firm acid balance. Finishes quickly with light velvety tannins. Rich and flavorful, with nice aromas and backbone, this vintage is showing very well right now.

2005: Medium-deep ruby-garnet color. Licorice and sandalwood lead on the nose, with notes of wet earth, bramble, and stone fruits. Nice depth of flavors on the palate, with notes of mint and blueberry compote over a good acid backbone. Finishes well, with orange peel and cake notes ahead of light tannins. This is a rich vintage, full of flavors.

2007: Deep ruby-garnet color. Spicy nose of cinnamon, clove, and allspice, ahead of blueberry and ripe strawberry notes. Rich and engaging on the palate, as firm structure is conducive to meditation on the layers of fruit and spice flavors. Austere and deep at the same time, as spice flavors lead over fruit. Finishes dry and nicely with light tannins and good earthy grip. This is another serious bottle, showing very well and worthy several more years of cellaring.

2008: Pretty cherry-plum color of medium depth. Cloves and light cedar lead on the nose, with strawberry, cherry and blueberry notes. Approachable fruit leads the flavor profile, seasoned with cinnamon over a wonderfully firm structure. Finishes nicely with pencil notes over a dry, light grip of velvety tannins. The keyword for this wine is balance; everything is present here for several years of cellaring, but drinking now shows an elegant and delicious vintage.
---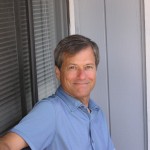 Amador County native Patrick Frank is the author of four books on modern art. Before attempting to pose an intellectual, he worked in the trade as a retail manager at Marin Wine & Spirits in San Anselmo, CA.