In a past life, I used to work in corporate IT. I had to suffer various tech and management conferences over the years. Normally this entailed tedious keynotes, row upon row of suited and booted attendees, and miserable sandwich lunches. If you were lucky enough to bump into someone you actually knew and liked, a few pints of overpriced lager afterwards was the only relief.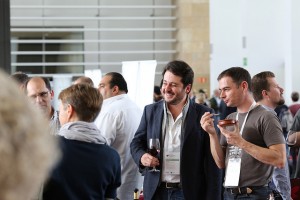 In 2011, I discovered via twitter that a bunch of wine bloggers had started something called the European Wine Bloggers Conference. This was a rallying call to my fledging blog, so off I went to Brescia, in Northern Italy. It couldn't have been a greater contrast to that previous conference hell.
EWBC 2011 may have been a bit content-light, but it was filled with passionate, lively individuals, many of whom I now count as friends. The experience was a riot of tastings, banter and sociability. I had so much fun talking with fellow wine geeks, and visiting two dream Italian regions (Alto Adige & Friuli), there was no question I was coming back. It cost just one tenth of the ticket price for most corporate conferences (€2,000 for 1-2 day conferences is not unusual in the business world), but best of all, wine was served with lunch.
Why is that so important? Because wine functions brilliantly as a social lubricant, especially when you take a group of people who don't all know each other yet. By halfway through the first day, conversation was flowing, experiences were being swapped, and I felt inspired. Why don't all conferences do this?
The second revelation was the level of professionalism amongst fellow delegates. I learnt so much during those three days, not just from seminars, but from watching and listening to other attendees – how to use twitter effectively, how to take better photos, the importance of taking notes, how to focus on "the story" when writing an article.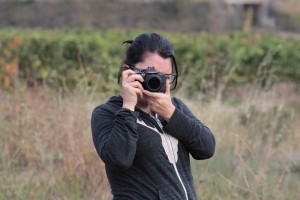 The now rebranded Digital Wine Communicators Conference has grown impressively, from beginnings as a 40-strong meetup in Rioja, 2009. The metamorphosis from European Wine Bloggers Conference (EWBC) to DWCC is important. DWCC's organisational team Vrazon (Ryan & Gabriella Opaz, Robert Mcintosh) realised that blogging was becoming an increasingly narrow term to sum up the proliferation of digital and online media. Twitter, Instagram, YouTube, Flickr, Facebook and Tumblr have all become equally valid and important ways to broadcast your message. The name change is smart, as it also deflects the prejudice that traditional wine press and media sometimes show towards the term "blogger".
This year's edition will attract around 300 delegates to Montreux in Switzerland. I like DWCC's consistently offbeat choices of venue – Portugal, Austria and Turkey have all hosted in previous years. Swiss wines are not well known outside the country, and I expect most delegates (myself included) will have a genuinely fresh experience tasting hitherto unknown grape varieties and discovering new producers.
2014's theme is "Wine in context", with a focus on how digital communication can help to promote and sell wine in new and innovative ways. I'm looking forward to the "disrupt wine talks", where a variety of speakers from both in and outside the wine sector tackle a one-word theme, designed to challenge perceptions and preconceived ideas.
It's a sign of the conference's success that it now attracts big names – and they don't come any bigger than Jancis Robinson, who will lead a guided tasting of Swiss wines. Cellartracker's Eric Levine and the world's top sommelier Paolo Basso are also in the schedule, together with a legion of MWs and other wine luminaries.
If you have the slightest enthusiasm for wine, and some inclination to communicate that passion online, this event should be considered mandatory: Not just because you'll learn a huge amount about the interface between wine, marketing and tech, not just because you'll taste hundreds of interesting wines over the course of three days, and not just because you'll join an engaged and welcoming community of people – but more than any of that, because it's downright good fun.
DWCC 2014 runs from October 31st – November 2nd, and is still accepting delegate registrations at this link.