Imagine yourself a treasure hunter who has recently discovered a treasure chest filled to the brim with jewels that are unlike any other treasure discovered in the past. Their shapes are different, the imprints unique. The chest originates from a country that in ancient times was renowned for its riches, but long ago lost this reputation. However, recently a number of talented goldsmiths there started working with modern tools and succeeded in once again crafting distinctive and exceptional artifacts. Yet outside this country, only few people still show interest.
You admire the contents of your treasure chest every day and are dismayed that so many people are left in the dark about its beauty. Famous experts have voiced their enthusiasm, but to attain widespread admiration, merchants must be engaged to promote their value to the wider public. But the merchants continue to ignore the goods.
It is that devastating combination of lack of knowledge and inefficient marketing strategies that today deprives wine lovers abroad of the chance to experience Greek wines. It's a true Catch 22: deeply rooted prejudices from the trade side have left consumers ignorant, which in turn fails to foster new interest by forward-looking merchants.
Just fifty years ago, the Greek wine market was dominated by bulk wine that wasn't even bottled. By the end of the 1960s, Greek wine had become synonymous around the globe with Retsina, a wine flavoured with pine resin. Over the following three decades, a handful of large winemakers dominated Greek wine production by focusing on high-volume, low-price bottled wines. Brands like Demestica, a simple blended red or white table wine, often non-vintage, flooded the stores. Demestica dominated the Greek market for many years, and at peak up to twenty million bottles were sold annually. This marked a new dawn for Greek wines as a viable trade product, but at the same time sowed the seeds for clichés about low quality.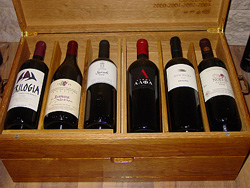 Change began slowly during the 1970s and 80s when the first boutique wineries like Parparoussis and Katsaros made an impact domestically. Subsequently, trained enologists introduced scientific approaches to winemaking and set up many new estates, an exciting development that lead to increased quality and continually improving standards. Today, many of the wines impress with their great depth, structure, and complexity whilst also offering an additional layer of excitement by mirroring the uniqueness of Greece's terroir.
Unfortunately, for the most part these developments can still only be experienced in Greece. In my efforts to publicize and promote Greek wine's evolution and its splendid results abroad, I continually encounter a number of key misconceptions surrounding Greek wines. These prevent the wine drinking public from recognizing the true value of contemporary Greek winemaking. Here are a few:
1. Greek wines equal high-volume Retsina and Demestica
This image is an extremely powerful one, and not without reason; tourists visiting Greece discover that Retsina wines, produced in the backyard of almost every taverna in bulk and offered as a cheap food accompaniment, are indeed an intrinsic and authentic part of Greek culture. At the same time, the three largest Greek wine producers, with market share of over 50% of exports, confirm exactly this image by primarily offering Retsina and Demestica, and at discount prices. High quality Greek wine rarely reaches the shelves abroad, and therefore has not, to date, reached wine lovers' minds.
Earlier this year, I had an honest and lengthy discussion with one of the above-mentioned export wineries. I was delighted to hear that a shift is currently taking place in their strategy and attitude , as they move increasingly toward the premium segment. This winery in particular has consolidated all of their low cost wines under one umbrella and introduced it with a different brand name, reserving their estate name for only the more serious wines. High volume wines have very little to do with the wine revolution that is taking place in Greece, so this is a highly desirable development.
2. Greek wines are of low quality
The first misconception advances this one, but nothing is further from today's truth. I would go so far as to say that some of the most exciting wines on this planet are currently being made in Greece. A handful of local grape varieties like Assyrtiko or Xinomavro already produce world-class wines. Whenever I present Greek wines to merchants, critics, or consumers abroad, the reactions are similar and repeatable: true surprise and disbelief about the high quality they experience. Whites are either mineral-driven or full of exotic and ripe fruit character, with aromas of lemon and citrus zest, and reds are often deeply coloured, loaded with silky fruit and spicy aromas, harmonious and serious with a velvety finish.
Greece has a real spread of terroir, plus a large and unique variety of grapes. Winemakers have learned to explore and exploit this combination, and it seems that the best is yet to come.
3. Good Greek wines are too expensive
In order to introduce their customers to Greek wines, many merchants ask for solid wines that can be sold for less than $10. Whilst these wines exist, the really exciting ones cost more. About 70% of the captivating wines will cost the consumer between $10 and $20, and about 95% of the top wines carry a price tag of up to $35. Not cheap, but there are few countries that offer truly inspiring wines for less than that amount, and a large number whose best wines cost a multiple.
The reaction of one well-known German wine writer precisely demonstrates my point. His response to the above was that, although the wines might be great, that the label states that the wine originates from Greece means they can't be marketed at a higher price point. Penalizing wines simply due to their country of origin, instead of evaluating them solely on their merits, is, to my mind, an outdated school of thought.
4. Greek wines from indigenous grape varieties are only interesting to wine geeks
Greece has an abundance of indigenous grape varieties, including some that had been on the verge of extinction. The most important white varieties for the commercial wine production are Assyrtiko, Malagousia, Moschofilero, Robola, and Roditis. For the reds, varieties include Agiorgitiko and Xinomavro.
I have often heard concerns that Greek wines are too far off the mainstream taste to succeed. Yet my experience paints a very different picture. This year, I presented three dozen Greek wines on several occasions to the public, wine critics, and wine journalists. These included international and indigenous varieties. In all cases, the wines that impressed most—and impressed even the wine merchants—were Greek natives, with Assyrtiko and Xinomavro coming out top. Both of these have the ability to clearly mirror their terroir, and are probably the most distinctive and least conventional. Assyrtiko from Santorini is grown in some of the hottest and driest vineyards on earth, and are often bone-dry, salty wines with strong mineral aromas. Xinomavro wines from the north of Greece typically lack fresh primary fruit on the nose and are dominated by vegetable aromas like freshly cut tomatoes. They are quite tannic and need hours in the glass to truly open up.
Unfortunately, the wine merchants always decide in favour of the more mainstream varieties, as they perceive them as a safer option.
5. Greek wines are hard to sell because of the language barrier
I often hear concerns that Greek wines may not become successful in the export markets simply because the names of the producers, regions, and grape varieties are too confusing and sound unfamiliar. Some of the newer wineries like Alpha Estate or Wine Art Estate selected their names simply to cater to the foreign markets.
Whilst I agree that the language barrier is somewhat problematic, enough examples of other wine producing countries with similar issues exist. No one argues today that Italy or Spain will fail in the export markets because of this; to the contrary, consumers have embraced their wines and educated themselves about them. Brunello di Montalcino made from the Sangiovese grape is one of Italy's best-known wines. Are Xinomavro from Naoussa or Agiorgitiko from Nemea really that much harder to memorize?
The Greek wine industry has so far been unable to overcome these prejudices. There is little active support from the government to promote Greek wines in foreign countries, and most estates are small wineries that alone are not able to make an impact on the Greek wine image abroad. The Internet is still playing a secondary role in Greece, and social media remains undiscovered. There has been a lack of new initiatives for a number of years and certain helplessness has spread throughout the industry.
This year's "Wine & Spirits Top 100" wineries included three Greek entries: Boutari, Gaia, and Skouras. Boutari is a giant who owns six wineries in Greece situated in the most important winemaking regions. Gaia is active in Santorini and Nemea and is one of the real stars of the Greek wine scene. Skouras is located close to Nemea; this winery is nearly obsessed with fruit concentration in the wines. I estimate the total number of Greek wineries today to be between 700 and 800, with the vast majority not exporting any or only insignificant volumes of their products. This fact alone highlights the enormous potential of Greek wines.
My own passion for Greek wines culminated in my decision at the start of this year to promote Greek wines abroad. I hope my efforts will arouse curiosity and interest from both merchants and consumers alike, and that word will spread. The hardest thing for me is simply to get people interested in tasting the wines and taking in the information I offer. But once they do, many of the misconceptions simply disappear and are replaced by a sense of excitement. Suddenly the realization sets in that it might well be worth taking a closer look at this treasure chest from Greece.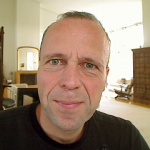 Markus Stolz, originally from Germany, lives with his Greek wife and his four children in Athens, Greece, where Greek wines first captivated him. He holds the Advanced Certificate of the WSET. Markus authors Elloinos, a blog that shares his passion for Greek wines and the Greek culture, and can be found on Twitter @elloinos.