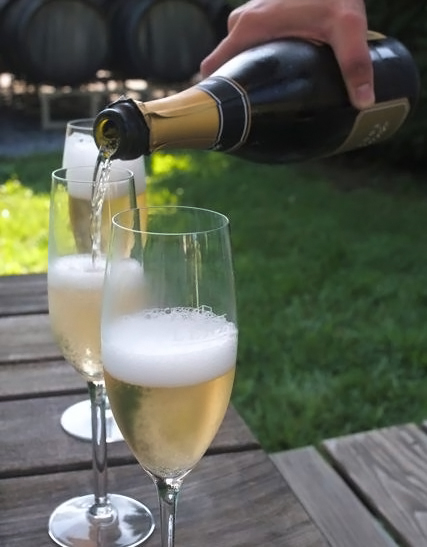 In some ways, New York's wine regions are ideal for making sparkling wine. The generally cool weather—combined with lake effect in the Finger Lakes and ocean breezes in Long Island—allows grapes to ripen slowly with gorgeous aromatics and natural acidity. Frederick Frank, the president of Chateau Frank, told me that he believes their climate makes the Finger Lakes "the best region in America to produce premium sparkling wine."
But is sparkling wine using the traditional Méthode Champenoise a winning proposition for New York wineries? The labor, inventory space, and financial costs are high. The bottles are often riddled, disgorged, and capsuled by hand. (And if machines are used, it's a steep investment in equipment.) If multiple grapes are to be vinified for the sparkler, several tanks have to be dedicated to a wine that won't sell for years. The time the wine spends aging en tirage ties up the winery's resources. To make matters worse, sparkling wine is taxed at a higher rate than still wine. But Lamoreaux Landing's Josh Wig says that though these hand-crafted wines are labor and capital-intensive, "the end justifies the means."
From the samples I tasted, I tend to agree. These wines are lively, lithe, and bright, some with bracing acidity and stony minerality, others more generous in fruit. They tend toward leanness, though some have a bit of yeasty, eggy, brioche richness. Most of them were wines I'd love to take on vacation (or sample on a tour of Finger Lakes or Long Island tasting rooms.)
•  •  •
Editor's note: All wines reviewed were received as media samples.
Finger Lakes
This wine was a favorite; it's a joy to drink. Lemon yogurt on the nose, and the flavor followed through: a flute of this wine is like a scoop of puckering lemon sorbet and a slice of cheesecake all in one. It's focused and fresh, with lively small bubbles and prominent tartness. There's a hint of rich pear and a delicate wisp of toasty vanilla—this wine spent three years en tirage. Pair it with a lobster roll or fragrant shrimp pad thai. ($25; Lamoreaux Landing Wine Cellars; Map)
Finger Lakes
This blend of 50% Chardonnay, 45% Pinot Noir, and 5% Pinot Meunier is the kind of wine you want to bathe in, with a rich scent of baked cinnamon apples and brioche. It's fragrant and a little decadent, soft and cleanly integrated, with delicate acidity that supports but doesn't stick out. Caramelized challah french toast as well as a whisper of pineapple and honey. Pair it with shrimp dumplings or salmon sushi. Lovely and rounded in the mouth. ($30; Dr. Frank Konstantin Vinifera Wine Cellars; Map)
North Fork of Long Island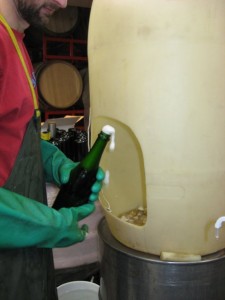 Though it's a bit more expensive than most of the others, this wine is richer and beefier, with fragrant notes of almond croissants, toasted wheat bread with lemon marmalade, orange blossoms, hazelnut and honeydew. It's complex, slightly earthy, and well integrated, with lively bubbles and a puckering acidity. ($48; Bedell Cellars; Map)
North Fork of Long Island
This svelte sparkler from the North Fork is 100% Pinot Noir, with a bready nose with hints of baking peaches, and golden delicious apples. It has very delicate bubbles and lots of minerality—seashells all over the palate. This is a zippy wine, with lime zest and lots of acidity to balance the creamy notes of marzipan and hazelnut. That bit of toasted nuts is just a whisper, though: this wine is mostly fruit and light, a juicy bite of bosc pear and a squeeze of lime. The only hesitation is a hint of bitter pear peel and grass at the finish. Serious, refreshing wine, perfect to serve with steamed clams piled on pasta. ($30; Lenz Winery; Map)
The Hamptons, Long Island
Their sparkling rosé, a blend of 54% Pinot Noir and 46% Chardonnay, is tart and elegant. It pours a light peach orange, just barely pigmented. There's a hint of biscuits, cream, red berries, and lemon zest on the nose. It's a delicate wine with a mineral backbone and dry notes of peach tea, but still some rich, yeasty brioche flavors—with a dollop of lemon-rosehip marmalade on top. Buoyant mousse and tart acidity, hints of unripe strawberries, green apples, and fennel, make this refreshing wine a winner with food. Try pairing it with lobster rolls or crab quiche.  The finish is long, silky, and lingering. ($40; Wölffer Estate Vineyards; Map)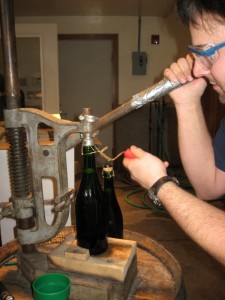 Finger Lakes
Though there's a hint of strawberry-vanilla saltwater taffy on the nose, this is a seriously dry wine, with loads of minerals, Earl Grey tea and thyme, as well as a hint of Clementine (pith included). This wine is crystalline and restrained, with delicate raspberry notes and the tiniest bubbles. ($25; Hermann J. Wiemer Vineyard; Map)
Finger Lakes
With Golden Delicious apples and honey on the nose, this blend of 54% Pinot Noir and 46% Chardonnay is food-friendly but not extremely complex. The flavor is a little musky, with notes of apples, radicchio, a squeeze of lemon, and a delicate nuttiness. The bubbles are a bit bigger than the others, making this wine a bit less elegant than other options at this price. ($25; Glenora Wine Cellars; Map)
---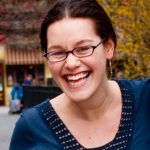 Maggie Hoffman hails from Oregon but lives in Manhattan. She writes about wine, craft beer, and food for the website Serious Eats. She also blogs about cooking (with occasional wine pairings) at Pithy and Cleaver.