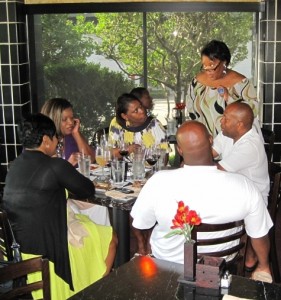 Whether by accident or by design, connoisseurs have made the world of wine intimidating to even the most sophisticated city dweller. Wine tasting clubs are the quickest way to uncork the mystique, and one former vodka aficionado has created an inner city group that is doing just that, one glass at a time.
Iris Neal Allen knows wine. She knows what she likes, and she knows how to share her knowledge and passion. So much so that she started her own wine tasting club last April. Iris' group, Urban Wineauxs, meets every Saturday to taste four different wines from various wine regions. The group boasts 144 online members on its Facebook page and, so far, the get-togethers average between 30-45 participants.
A Continental Airlines employee by day, Iris has parlayed her International Sommelier Guild (ISG) Level 1 Certificate program into an evening gig that keeps her busy several nights a week.
"I didn't choose wine," says Iris, "Wine chose me."
At age 12, Iris was reading Travel & Leisure, fascinated with learning all about the way Cognac, Armagnac and brandy were stored. "I always had an affinity for the spirits," she said. "And this was before the Internet, so I would read everything I could."
I had heard my husband talk about Iris for weeks during his ISG studies but didn't meet her until the class got together for a holiday party last December. Many of the students had obtained part-time pouring gigs at local Houston wine bars. But we found ourselves at Iris' tastings most often—because she was pouring on weekends  and her bubbly personality is just so hard to resist.
Attending a grand opening party for Block 7 Wine Company, a new restaurant, wine bar, and retail venture in Houston's up-and-coming Washington Corridor, Wendell Prothow, one of the Urban Wineauxs asked us how we'd become involved in Iris' tastings. I told him about the ISG connection as well as my own motivation. "Every Monday night Joe would come home from class and it was "Iris, this" and "Iris, that"—and I decided I needed to see just who this Iris was," I said.
And while all the Urban Wineauxs show up to taste and learn more about wine, it's Iris, her personality, and her knowledge that bring the group together. She creates themes for each event, introducing the group to new varietals, as well as different wine regions. To date, the Urban Wineauxs' agenda has included "A Taste of Oregon and Washington," "A Tour of Spain," "Around the World in Four Rieslings," and "Wines of the Iberian Peninsula," to name a few.
Donna Gant is a charter member of Urban Wineauxs and began following Iris even before the Urban Wineauxs formed. Not only has her palate changed as a result, but she finds her social circle has changed as well.
"I had been drinking wine for years, but it was only whites." she says. "Before, I only drank reds when I was eating steak." She's gained a much better appreciation for red wine through Urban Wineauxs. "In fact," Donna says, "you might have a hard time finding anything but red wine in my house!"
To Donna and other Urban Wineauxs, it's all about a group of people hanging out together in the city drinking wine, not afraid to try something new and different. And it has made them change they way they drink and think about wine.
"I look for different varietals when I'm either out buying for myself or when dining out," says Christi Phillips, another Urban Wineaux.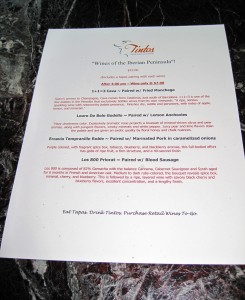 Iris is taking Urban Wineauxs to "the next level," with road trips for wine dinners. Her first road trip took the group to Austin. Her next takes the Urban Wineauxs to Dallas to visit Chef Kent Rathbun's five-star restaurant, Abacus. Kent and his brother Kevin defeated Bobby Flay on Iron Chef (the secret ingredient was elk)—just watching the segment will make you wish you could take a food-inspired road trip too!
Iris says the optional wine dinners help expose the Urban Wineauxs to unlikely pairings. "It's all about the passion for the grape and being exposed," she says. Donna adds, "People can get comfortable in what wines they drink. This takes them outside their comfort zone to expose them to new and different things."
Iris completed The Court of Master Sommeliers Level 1 certification in June. While not sure she'll follow the path of a working sommelier, she's certain she'll continue sharing her love of wine with groups like the Urban Wineauxs.
"My father always said, 'A man who loves what he does never works a day in his life,'" Iris says. And even though now this is only a part-time gig, Iris plans to continue doing what she loves—one glass at a time.
Amy Corron Power is licensed attorney with a background in marketing and public relations. A writer and photographer for Another Wine Blog, she's also covered college football and basketball for a number of sports publications including ESPN.com. A member of the Society of Wine Educators and a self-avowed political junkie, she occasionally contributes to the nationally syndicated blog, MOMocrats™