Many of us dream of moving to California, buying some property, planting some vines, and turning our grapes into fabulous wine. But if you aren't quite ready to invest a small fortune, there are a variety of alternatives for the aspiring winemaker.
Prohibition: Home Winemaking as a Necessity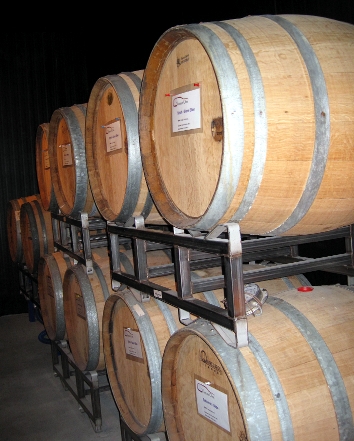 Winemaking outside the winery is nothing new. During the height of Prohibition, California wine grape growers survived by shipping their grapes East to "home winemakers" through a legal loophole created in Section 29 of the Volstead Act, which lead to the 18th Amendment. Pre-Prohibition laws allowed the heads of families to make 200 gallons (the equivalent of about 1000 750 ml bottles) of "nonintoxicating cider and fruit juice" per year for home consumption. Penalties in the new law did not apply to these home winemakers as long as the wine was "nonintoxicating." Initially defined as 0.5% alcohol, the meaning of "intoxicating" changed with two rulings.
A 1920 Internal Board of Revenue ruling as well as a 1924 Baltimore case pinned down the definition of intoxicating, and allowed a court to acquit Congressman John Philip Hill on six counts of illegal manufacture and possession of fermented cider. Federal Judge Morris A. Soper instructed the jury to to determine whether wine containing 3.34% to 11.64% of alcohol and cider containing 2.7% alcohol was intoxicating in the 'ordinary meaning of the word.' After 17 hours' deliberation, the jury decided intoxicating meant showing signs of drunkenness. Taken together, the rulings paved the way for home wine making.
Bottle to Barrel: Options for Making Your Own Wine
Although necessity no longer requires you to make your own alcoholic beverages, there is something appealing about creating your very own beer or wine. To many connoisseurs, it's the logical next step. Depending on your desired level of cash and commitment, a would-be winemaker can choose from several options. Costs to participate can be as little as a single bottle of wine, or can run as high as $13,000 for a barrel of high calibre Napa Cabernet Sauvignon in a grapes-to-bottle operation. Those who just want to dip a toe into the waters, can start with a blending session hosted by a number of wineries.  Some retail facilities provide juice from other wineries where blending takes place on premises. Others include do-it-yourself kits, with equipment and juice sold separately.
A few offer you much greater control over the process either through a community crush, or a custom crush geared toward either personal consumption or a commercial venture.
Make It in Your Basement: Winemaking Kits
Just like those home winemakers during Prohibition, you too can do-it-yourself at home. I first learned of home supply kits when my husband decided to brew his own beer. We visited a local place called B&S Brewer's Guild; sampled some of their "homebrews" and for Christmas I surprised him the complete kit. When I mentioned I was more interested in winemaking, the brewer showed me their selection of winemaking kits. I have also found home brewing and winemaking kits on-line. And there are a number of websites that provide recipes and instructions for making wine from fresh fruit.
While I've had some excellent home brewed beers, Joe's included, I haven't yet found a similarly successful homemade wine. But there is a kit available that may provide better results. Crushpad, based in San Francisco, sells a blending kit that provides Napa-sourced wines, in addition to a number of other opportunities for the aspiring big city winemaker. Just who or what is Crushpad?
…we're a combination of wine industry veterans and technology industry refugees who want to liberate winemaking from the stereotype of the 5th generation wine family living on the chateau with the Golden Retriever. By bringing winemaking to the city, augmenting it with education and support, and taking care of the time-consuming parts, we want to enable anyone with a serious interest in wine to participate in the magic of winemaking. "About Crushpad"

Crushpad's Fusebox blending kit provides instructions, equipment, and four wines from secret vineyards in Napa, at a cost of $79.99. And if you like what you've blended, you can design your label on-line and order a case of your custom blend.
Juice-based Winemaking Facilities
If you'd rather not blend at home, many storefront facilities provide a concept similar to Fusebox, but in a retail setting. But not all facilities created are equal. Some provide juice from wineries other than those Wine Spectator ranked Napa jewels promised by Crushpad.
We have similar retail operations in Texas, some in Houston. They are priced per bottle of wine made, with only a one or two bottle minimum. It's not quite as easy as some think, and several closed down before I could visit. I have tasted wines made from one of the ventures still operating, as well as one that failed. While I'm sure it was fun for participants, the wines I tasted from these facilities didn't impress. Many of them were far too sweet, and others tasted nothing like the varietal they claimed to represent.
Hands-on Grapes-to-Bottle Operations: Crushpad
To truly get involved in the winemaking process without costly investment, the aspiring winemaker can choose from a few grapes-to-bottle operations that perform both custom and community crush.
A custom crush offers the option to make wine as a legal winery by using another winery's equipment. Smaller wineries often do this because they do not make enough wine to justify the investment in equipment. A community crush can refer to either a group of people getting together to make wine under guidance, or a group of neighbors who live in the same community making wine together. There are dozens of custom crush facilities that are open only to wineries, but only a few open to the general public, the premier being Crushpad, with both custom and community operations in San Francisco, California and Bordeaux, France.
"A custom crush facility that is open to the public allows you to play winemaker for a minimal investment. You can do as little as a case, or as much as multiple barrels, all under the watchful eye of the professional winemakers there," says Thea Dwelle, who is in her third year of winemaking through Crushpad San Francisco.
Dwelle, who writes and serves as editor for Palate Press in addition to her own blog Luscious Lushes, got involved in a community crush three years ago after attending an Open House. " I had been to several events there, and I was fascinated by the idea," she says. Her first wine was a Dry Creek Zinfandel, which she made with a group of people she met on CrushNet, Crushpad's forum. There, the would-be winemaker can find a wine she wants to make, and, if allocations remain, join a group. This year, she's making a 2008 Red Mountain Cabernet blend from Walla Walla, which she hopes will be bottled in time for the WBC10.
Crushpad San Francisco offers customers source grapes from 40 different vineyards to make 12 different wine styles including seven reds; Cabernet Sauvignon, Merlot, Petite Sirah, Pinot Noir, Sangiovese, Syrah, Zinfandel and five whites; Chardonnay. Marsanne, Roussanne, Sauvignon Blanc and Viognier.
Crushpad's facilities in its Saint Emilion-based winery allow the "global garagiste" to select from vineyards located in both Medoc and the prestigious Right Bank producing the prominent varietals in Bordeaux; Cabernet Sauvignon, Merlot and Cabernet Franc.
Dwelle approached me and other wine enthusiasts at this summer's Wine Bloggers' Conference about joining her in Crushpad's brand new sparkling program. Since the sparkling program sets the floor at 1/4 barrel allocations, the initial cost to participate is manageable. And given that the American Bar Association 2010 Annual Meeting is in San Francisco, the two of us in the group of six who don't live on the West Coast have at least one trip for tasting covered.
Crushpad also opened "community crush" facilities in Chicago and New York City this year. For more information about these lower cost satellite programs, visit the Community Crush section of Crushpad's website.
Winemaking in Manhattan: City Winery
In addition to Community Crush, the Big Apple is also home to Manhattan's City Winery, which offers not only the grapes-to-bottle wine experience, but concerts by the likes of Rufus Wainwright, Michelle Branch, and Nick Lowe.
City Winery offers its aspiring winemakers grapes from vineyards in Mendocino, Lake, Napa and Sonoma counties in California; Mendoza, Argentina; and Willamette Valley, Oregon, in addition to Seneca, New York. Prices start at $1,500 for one-sixth barrel ownership and go up to $12,000 for a Corporate Barrel Ownership, which includes the cost of grapes and oak barrel. City Winery also accommodates those wishing to produce Kosher wine at a cost of $6,000 per barrel, plus the cost of the barrel and grapes.
Aspiring Manhattan winemakers can choose to make Cabernet Sauvignon, Merlot, Syrah, Pinot Noir, Petite Sirah, Zinfandel and Chardonnay. Cost is also determined by choice of barrel. New French Oak and New American Oak are available, with an option to choose two-year old barrels for a discounted price. Aging at 12 months or less is included in the package, with longer aging available for an additional cost.
City Winery also houses a restaurant and bar, complete with typical bistro and wine bar menu items as well as several heartier dinner selections.
West Coast Grapes in a Gulf Coast Custom-Crush: Vintners Own
Nearly halfway between Wine Country and Manhattan, a new Gulf Coast custom-crush facility opened in Texas this past July. Taking note of Crushpad's success, two Sonoma winemakers joined forces to create Vintners Own, a grapes-to-bottling operation in the Houston Heights. The brainchild of CEO Silvano Payne, Vintners Own looks to attract two types of customers; the wine consumer who wants to go to the next step, and the person who in intrigued by the way wine is made.

"We're looking for the person with a natural curiosity about wine, who wants to be able to taste wine at the various stages in the process," says Payne. While there is no income profile targeted, so far clients tend to be the more affluent. "And lawyers," says Payne, "I don't know what it is about attorneys, but they really seem interested in making their own wine."
Making wine at Vintners Own also isn't cheap. Barrels start at around $6,500 for Merlot and go to $11,500 for Cabernet Sauvignon. Half-barrels are available; and as with Crushpad and City Winery, there is the option to share. The package includes a wine plan, fruit, crush, fermentation in French Oak Barrels, testing, and tasting and bottling parties. Participants can choose from a variety of bottles, corks and foil styles, and can create a custom label. Prices are comparable to Crushpad's and work out to about $23 to $40 per bottle – about the same as buying wine at your local wine merchant, without the fun of helping make the wine.
Payne, who built a career in communications, is the Editor and Publisher of SatMagazine and satnews.com; devoted to the satellite communications business–much of which is based in the Houston area. He lives in Sonoma and has been growing grapes and making his own wine for 10 years. For the Texas venture, he joins partner and longtime friend, Squire Fridell, owner/winemaker at GlenLyon in Glen Ellen, who will supervise winemaking activities at Vintners Own starting with the 2009 crush.
Fridell has been making wine for 25 years, and appears in Vintners Own on-line video. Viewers may recognize him, or the art on his wine bottles. Since 1970, he has appeared in over 3,250 television commercials. For 28 years, he served as the spokesman for Toyota and performed as Ronald MacDonald from 1984 to 1991. His Syrah/Cabernet Sauvignon blend, "Squire's Toast" bottle features an artist's rendering of Ronald McDonald balancing wine on his forehead.
Payne wanted to start a custom crush business but felt the Northern California market was saturated. That, he says, and the custom crush model in Napa and Sonoma is not geared to consumers. "You can go to the Bay Area, or you can come to Vintners Own," he says.
Currently all grapes will come from Napa or Sonoma vineyards, including those of GlenLyon, Buoncristiani, Hamilton & Ron Nicholsen, Siesta Estates and John Baillie. This year participants can choose to make Cabernet Sauvignon, Merlot, Rose' or Syrah. Payne says next year he may also purchase grapes from Washington, Oregon and Santa Barbara. "Any fruit we purchase must have come from sources that have previously been used to make superb wine," says Payne.
I tasted some barrel samples of the GlenLyon Syrah and immediately recognized the source. One of the earliest Syrah planted vineyards in the Sonoma Valley, GlenLyon provided the grapes for the beautiful inaugural Syrah from Bedrock Wine Company, a Sonoma county small lot winery with Morgan Twain-Peterson at the helm. Morgan made only one barrel of this fabulous wine, and I have just one bottle left; but I'd recognize the fruit anywhere. That alone might make me take the plunge and join the folks at Vintners Own.
One big difference between Vintners Own and Crushpad is controlled by Texas law. Unlike Crushpad San Francisco where clients can choose to be hands-on during the winemaking process, Texas law allows only the licensee's employees to handle fruit after the yeast has been added and fermentation has begun.
"We invite participation as long as the law allows," Payne says, "but only our employees can be within the bonded area." Separate areas are available for barrel tasting and bottling parties.
Vintners Own wants to hold production to 50 barrels, at least for the present. Currently they are nearly half-way to their goal. They also provide state and federal licensure for those wishing to produce wine for sale.
"For the wannabe commercial winemaker," says Dwelle, "you can use the facilities and their bonded winery status to produce your own micro label legally without having to lay out the $100,000 or more for capital equipment."
Some of us dream of retiring to Wine Country and making our own wine, but until that day comes, we can use custom crush facilities like Crushpad, City Winery and Vintners Own.
Amy Corron Power is licensed attorney with a background in marketing and public relations. A writer and photographer for Another Wine Blog, she's also covered college football and basketball for a number of sports publications including ESPN.com. A member of the Society of Wine Educators and a self-avowed political junkie, she occasionally contributes to the nationally syndicated blog, MOMocrats™