It's not every day you walk into a vodka tasting and find winemaker Randall Grahm sitting at the table. But then, it's not every day you taste vodka that's been distilled from wine (Grahm's Bonny Doon, naturally) and cut with water captured from real, live San Francisco fog.
That's the story behind Hangar 1's new, limited-edition Fog Point Vodka, a product which could not be more Californian if it tried.
Fog Point was conceived in a conservationist spirit. Concerned about the drought which continues to be a big problem for the Golden State, Head Distiller Caley Shoemaker was looking for something that would incorporate water conservation efforts.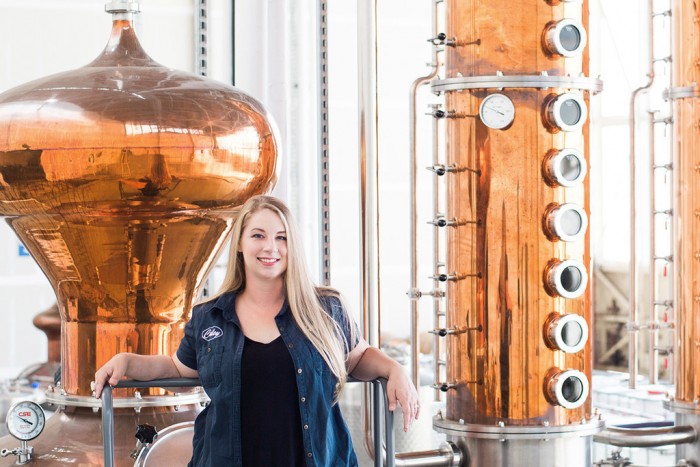 The Hangar 1 team researched the field and came across FogQuest, a Canadian-based nonprofit that uses nets – vertical mesh screens connected to a water collecting apparatus —  to trap fog droplets. Backed by the distillery, FogQuest set up some fogcatchers in the San Francisco Bay area, including Sutro Tower, the 977-foot radio and TV antenna which is a feature of the San Francisco skyline except for the many occasions when it is swallowed up by fog pouring in from the Pacific.
FogQuest's efforts are still in the experimental stage; organizers have yet to decide whether the water yield is worth the effort. But over a period of months they were able to collect enough for the Fog Point project.
The reclaimed water was filtered for impurities and then used to cut Fog Point down to the standard 80 proof, or 40 percent alcohol.
But before the water, there was wine.
In what is most likely a first, Fog Point was distilled from finished, bottled wine, the Bonny Doon Le Cigare Blanc 2012, a blend of Grenache and Roussane grapes. Shoemaker and her team poured all 1,000 cases into the distiller and got enough vodka for about 2,400 bottles.
You expect a vodka made of from vines and vapor to taste unique, and it does.
I tried it at a tasting, held in Hangar 1's distillery set in the old Naval Air Station in Alameda on the lip of the San Francisco Bay, and found it to it to be round and fruity with a kick of spice and citrus. Definitely interesting enough to drink straight although I'd have no objection to trying it in a martini.
A one-time project, this is an occasion vodka, packaged in a unique bottle with visible bubbles in the glass, meant to symbolize the fog droplets, some copper mesh netting embedded in the neck and a back label charting the locations of San Francisco fog catchers. It costs $125 and profits are slated for the expansion of sustainable water applications including installing more fog catchers around the bay area.
And what does Grahm think about it all?
"Great!" he says. "I love distilling. I think of distilling as wine's second life. We only have one lifetime, but wine has at least two lifetimes, possibly more."
A previous version of this article misstated the amounts of wine used and vodka produced. 1,000 cases of wine made 2,400 bottles of vodka, not the other way around.